---
This ALPS Mountaineering Nimble Insulated Air Mat is a thick and long inflatable sleeping pad for 3-season camping, lightweight, and built in two sizes as single and double pads.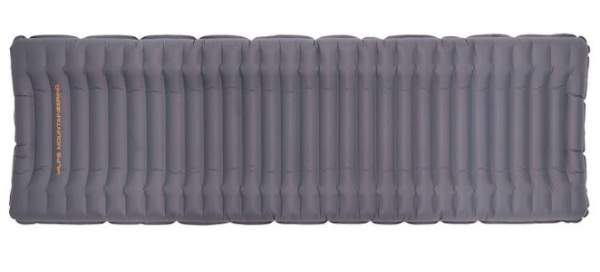 ---
Key features & benefits
Inflatable.
Insulated pad.
Two sizes.
Stuff sack doubles as a pump.
---
What this is about
Here you have an inflatable sleeping pad that they build in two sizes, as a solo sleeping pad and a double pad. The former is shown above, and the latter in the picture below.
They share the same basic features, and the only difference is the width and the corresponding parameters (weight, packed size). In fact, they also have the third option in this series, an uninsulated solo sleeping pad.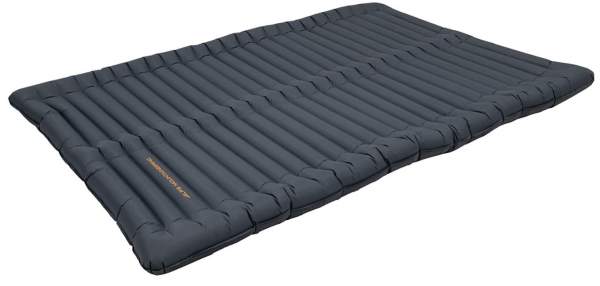 As you realize from the pictures, here you have what they call a 3D body-mapped design to help keep you from sliding or rolling off the pad when you turn around during the night. Observe that on the double-wide pad you have the same feature also in the middle. So in both cases, you have a cradling effect caused by the higher baffles at the edges and in the middle in the double-wide pad. 
Materials
The pad is insulated, and for this, they use the TechLoft silver insulation. This is a synthetic microfiber material that provides an R-value of 3.9. They claim it is treated with antimicrobials to prevent the growth of bacteria.
The fabric is a 40D nylon so this is a good denier value, but note also that this is a ripstop fabric. Nevertheless, in case of trouble, you have a repair kit included.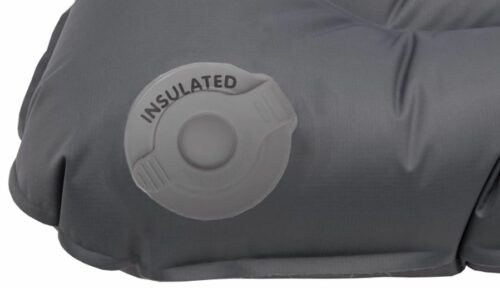 The flat valve is shown in the picture above, and note that the included stuff sack features a one-way valve that securely attaches to the pad's valve, you can see it on the bottom of the sack: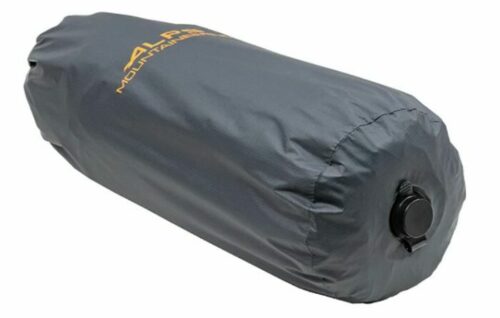 So packed in the stuff sack, the dimensions of the solo pad are 15 x 6 inches (38 x 15 cm). The picture below shows how you use the stuff sack to inflate the pad. You attach it to the valve and then press from the other side. The best way is to roll the stuff sack and this will force the air into the pad. It is necessary to repeat this a few times.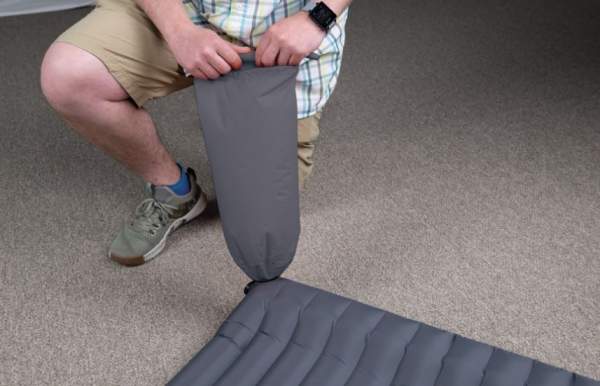 ---
Who is it for
Regarding the size, as mentioned you have options for solo use and also together with your partner. Both pads are 80 inches (203 cm) long, so this is a great length. But the width of the two options is 24 inches (61 cm) and 53 inches (135 cm), respectively. So the solo version is quite modest with respect to its width, but this is a typical number.
Regarding the thickness, you can inflate it up to 4.5 inches (11.4 cm), this depends on how firm you want the pad to be. So this should be perfect even if you are a side sleeper, and you will not be touching the ground.
Regarding the weight, the solo pad weighs 2 lb 9 oz (1.16 kg) and this is reasonable for an insulated pad. But there are indeed lighter options, see this Klymit Static V Luxe sleeping pad which is shorter but wider. The packed size is also very good, so the pad can be carried in the pack, but it is best suited for places where you would not carry it yourself. This means bicycle or motorbike tours and car camping of course.
Regarding insulation, with the R-value of 3.9, this is not a pad for a really cold environment, but it is perfect for 3 seasons camping. If you need more, please check my list of best cold weather sleeping pads. But with such an R-value the pad is great for mountaineers and alpine climbers. 
Regarding the price, it is more than reasonable for such an insulated and thick pad. 

---
Specifications
Two sizes: Single & Double.
Type: inflatable.
R-value: 3.9.
Weight:
– Single: 2 lb 9 oz (1.16 kg).
– Double: 3 lb 12 oz (1.7 kg).
Dimensions:
– Single: 80 x 24 in (203 x 61 cm).
– Double: 80 x 53 in (203 x 135 cm).
Thickness: 3.5 – 4.5 in ( 8.9 – 11.4 cm).
Packed size (L x D):
– Single: 15 x 6 in (38 x 15 cm).
– Double: 16 x 6 in (41 x 15 cm).
---
Final thoughts, rating, pros & cons
To summarize this ALPS Mountaineering Nimble Insulated Air Mat review, what you have here is a nicely built long and thick pad, comfortable, and reliable. The brand behind this pad is known for the quality of its outdoor items so you know what you are buying. I have included it in my list of best sleeping pads for car camping.
Please see how I rate this pad against my standard set of criteria used for all the pads here in the site, so you can easily compare it with other pads:
For more options please check under the category Sleeping pads. Let me know if you have questions or comments, there is a comment box below. Thank you for reading and have a nice day.