---
The HEST Foamy Sleeping Pad offers great support and insulation with its memory foam, it is suitable for all seasons and climates, and it is connectable to other pads.

---
Key features & benefits
Memory foam pad.
Very comfortable.
2 Sizes.
Phone pocket.
Connector clips.
Machine washable cover.
Made in USA.
---
What is in the name
This is a foam pad as its name suggests. So you have two layers of a memory foam which is a sort of an open-cell foam. The top layer is a plush body-contouring and temperature-resilient, and the bottom layer provides support and pressure point relief.
If you are familiar with their HEST Sleep System Sleeping Pad, you will realize that this Foamy pad is almost the same as the upper part in the mentioned System. Note also that this pad is made in the USA.
You have two layers here of high performance memory foam, for optimal body alignment, pressure point relief, and temperature regulation:

So this is a pad that can never fail, you do not have to inflate it, just unroll it and let the foam sucks air into its matrix of cells. With such pads it is essential that they do not get wet, this is why the bottom fabric is waterproof. The picture below shows how it looks when rolled up, observe the nicely designed carry handle.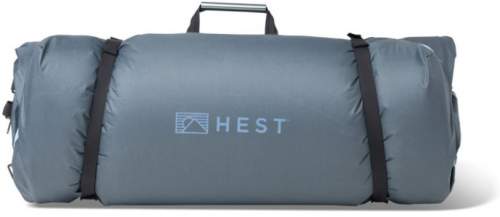 There are connector clips on the sides so you can connect the pad to yet another of this type. The picture below shows the rolled pad from the side, and the connectors are visible.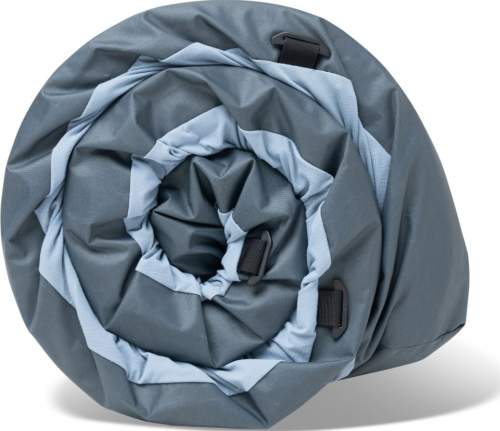 Other features
There is a pocket at the top of the mattress where you can stash your phone and other small essential.
Integrated compression harness with durable clips and straps. This all makes it easy to pack. So there is no a stuff sack here.
The same compression harness doubles as a welcome mat that can be used as a dry platform to change on. You can see it in the picture. I must say that I would never use it for this purpose, it would become dirty very quickly. 
The cover (and the mentioned mat) is easy to remove and it is machine washable.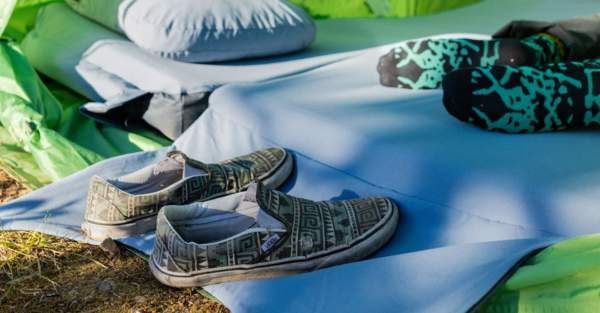 Please see more in this short video:
---
Who is it for
Regarding the best use & climate, you have seen how it is built so this is a pad that can be used at places with a car access, and in any climate and weather conditions. 
At their site they claim that the R-value is 8.8, so this pad provides great insulation, there is no doubt about this. Their previously mentioned HEST Sleep System Sleeping Pad has a total R-value of 11.8.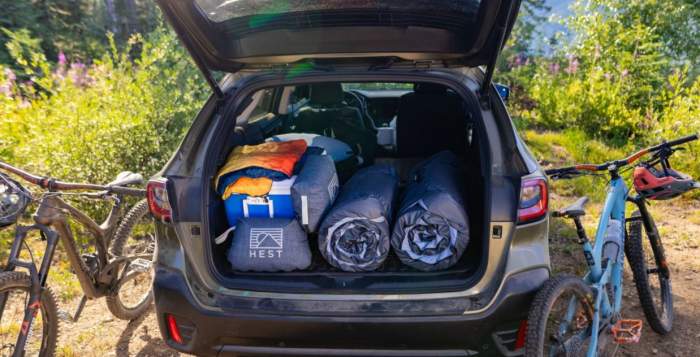 There is also a statement that this is a temperature resilient memory foam. The meaning is that it performs well at low temperatures, as you probably know some types of foam become stiff in a cold environment.
This is because they use an enhanced foam that offers a good viscoelastic performance regardless of the temperature. This is a material with billions of microscopic air cells that are smaller than traditional foam.
Regarding the size, they build it in two sizes R and RW, the numbers are given below. So the R size is a bit narrow but the RW is wide. Observe also that both provide 3.9 inches (10 cm) of supportive cushion. 
Regarding the weight, the R version weighs p 11 lb (5 kg) so it is heavy. You have a carry handle and you can take it short distances from the car, but this is not to be carried on a tour.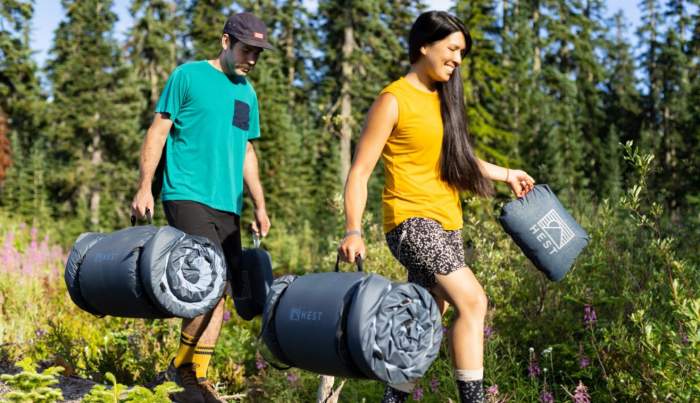 The packed size of the R-version is (L x D) 25 x 12 inches (64 x 30 cm), and the picture above gives you some idea how big it is. So it is bulky, but this is a foam pad and the folded size is normal and expected. I have included it in my list of best foam pads for camping cots.
---
Specifications
Type: memory foam pad.
Two sizes: R & RW.
Weight:
– R: 11 lb (5 kg).
– RW: 13 lb (5.9 kg).
Dimensions (L x W):
– R: 78 x 25 in (198 x 64 cm).
– RW: 78 x 30 in (198 x 76 cm).
Thickness: 3.9 in (10 cm).
Packed size (L x D):
– R: 25 x 12 in (64 x 30 cm).
– RW: 30 x 12 in (76 x 30 cm).
Made in USA.
---
Final thoughts & rating
In summary, this HEST Foamy Sleeping Pad is a camping mattresses suitable for basecamps, for hunters and for sleeping in a truck. With its supportive memory foam it is as comfortable as a home bed. You can be sure that you will not wake up with a sore back or a bad neck.
This pad cannot deflate and it will always provide excellent insulation from the ground. The bottom is waterproof so no worry if you have to put it on a wet grass. I have included it in my list of best sleeping pads for car camping and best cold weather sleeping pads. Fully recommended.
Below you can see how I rate it against my usual rating criteria so that you can easily compare it with other items of this type:
BEST PLACEs TO BUY
For more options, please check under the category Sleeping Pads. Bookmark this site and come again, this will keep you informed because I add texts here regularly. Let me know if you have questions or comments, there is a comment box below. Have a nice day.