---
The HEST Sleep System Sleeping Pad includes a foam pad and an inflatable pad with 18 cm of combined thickness and 11.8 R-value that makes it suitable for the coldest weather camping.

---
Key features & benefits
Patent-pending sleep system.
Great insulation.
Detachable inflatable pad and foam pad.
Incredible comfort.
Unique compression straps.
Carry bag.
---
What is in the name
This HEST Sleep System Sleeping Pad is a two-layer set that includes three elements:
A 2-layer polyfoam pad.
A washable removeable stretch cover.
A durable inflatable base pad.
So this is a foam plus an inflatable pad combination. The top pad is an open-cell two-layer construction with a memory foam as the upper layer, and a more supportive polyurethane open cell foam as the bottom layer.
The total thickness of the foam pad is 4 inches (10.2 cm). The cover of this foam part is a nylon stretch twill, moisture wicking and machine washable. It has a zipper to remove the foam pad (the picture below), and yet another zipper to detach it from the lower inflatable pad.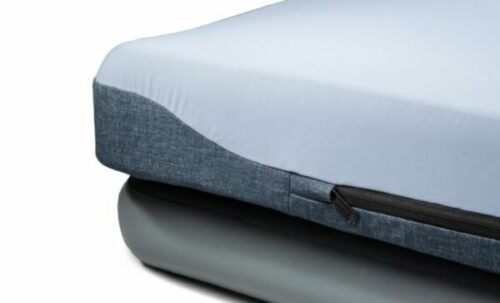 The mentioned inflatable base is a nylon heathered woven fabric with a PU backing. The thickness here is 3 inches (7.6 cm). As mentioned, there is a zipper that connects it to the upper foam pad, so it is removable. The single valve is on its upper surface, it is shown in the picture below.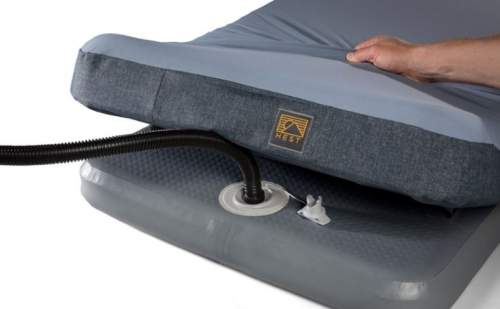 The system comes with a pump in the package shown below, it is equipped with a manometer and a hose: 
Insulation & memory foam features
With so much air and foam under your body, you are safe from the cold ground. The official combined R-value is 11.8. So this is good enough even for the coldest environment. 
The memory foam used in the top layer is viscoelastic, and it slowly contours and molds to your weight for optimum comfort and support.
This viscoelastic memory foam material is an open cell foam of a particular type, it performs better in a variety of temperatures. With this you have a sleeping pad designed for optimum performance in all seasons, regardless of the temperature.
This makes it different from the standard foam that is sensitive to temperature variations and it is harder when it is cold and it soft when it is warm. In the memory foam you have billions of microscopic air cells which are far smaller than in traditional foam. So it partly traps air and it needs more force to release it.
This is why they recommend that you roll the pad very slowly to allow the air to escape. The bottom deflated pad rolls together and it helps in creating a consistent pressure when you roll them together.   
According to the statement by REI, this sleep system does not contain flame retardant chemicals.
This set comes with a unique compression straps shown below, you will see in the video how this works. So both pads rolled up together are kept compressed as shown in the picture.
If you deflate the bottom pad correctly, the whole set will fit easily into its included carry bag shown below. You can use the pump to deflate the bottom pad.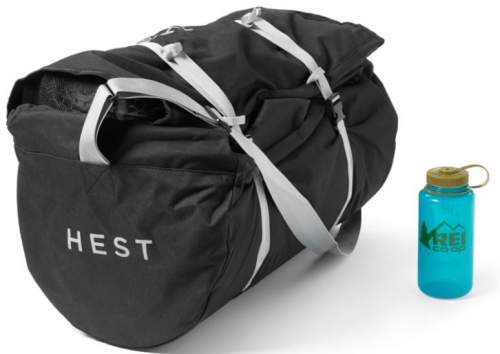 Below you can see that the bag has a separate compartment for the pump and the removable hose. The whole set is quite bulky, it measures 28 x 16 x 12 inches (71 x 40 x 30 cm).
Note also that there are side pockets at either end of the upper foam pad, so here you can keep your smartphone or some other small items, see how it looks.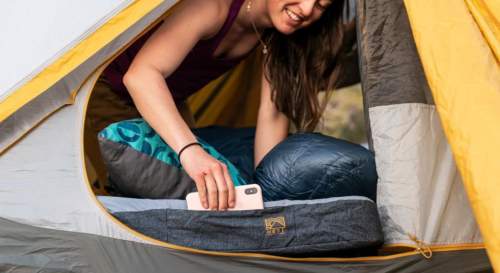 What is the logic of this design?
Of course, I do not have insight in the mind of the designers of this product, but here is what I think. In my view, the purpose of the inflatable pad on the bottom is just to raise the foam above the ground. There are two major reasons for this.
1. The air in the bottom pad is trapped, and it separates you from the ground, but it does nor provide much insulation. How much? My guess is, in the range 0.6-0.8 R-value.
When you sleep on the ground, you lose far more warmth to the ground than to the air, by a factor 40-50, dependent on the type of ground. So the first reason is to separate you from the ground.
2. The foam in the upper layers is a great insulator, but this material should not get wet, otherwise you will have unpleasant experience. So this is the second reason for having such an air layer. It keeps the foam dry.
Now, even if the air pad gets punctured, the foam will still have two layers of the plastic underneath it, and this should keep it dry. On the other hand, insulation will remain nearly the same because it is due to the foam, and it is huge in any case, so you will always be safe. 
Please see more about the concept in this short video:
Here you can see how to inflate and deflate the set:
---
Who is it for
Regarding the best use & climate, you have already seen its huge R-value, so this system is suitable for any weather conditions. The memory foam should work great regardless of the temperature. I have included it in my list of best cold weather sleeping pads, but a pad is not a heater so you can use it in any climate and season.
I see it also as a great item for home use, for sudden guests and emergency situations of any kind. You can use it on the floor and on a cot.
Regarding the size, the pad is long, but its width is quite modest, it measures 78 x 25 inches (198 x 63.5 cm). But see its thickness, you have a total thickness of 7 inches (18 cm). This makes it suitable for any type of sleepers. I have included it in my list of very thick sleeping pads for camping.
Regarding the weight, this is a very heavy set, it weighs 26 lb (11.8 kg). In view of its huge packed size, this is a camping set for places with a car access.
---
Specifications
Type: rectangular foam & air pad.
Weight: 26 lb (11.8 kg).
Dimensions (L x W): 78 x 25 in (198 x 63.5 cm).
Thickness: 7 in (18 cm).
R-value: 11.8.
Packed size: 28 x 16 x 12 in (71 x 40 x 30 cm).
---
Final thoughts & rating
In summary, this HEST Sleep System Sleeping Pad is spectacularly thick and completely unique on the market. You have a quality memory foam as the top layer for a consistent and reliable performance in any environment.
The cover is removable and machine washable. In view of all its features, I have included it in my list of best sleeping pads for car camping. Fully recommended.
Below you can see how I rate this sleeping pad against my usual rating criteria. But this is not an ordinary pad, and you realize that it does not stand well regarding the weight and packed size.
BEST PLACEs TO BUY
For more options, please check under the category Sleeping Pads. Bookmark this site and come again, this will keep you informed because I add texts here regularly. Let me know if you have questions or comments, there is a comment box below. Have a nice day.