---
Here you have my selection of the best foam pads for camping cots, reliable, easy to keep clean, built in a variety of sizes and thicknesses, and very affordable.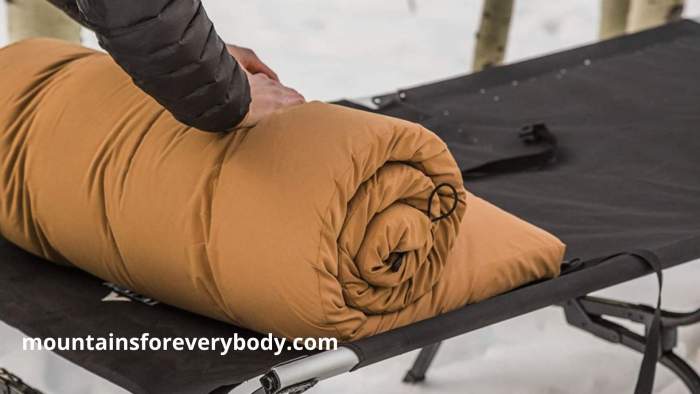 ---
What this is about
This text is about classic foam pads. This means you have an open-cell type foam inside of a taffeta shell. When you unroll such a pad, the foam cells expand and this is how the air gets in. In this sense the pads are self-inflating.
But these pads should not be mixed with modern self-inflating pads where you have an air-tight shell and one or more valves. In such pads, the air enters only through the valve, and when the valve is closed the air is fully trapped in.
This is not so in the pads presented here, they are without valves and the air gets it through the fabric. So these classic foam pads can never fail, there is no danger of air leak, etc.
They are generally softer than the modern self-inflating pads, and they are less supportive because air is not trapped in the shell fabric. This makes them also thermally less efficient. But note also that in a very cold environment, a foam pad may become stiff and hard.
Yet another important consequence of what I mentioned above is that the fabric is not necessarily built to be waterproof, but there are exceptions.
So most of these pads should not get wet. They are a great choice for sleeping off-ground, on a cot for example, and in dry conditions in general. There are some great examples where the foam pad sits on an air pad, you have this design in the HEST Sleep System Sleeping Pad.
What is the main purpose of using foam pads?
In short, this is about i) comfort and ii) insulation. Both should be self-evident and they are interrelated. You will not feel comfortable if you are cold. These are classic pads, simple and reliable, designed to serve you for years, and they cannot fail, just keep them dry and you will be fine with them in any situation.
---
My list of best foam camping pads
The pads in the list below are ordered by the thickness from thinner to thicker:
Regarding the construction, note that all the pads are with a shell fabric, and some of them are removable and machine washable. I stress this because there are such pads with foam only, but these would not be my first choice.
---
1. KingCamp Comfortable Camping Sleeping Cot Mat
This camping pad is built in two different sizes, so you have 74.9 x 25.2 inches (190 x 64 cm) and 80 x 25.2 inches (203 x 64 cm). The weight of the two options is 1.7 lb (0.73 kg) and 2.1 (0.95 kg).
So you realize it can be described as ultralight for a foam pad. But it is fair to say that this is because it is very thin. So this pad is most suitable as an extra layer on a cot for additional comfort and not for insulation. No doubt it is still good enough for a 2-season camping in the warmer part of the year.
The top is a pleasant cotton and you have a micro-brushed polyester bottom. Inside you have some 350 g/m² insulation, but it is not clear to me what kind of material this is, it could be cotton which they show in pictures on Amazon. Note that it comes with a carry bag and it is incredibly affordable.
BEST PLACE TO BUY
---
2. TETON Sports Universal Camp Pad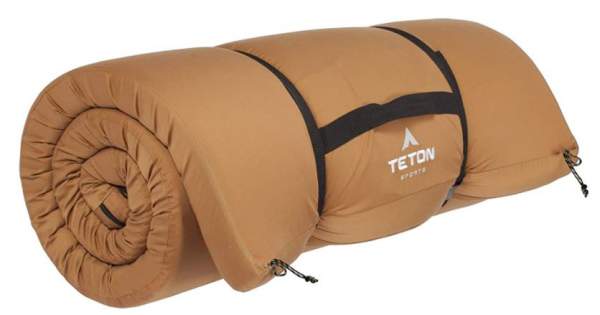 This TETON Sports Camp Pad is probably one of the best known on the market in general. It has been on the market for many years.
I use the word Universal in the title, but they have it in three separate sizes, built specifically for their three camping cots. So you have also the TETON Sports Adventurer Camp Pad and TETON Sports Outfitter XXL Camp Pad.
The size of this Universal Pad is 80 x 30 x 2 inches (203 x 76 x 5 cm). So it is very long and moderately thick. But if this is not enough, you can check their Outfitter XXL version which is at the same link on Amazon, with the dimensions 82 x 38 x 2.5 (208 x 96.5 x 6.35 cm).
So this is an open-cell foam pad with a durable 300D brushed polyester cover. The official R-value is 5.5 and this should be good enough for any weather conditions assuming that you use it on a cot.
The weight is 6 lbs (2.7 kg), so I would describe it as lightweight for such a type. The picture above shows how it folds, and you have carry straps with a handle.
BEST PLACEs TO BUY
---
3. Willpo CertiPUR-US Memory Foam Camping Mattress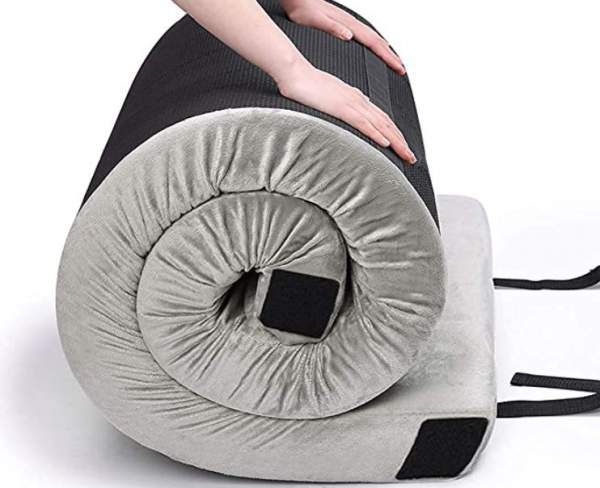 This pad is built in no less than 5 different sizes, so you have a pad for kids, then small, regular, twin, and twin XL. The thickness is in the range 2.37 – 2.75 inches (6 – 7 cm). So all of them are quite thick.
The foam has two different layers, the 2/3 bottom part is a high density foam and on top of it you have 1/3 of a memory foam. The bottom fabric is a damp-proof no-slip sheet. The pad is equipped with Velcro pads on the sides so you can connect it to other pads of this type.
To get some idea about numbers, the twin size is 75 x 38 x 2.75 inches (191 x 87 x 7 cm). Note that its R-value is 9.8, so this is a pad you can use even in the coldest environment.
The shell fabric is removable and machine-washable, they claim also that it is waterproof and that its zippers are water-resistant. The foam is tested by Certipur-US.
BEST PLACE TO BUY
---
4. Cabela's 3″ Cot Pad

The Cabela's 3″ Cot Pad is built in regular (R) and extra-large (XL) variants, and the dimensions are 73 x 24 inches (185 x 58 cm) for R, and 84 x 36 inches (213 x 91 cm) for XL variant.
The cover is a pleasant and removable machine-washable polycotton. The foam is a 100% polyurethane open-cell dual-density foam. The weight for the two sizes is (R) 4.4 lb (2 kg) and (XL) 6.2 lb (2.8 kg). As you realize from the name, the thickness is 3 inches (7.6 cm).

---
5. HEST Foamy Sleeping Pad

This pad offers great support and insulation with its temperature resilient memory foam that is built in two layers and you have 3.9 inches (10 cm) of cushion.
It is suitable for all seasons and climates, and it is connectable to other pads. They build it in two sizes, you have a phone pocket, and the cover is machine washable.
Note that the bottom fabric is waterproof. The pad is made in USA and the weight is 11 lb (5 kg) and 13 lb (5.9 kg) for the two sizes.

---
6. HEST Dually Mattress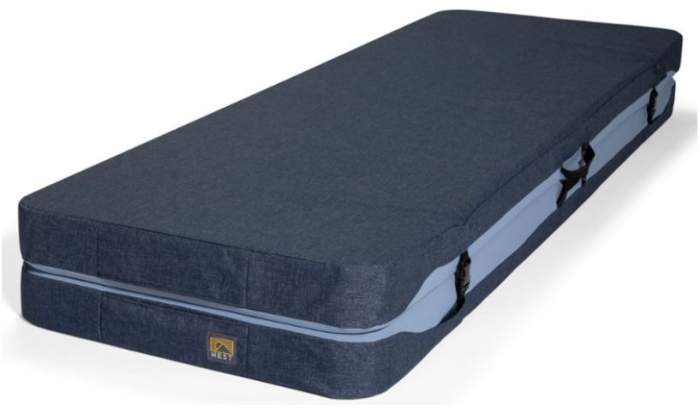 The HEST Dually is thick and it is double wide. When used for two people, you have 3.9 inches (9.9 cm) of foam underneath you. But it is designed also to be used folded as in the picture, and this means you have 7.8 inches (19.8 cm) of foam. There are 2 sturdy clips on the side to keep it in position, see the picture.
The inner material is a 2-layer high-performance polyfoams, with the top engineered as a breathable open-cell foam that's not temperature dependent, for conformation and pressure point relief. The bottom foam is a highly resilient foam for ultimate support and body contouring.
There are 2 easy-carry handles in the middle of the mattress, and you also have pockets located at either end of the mattress to store your phone and other small items. The bottom shell is a PU-coated nylon. The top cover is a moisture-wicking stretch nylon twill. It is removable and washable.
The weight is 31 pounds (14 kg). The dimensions are 72 x 60 inches (183 x 152 cm). The packed size is 72 x 30 x 7.8 inches (183 x 76 x 19.8 cm).
BEST PLACEs TO BUY
See how it looks:
---
Final thoughts
So this was my list of the best foam pads for camping cots, it will be updated whenever I find a good foam pad that is worth adding here. This is why you might want to bookmark this text and visit it occasionally, this will keep you informed.
Note that all these pads are built in at least two different sizes, so you have plenty of options to choose from. Some of them are only for extra comfort when you sleep on a cot. But most of them are very warm and you can use them year-round and in any weather conditions.
Thank you for reading. Let me know if you have questions or comments, there is a comment box below.