---
The Cabela's 3″ Cot Pad is a classic foam pad with a removable and machine-washable polycotton cover, pleasant, easy to clean, and very comfortable.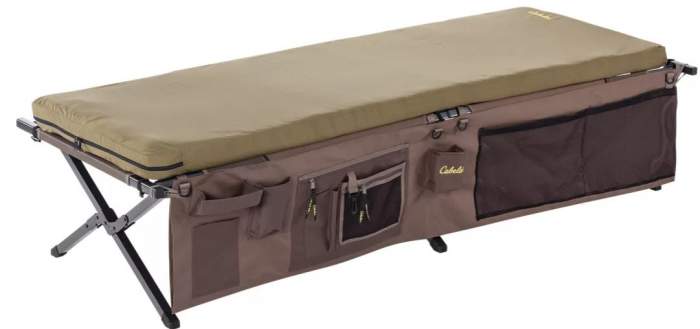 ---
Key features & benefits
Foam pad.
Polycotton shell.
Machine washable.
2 Sizes.
---
What this Cabela's 3 Inches Cot Pad is about
Here you have a classic camping sleeping bag, rectangular by shape and with an inner foam layer. They build it in regular (R) and extra-large (XL) variants, you will see the numbers below. Both are 3 inches (7.6 cm) thick, so I would describe it as a moderately thick outdoor mattress.
The top picture above shows it used together with their Cabela's Camp Cot with Organizer, just to know if you are curious about it. Note that this sleeping pad comes without a carry bag, but you have straps that are nicely designed with a handle, see how this looks:

Materials
The inner insulation is a 100% polyurethane open-cell dual-density foam. But the best part is its shell because it is removable and machine washable. You have a zipper for this purpose. If you go camping frequently, you know that this is important. In addition, this shell is a poly-cotton blend, soft, breathable and pleasant.
The pad can be described as self-inflating in the sense that the foam sucks the air in as soon as you unfold the pad. But there are no valves here and the fabric is not airtight, the air gets in through the fabric from all sides. In this sense, it is probably less insulating than the typical self-inflating pads with valves and with air trapped inside.
---
Who is it for
Regarding the best use, clearly, this is a car camping sleeping pad suitable for any outdoor activity and also for home use in emergency situations and for sudden guests. With its 3 inches (7.6 cm) of foam cushion it is supportive and thick enough for any type pf sleepers.
There is no information about its R-value, but I would say it should be warm enough for year-round outdoor use.
On the other hand, the advantage of having such a shell that is easy to keep clean implies that it can get wet and the same holds for the inner foam. This is why such camping pads are best suited for off-ground sleeping on a camping cot. Now you better understand why the words Cot Pad are in the name of this item.
Regarding the size, they build it in two different variants, so the R size is for shorter people and for women, but the XL variant is really impressive with its 84 x 36 inches (213 x 91 cm).
Regarding the weight, both options are heavy, they weigh 2 and 2.8 kg, so this is not a pad to carry long distances in the backpack.
Regarding the price, it is fair for such a great pad, you will be able to check it in the the links below.
---
Specifications
Type: rectangular foam pad.
Weight:
– R: 4.4 lb (2 kg).
– XL: 6.2 lb (2.8 kg).
Dimensions:
– R: 73 x 24 in (185 x 58 cm).
– XL: 84 x 36 in (213 x 91 cm).
Thickness: 3 in (7.6 cm).
---
Final thoughts & rating
In summary, this Cabela's 3″ Cot Pad is a classic mattress filled with an open-cell foam, and its best feature is its removable and machine-washable polycotton shell.
This is a very reliable pad suitable for year-round use in any weather conditions. Fully recommended. I have included it in my list of best sleeping pads for car camping and best foam pads for camping cots.
Below you can see how I rate it against my usual rating criteria so that you can easily compare it with other items of this type:
BEST PLACEs TO BUY
For more options, please check under the category Sleeping Pads, you will find them in all possible designs and shapes.
Bookmark this site and come again, this will keep you informed because I add texts here regularly. Let me know if you have questions or comments, there is a comment box below. Have a nice day.