---
This TETON Sports ComfortLite Sleeping Pad is self-inflating, easy to use, with a high enough R-value to be used in all seasons, and with a great price tag. Keep reading.


---
Key features & benefits
Self-inflating.
Insulated.
3 Sizes to choose from.
Velcro for attachment.
Carry bag.
Great price.
---
Overview of features
Here you have a self-inflating pad and if you are not familiar with such items, this means there is an open-cell foam inside. When decompressed, the foam expands and sucks the air in it. So when you are making it ready for sleeping, simply unfold, open the valve and let it inflate by itself. If you feel it is not hard enough, you can blow a bit of air by mouth.
So this makes it very easy to use but the mentioned foam adds to its packed size and weight. Note also that some sellers have it under the name TETON Sports ComfortLite Self Inflating Pad With Velcro, and this means it has Velcro tabs on each side, see the picture, so you can attach it to another pad on any side.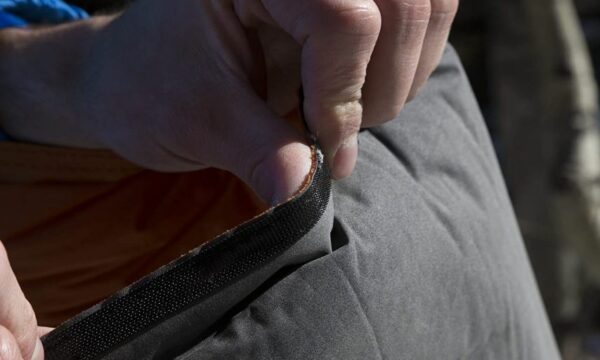 The picture below shows how it looks when attached to another pad of the same size. This is great if you are with your partner, the pads will stay connected no matter how much you move.
Insulation
This is again about the mentioned foam. The foam itself, and also the air trapped inside, insulate you from the ground. At the manufacturer's site they write that the XXL pad has an R-value of 5.9. The other two have 5.2 and 4.4.
My guess is this is not by the new sleeping pads rating introduced in 2020, but in any case this should be good enough for all seasons, except for really extreme conditions where you would need a higher R-value.

3 Sizes
It is always great to have an option to choose your size, so they build this pad in three sizes, R, XL, and XXL, and the dimensions are given in the table. The weight numbers are from the manufacturer and not all is clear, the XL appears to be lighter than R which is strange, and there are two different weights for the XXL version.
But what you realize is that this is a moderately wide pad, not particularly thick and a bit bulky when packed.
 
Regular
XL
XXL
 Size, in (cm)
75 x 24
(190 x 61)
76 x 25
(193 x 63)
78 x 30
(198 x 76)
 Thickness, in (cm)
2 (5.1)
2.5 (6.3)
2.5 (6.3)
 Packed size (L x D),


 in (cm)

25 x 5.5
(63 x 14)
26 x 6
(66 x 15)
31.5 x 6.75
(80 x 17)
 Weight, lb (kg)
3.6 (1.6)
3.37 (1.53)
5.9 (2.52)
 R-value
4.4
5.2
5.9
---
Materials
The bottom is a non-slip fabric (picture below) so the pad will stay in place on the tent's floor, and the top is a pleasant ComforTech stretch microfiber.
The valve shown below is brass and the spinning knob is an ABS plastic. They write that such a design "make deflation quick and easy" but the valve is quite small.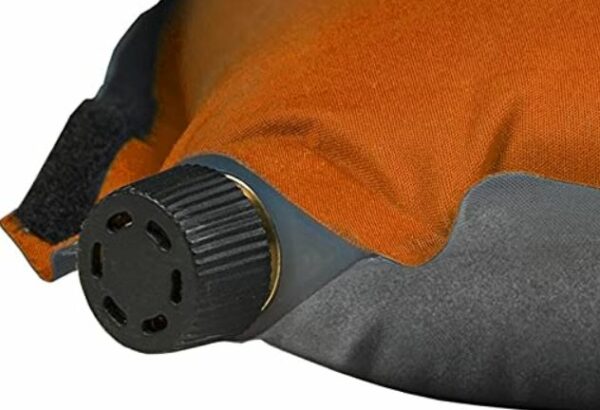 Please see more in this video:
---
Who is it for
Regarding the size, you have seen above that you can choose the appropriate size for you. Though if you are particularly tall you might suffer, but I guess this would not be the first time, these items are always built for some 'average' users and this holds even for XXL sizes.
Regarding the thickness, with its 2 and 2.5 inches, I would say it is good enough if you are a back-sleeper, but it is less good for side sleepers. So if you feel it is not thick enough, check some of these car camping sleeping pads, some are incredibly thick.
Regarding the weight, you will see it on Amazon described as suitable for camping and backpacking. But I do not think many people would carry it on the trail. Even the lightest of the three is too heavy, you have much lighter self-inflating backpacking pads in my separate list. So this pad is certainly for car camping.
Regarding the packed size, you have seen the dimensions in the table above, and below you see it in its carry bag. So this is a thin tube but quite long, not small enough for a pack, but it can be transported even on a bicycle.

---
Final thoughts, rating, pros & cons
So to summarize this TETON Sports ComfortLite Sleeping Pad review, they have built a nice pad and the price is such that this is a real bargain. This is not surprising, this brand is known for its affordable but quality products.
I like the fact that there are several sizes. But disregard what they say about potential use, this is a basecamp pad, not something to carry on the trail. Fully recommended. I have included it in my list of best self-inflating camping pads.
Please see how I rate this pad, the rating is focused on the R size:
Please check under the category Sleeping Pads if you need more options. Note that we add texts here regularly, so bookmark this site and visit occasionally, this will keep you informed about new outdoor stuff on the market. Thank you for reading and have a nice day.