ALPS Mountaineering Apex Self-Inflating Air Pad is a reliable and easy to use 4-season pad with a high R-value and a great price.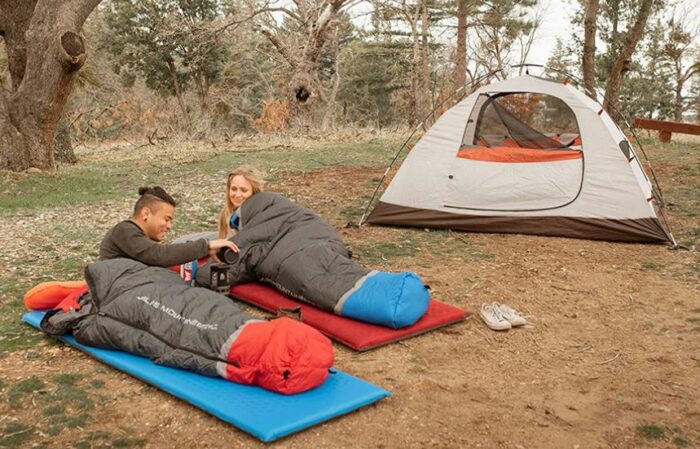 ---
Key features & benefits
Self-inflating pad.
Three sizes to choose from.
High R-value.
Very good price.
---
What this is about
This Apex sleeping pad is a rectangular self-inflating pad built in three sizes R, L, and XL. If you are not familiar with this terminology, this means the decompressed foam which is inside the pad will suck in the air. All you have to do is to unfold the pad and open the valve, and let it inflate by itself. You can always blow in some extra air if you want.
The valve is corrosion-resistant brass, see the picture below. Note that the two larger pads have them two to increase the speed of inflation and deflation.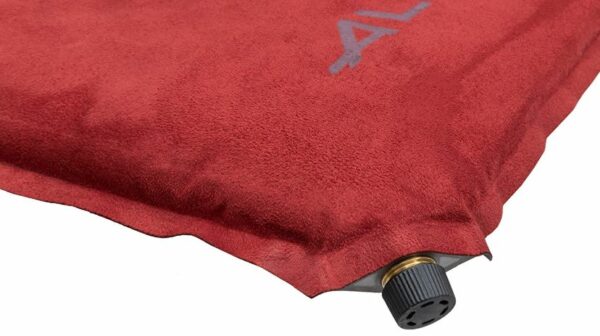 You have a convenient stuff sack included with compression straps, this is great to have for easy transport and storage. There is also an emergency repair kit included to have in the case of a leak.
The fabric is polyester, but it is different on the bottom and on the top. The latter looks like a brushed suede, very pleasant to touch.
Insulation
This pad is with what they call the Jet Stream wave foam, and when it is inflated this is an excellent insulator. The R-value appears to be around 6.9 and this would put it in the group of 4-season sleeping pads.

---
Who is it for
Regarding the size, they build it in three different sizes so you can choose what suits you best. The width is in the range 51-76 cm so you have enough space to sprawl. But its R size is really both short and narrow, just to know, see the specifications below.
Note that all of them are the same 3 inches (7.6 cm) thickness so this should be good enough even for side sleepers.
Regarding the weight & packed size, the R size pad weighs 4 lb 14 oz (2.2 kg) and its packed size is 22.5 x 9 inches (57 x 23 cm). I am just packing for mountains and the self-inflating pad which I am taking with me weighs only 600 grams.
So this ALPS Mountaineering Apex Self-Inflating Air Pad is both heavy and bulky, and you would not want to carry it in the pack. Clearly, you can easily transport it on a bicycle. But if you need a pad of this type for the trail, please check my list with best self-inflating backpacking pads.
Regarding seasons, I already mentioned its R-value so this is good enough for 4 seasons although not really for extreme conditions. This high R-value is partly behind its weight and packed size.
Regarding the price, this is not the most affordable pad on the market but it is still an excellent price for a 4-season pad.
---
Specifications
Type: self-inflating pad.
Weight:
– R: 4 lb 14 oz (2.2 kg).
– L: 6 lb 13 oz (3.1 kg).
– XL: 7 lb 11 oz (3.5 kg).
Dimensions:
– R: 72 x 20 x 3 in (183 x 51 x 7.6 cm).
– L: 77 x 25 x 3 in (196 x 64 x 7.6 cm).
– XL: 77 x 30 x 3 in (196 x 76 x 7.6 cm).
R-value: 6.9.
Packed size:
– R: 22.5 x 9 in (57 x 23 cm).
– L: 27 x 10 in (69 x 25 cm).
– XL: 34 x 10 (86 x 25 cm).
---
Final thoughts, rating, pros & cons
In summary, this ALPS Mountaineering Apex Self-Inflating Air Pad is well-built and incredibly affordable for a 4-season pad. Its R-value is high enough to use it in almost all weather conditions. It is heavy for the trail and this is why I have added it to my list of car camping self-inflating sleeping pads. Fully recommended.
Here is how I rate this pad and my pros and cons, the same criteria are used for all the pads here in the site so you can easily compare:
Please check under the category Sleeping Pads if you need more options. Bookmark this site and visit again, we add texts regularly so stay informed. Thank you for reading.