---
The Cabela's Outfitter XL Sleeping Pad is self-inflating, very long and wide, its high R-value makes it suitable for all seasons, and it is very affordable.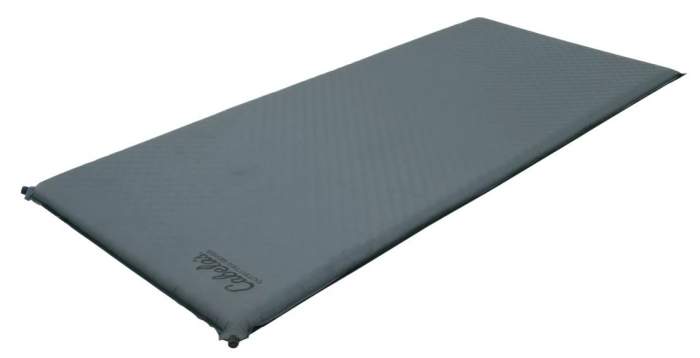 ---
Key features & benefits
Self-inflating.
Insulating.
Great R-value.
Reasonable price.
Extra large.
---
What is in the name
Here you have one of those self-inflating pads, and if you are not familiar, this means it will inflate by itself. So just open the valves when you want it ready, and leave it for a while. The foam inside naturally tends to expand, and in the process it will take air in.
If you feel it needs to be firmer, you can always blow extra air in by mouth. Note that such pads come rolled up, and they have been in such a state from the moment they left the factory. So in the beginning, it may take more time to expand. This is natural because the foam has to restore its elasticity, so do not be worry if this happens.
How it is built
I already mentioned its foam, so this is the inner material. When filled with air, this is a nicely insulating material. Its official R-value is 6. This should be fine for almost any weather conditions. This is because you have an air-tight shell, so the air is trapped inside.
The shell is a durable fabric with different features on the top and on the bottom. The top is a 70D polyester and the bottom is simply incredible 600D oxford polyester. I have not seen many pads with such a durable fabric. No doubt it will stand up to most rugged adventures.
You have dual brass valves (one shown below) that facilitate speedy inflation and deflation. When it is time to move, simply open the valves and start rolling from the opposite side. I usually do this twice.
So after first rolling, I close the valves (to prevent sucking the air in) and then unroll the pad. Then roll again using my knees to keep it rolled and under pressure. When I notice that air accumulates on the opposite side in the area where the valves are, I open the valves and finish rolling. Then just close the valves and the pad will remain deflated.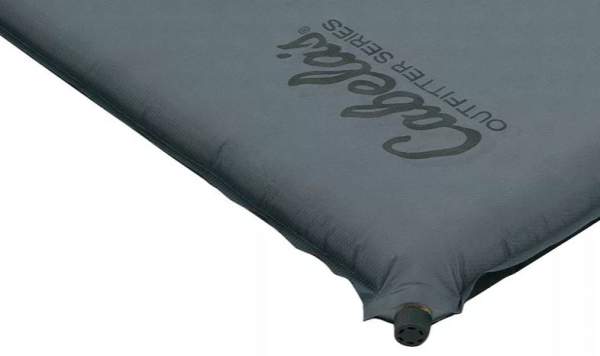 Note that you have a handy repair kit to handle accidental punctures. The pad comes with elastic straps to keep it rolled up, and a carry bag for easy storage and transport. Please see more in this short video:
---
Who is this Cabela's Outfitter XL Sleeping Pad for
Regarding the best use & climate, you have already seen its R-value, and in terms of temperature this should correspond to -13 F (-25 C). See more in my separate text about best cold weather sleeping pads where there is a table showing the correspondence. So this pad should protect you well in almost any cold weather, and it can be used in all seasons.
Regarding the size, you have already seen the letter XL in the name. So this is about its size which is impressive 83 x 38 inches (211 x 97 cm). As you realize, it is both long and wide, so it offers plenty of space to sprawl, and it is suitable for tall users.
The thickness of 2.5 inces (6.4 cm) can be described as moderate. So if you need much more, please check my list of very thick sleeping pads.
Regarding the weight, the pad weighs 8 lb (3.6 kg), so it is heavy, but this is not so crucial. This is a camping pad and you are not supposed to carry it anywhere. The packed size is (L x D) 40 x 9 inches (102 x 23 cm), so it is a bit long when rolled up.
Regarding the price, it is very reasonable, you will see this in the links below.
---
Specifications
Type: self-inflating.
Weight: 8 lb (3.6 kg).
Dimensions (L x W): 83 x 38 in (211 x 97 cm).
Thickness: 2.5 in (6.4 cm).
R-value: 6.
Packed size (L x D): 40 x 9 in (102 x 23 cm).
---
Final thoughts & rating
In summary, regarding construction and design, this Cabela's Outfitter XL Sleeping Pad is a quite typical self-inflating outdoor bed, but it is extra long and wide. These features set it apart from competitors. On the other hand, you have a reliable brand behind it, so you know what you are buying.  
Below you can see how this pad stands against my usual rating criteria. This may help to compare it with other items of this type:
BEST PLACEs TO BUY
For more options, please check under the category Sleeping Pads. This Kelty Galactic SI Sleeping Pad has similar features, but it is smaller and lighter.
Bookmark this site and come again, this will keep you informed because I add texts here regularly. Let me know if you have questions or comments, there is a comment box below. Have a nice day.