---
The Kelty Galactic SI Sleeping Pad is an insulated self-inflating pad with a very high R-value, it is incredibly affordable and suitable for all seasons and for very cold weather.

---
Key features & benefits
Self-inflating sleeping pad.
Insulated.
High R-value.
Incredible price.
---
What is in the name
This is a pad from their Galactic series, so it should not be mixed with their Galactic Air pad. Note that they also have sleeping bags in this series, see their Galactic 30 Sleeping Bag that is also presented here in the site.
The letters SI in the name mean 'self-inflating'. If you are new to this, the meaning is that the pad is filled with an open-cell foam, so when it is decompressed, it will suck the air in. This means it will inflate by itself. The pad is a rectangular type and moderately thick. It is equipped with dual brass valves.
How it is built
This is an insulated pad, and this is because of the mentioned foam in combination with the air trapped in it. Now, in the video below you will see its R-value mentioned to be 6.9.
However on the site of Kelty they write the R-value is 8.4. The same value is mentioned at REI and other sellers. In any case, this is a 4-season pad that will protect you from cold ground in any weather conidtions.
The shell fabric is a Polyester Pongee. So what is this? It is described as a medium-weight woven fabric with an irregular filling and a fine regular warp. It is used for dresses, umbrellas, etc. It is washable, durable, and very strong. Pongee is normally superior to nylon and standard polyester with respect to strength.
Please see more about the pad in this short video:
---
Who is this Kelty Galactic SI Sleeping Pad for
Regarding the best use & climate, I have already mentioned, with this pad you will be safe in any environment. But see below about the weight that also determines its best use.
Regarding the size, you have a pad that measures 78 x 25 inches (198 x 63.5 cm). So it is very long but only moderately wide. But this is still much wider than many of its competitors, see this Klymit Self-Inflate V Sleeping Pad to see what I mean.
Note that you have 2.5 inches (6.4 cm) of cushion underneath you, so this should be good enough for any sort of sleeper.
Regarding the weight, the pad weighs 4 lb 5 oz (1.96 kg). So this is quite heavy to be carried in the pack. The packed size is (L x D) 25 x 8.5 inches (64 x 22 cm). So it looks bulky, but bear in mind its insulation. All in all, this is a camping pad, you can transport it even on a bicycle.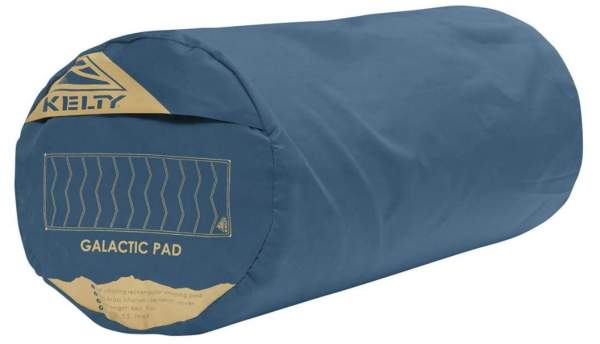 Regarding the price, it is unbelievable even for Kelty, a brand that is known for great prices of their products.

---
Specifications
Type: self-inflating, rectangular.
Weight: 4 lb 5 oz (1.96 kg).
Dimensions (L x W): 78 x 25 in (198 x 63.5 cm).
Thickness: 2.5 in (6.4 cm).
R-value: 8.4.
Packed size (L x D): 25 x 8.5 in (64 x 22 cm).
---
Final thoughts & rating
In summary, this Kelty Galactic SI Sleeping Pad offers great insulation for any situation, it is very long but only moderate with respect to its width. This is a reliable product from a globally known outdoor brand, and the price is simply incredible. Fully recommended. I have included it in my list of best self-inflating camping pads.
Below you can see how I rate this pad against my usual rating criteria so that you can easily compare it with other pads:
BEST PLACEs TO BUY regarding shipping and price:
As usual with Kelty's products, there are many places where you can buy this pad. Here are some of them:
For more options, please check under the category Sleeping Pads. See in particular their Kelty Galactic Air Rectangular Sleeping Pad.
Bookmark this site and come again, this will keep you informed because I add texts here regularly. Let me know if you have questions or comments, there is a comment box below. Have a nice day.