---
This Klymit Self-Inflate V Sleeping Pad is a reliable insulated pad suitable for all seasons, and with a price which is simply unbelievable.
---
Key features & benefits
Self-inflating.
Insulated.
Incredible price.
Amazon's Choice product.
---
Where to buy
This Klymit Self-Inflate V Sleeping Pad is available on Amazon, and I have seen it on several of their global stores. So please follow the link and check shipping conditions for your location.
You will find it also at Walmart.
As mentioned above, this is an Amazon's Choice product, and this means recommended by Amazon as a highly rated product, well-priced, and available to ship immediately.
---
So what this is about
Well, this is something new from Klymit. This brand is famous for their inflatable pads and you will see them many in my page with sleeping pads. But what you have here is a rectangular self-inflating pad, I do not remember seeing such pads from them in the past. So here you have an open-cell foam in a waterproof shell.
This is an easy to use pad, simply unroll and open the valve and it will inflate by itself in around 3 minutes time. You will hear instantly how it starts sucking the air in. You can do other things in the camp, cooking or making the tent ready; later you can blow a bit of air in if you feel you need this.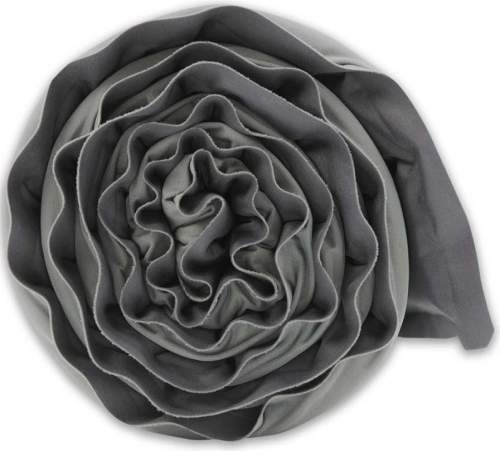 Note that it comes with a twist valve, so the pictures on Amazon (as of the moment of writing this text) are incorrect. See the top picture above for the true valve.
Insulation & materials
Such self-inflating pads are practically always insulating as well. This is because of the foam and the air trapped in it. Here you have 5.3 R-value, and this is roughly equivalent to the temperature rating of -4 F (-20 C). So no doubt this is a sleeping pad for all seasons.
The shell is 30D stretch polyester on the top and 75D polyester on the bottom. Note that it comes with Klymit's Limited Lifetime warranty, so they show confidence in their product.
---
Who is it for
Size-wise, they build it in one size only and the dimensions are 72 x 20 inches (183 x 51 cm). So it is a bit narrow, but perhaps more important is its length which is quite standard. You will see below how this compares with the Therm-a-Rest BaseCamp Self-Inflating Sleeping Pad which is built in several sizes.
Weight-wise, with its 2.9 lb (1300 g), this is not a very heavy insulated sleeping pad. Such a weight is normal for this type. On the other hand, this is a very durable item with a 75D polyester bottom shell.
But I must say, I am just packing for mountains and will have one pad (from a far less known brand) of such a type in the car. It weighs around 720 grams only, though its R-value is lower.
The packed size is OK but not more than that. This is a tube (L x D) 21 x 5.5 inches (53 x 13 cm). My mentioned pad is 27 x 17 cm. So here again, its packed size is such partly because of its good R-value.
Seasons-wise, I already mentioned its R-value, so nothing to add here, this is a 4-season sleeping pad.
In view of all these features, I do not think this is the best option for the trail. To see what I mean, compare its weight and packed size with their Klymit Insulated V Ultralite SL Inflatable Sleeping Pad. It weighs three times less, and its packed size is only 7 x 4.5 inches (17.8 x 11.4 cm), but its fabric is 3 times less durable as well.
They describe it as suitable for side sleepers. It is indeed rather supportive, but bear in mind this is only a 2 inches (5 cm) thick layer. There are far more suitable pads for side sleepers on the market. See this NEMO Roamer Self-Inflating Sleeping Pad as one obvious example.
---
Good and less good features
Here is my short summary:

Incredible price.
Good R-value.
All seasons use.
Durable fabric.
Great warranty conditions.

Heavy.
Bulky when packed.
The price & rating
I think it is best that you see the price to believe it, this is simply incredible:
This pad is new on the market but as of the moment of writing this text it has already collected a number of reports on Amazon, and the average rating is incredibly high 4.8/5.
My own rating is a bit different, but this is because I use my standard set of criteria and apply them to all the sleeping pads here in the site. This is how you can compare easily. So have a look:
My rating of the Klymit Self-Inflate V Sleeping Pad:
Weight -

8.6/10

Size -

8.4/10

Comfort & features -

8/10

R-value -

8.8/10

Packed size -

8.7/10

Price -

10/10
---
Specifications
Type: self-inflating insulated pad.
R-value: 5.3.
Weight: 46.4 oz (2.9 lb; 1300 g).
Dimensions: 72 x 20 x 2 in (183 x 51 x 5 cm).
Packed size (L x D): 21 x 5.5 in (53 x 13 cm).
Warranty: Klymit Limited Lifetime.
---
Klymit Self-Inflate V Sleeping Pad vs Therm-a-Rest BaseCamp Self-Inflating Sleeping Pad
I thought it would be interesting for you to see how these two pads compare. Note that both are of the same type. This may help in making an informed choice, so have a look:
---
Final thoughts
So this Klymit Self-Inflate V Sleeping Pad is with the price tag and quality combination which is very hard to match. The packed size and the weight are such that it is best suited for situations where you would not carry it attached to the pack. I have included it in my list of best sleeping pads for camping.
Please check in my page with sleeping pads if you need more options.
Note that this is not a sponsored text, and I am not paid by the brand. Let me know if you have any question or comment, there is a comment box below.
---