---
I have seen this question asked a few days ago in a forum. So what is a self-inflating sleeping pad? The phrase should be self-evident for those with experience in this industry, but beginners might need a bit more, so keep reading.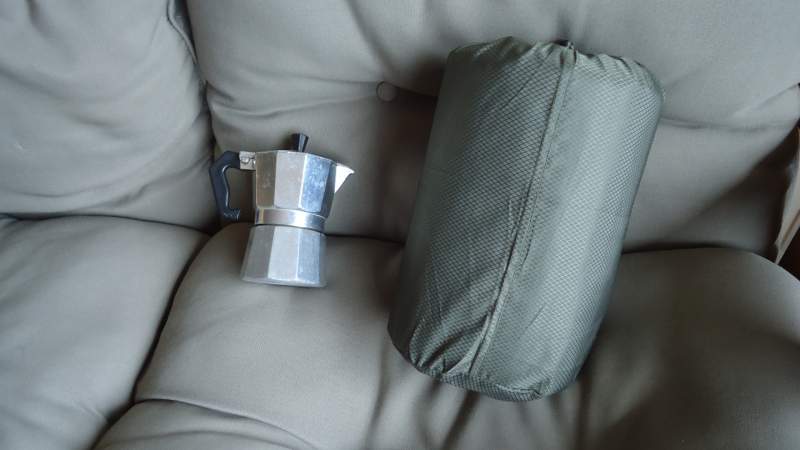 There are many self-inflating sleeping pads presented here in the site, you will see them in my page with sleeping pads. So this is an outdoor sleeping item which inflates by itself.
How does this work? You have an open-cell foam inside and the cells in it are normally full of air. But when the pad is rolled and packed, these cells are compressed. Therefore, when you spread the pad and open its valve, it will suck the air in. This is because the cells in the foam naturally tend to expand, and in this process they take the air in.
Note that this self-inflation can take some time. So when you come into your basecamp, unroll the pad, open the valve, and let it self-inflate while you are busy with other things in the camp. In most cases it will be necessary to blow some more air, so use your mouth. Some pads have the stuff sack that acts as an air pump, this is great to avoid moisture accumulating inside.
After that just close the valve and you will have a comfortable air mattress under you, together with some foam for support and cushion. Obviously, the shell plays a crucial role here. When you press the foam, the air would escape. So the role of the shell is to keep it inside, in other words, it must not leak.
---
How to choose a self-inflating sleeping pad
This will depend on the pad's purpose, or your body size, budget. So if you plan to carry it on the trail, you will surely want to shed the weight and go for a thinner pad.
Size
Manufacturers usually build them in several sizes, for example this Therm-a-Rest BaseCamp pad is available in three sizes. So choose what is appropriate for your height and avoid unnecessary weight.
But if this is about car camping, go for something comfortable and thick. In our page with pads, you will see some examples that are 10-12 cm thick. These are excellent pads also for side sleepers. See for example this Therm-a-Rest MondoKing 3D Self-Inflating Sleeping Pad.
The same comments hold regarding the width. Usually, this is 20 inches for the items carried in the pack. But this is not so great if you are using the pad in the camp. So go for 30 inches or more in such a case.
Insulation
This is usually expressed in terms of R-value, but some manufacturers use also temperature rating. There are no clear standards regarding this issue in this particular industry.
A thicker pad means more foam and more trapped air, so you will have better insulation. The mentioned Therm-a-Rest MondoKing 3D pad has the R-value 11.4 and this is good for any weather conditions. Go for R-values above 5 if this is for winter conditions. But note that for sleeping off the ground you do not need so much insulation. Bear this in mind if you use a camping cot.
Valves
Typically you will have one or two of them. But there are some great examples with a roll-top closure, you can see this in the Therm-a-Rest Trail King SV Sleeping Pad. Such a design allows for a very quick inflation and deflation.
Durability
This is extremely important. If such a pad is punctured, you will not have an air bed underneath you. So you might want to go for a durable shell material. Sleeping pads usually have a different denier value for the top and bottom, more durable on the bottom of course. If you sleep on a cot, you will need a less durable fabric on the bottom.
But what does this all mean? As always, it is best to compare. So for example, this Therm-a-Rest Trail King SV Sleeping Pad has 50D and 75D on its two sides. These are normal numbers, quite good in fact.
But see also this Exped MegaMat Outfitter 10 LXW sleeping pad; here you have no less than 420D shell. This is what I would call a true heavy-duty thing.
---
Self-inflating pad vs inflatable pad, which is better?
There is no simple answer here, there are many factors to take into account, and here are some:
Weight: self-inflating pads always have a layer of foam inside. This adds some weight and you can avoid this with an inflatable pad. So if you are an ounce counter and this is about summer adventures, inflatable pads should be your choice.
Insulation: the foam in a self-inflatable pad is naturally an insulator by itself. But the best insulation is when this foam is full of air. So in most cases these are 4-season outdoor items. This is not so with inflatable pads; they can have an extra layer of insulation and this will add some weight. But inflatable pads are almost always lighter, even with insulation inside. This holds in particular if the insulation is down.
The presence of foam implies that even if the pad leaks, you will still have something underneath your sleeping bag. This is not so with simple inflatable pads; if such a pad leaks, you will wake up on the ground, and you will feel cold, uncomfortable, and miserable.
Packed size: self-inflatable pads are never or rarely as packable as inflatable pads. This holds even if the latter has some insulation in it. To realize this, check the Sea to Summit Ether Light XT Mat which is inflatable and its packed size is 8.3 x 3.9 inches (21 x 10 cm). Compare this with Therm-a-Rest Trail King SV Sleeping Pad which is self-inflating and its packed size is truly great 11 x 6.6 inches (28 x 17 cm), but it is not a match for the other pad.
But take also this Therm-a-Rest BaseCamp Self-Inflating Sleeping Pad (shown above) with its 21 x 7 inches (54 x 18 cm) packed size. This is an insulated pad with a high R-value, so let's take another inflatable yet insulated example, the Klymit Insulated V Ultralite SL Inflatable Sleeping Pad which packs to 7 x 4.5 inches (17.8 x 11.4 cm). You see the differences.
The top picture above shows one of my own self-inflating pads which I use mostly for car camping. It is not a top-notch one but the dimensions are not bad, L x D around 27 x 17 cm.
How about the price? This will depend on the manufacturers and on how they value their products. You have expensive items in both groups. Because both types can leak, you have to go for something reliable, and you will have to pay for this.
---
Self-inflating pads vs closed cell foam pads
Closed-cell foam pads are the lightest you will find, and they will never leak. But have you ever used one and carried it attached to the pack? I did many times, you can see one in a photo in this text from the Alps.
So they are bulky and they are thin, and in this sense they are not a match for self-inflating pads. But they are usually incredibly affordable and they are reliable. If you are on a budget, this is the option to consider.
---
Self-inflating pads vs foam pads
Both types have an open-cell foam inside, so in a sense both are self-inflatable. The main difference between these two types is in the shell. The self-inflating pads are built to keep the air in the shell, so they are with valves, the foam pads have no such features.
Ordinary foam mattresses are for car camping, they are bulky when packed, heavy, and very comfortable. They tend to be softer than the self-inflatable pads where the air trapped in the shell adds to their rigidity.
---
I hope this text has been useful to you have a more clear picture of what a self-inflating sleeping pad is. Let me know if I have missed mentioning something important, or if you have any question, there is a comment box below for such a purpose.