---
This Therm-a-Rest Trail King SV Sleeping Pad review is about a tool with a unique hybrid design, with a self-inflating foam and air baffles construction, and the R-value 1.8.  
---
What is

in

the name – key features
A dual valve system, classic and SV. The SV stands for SpeedValve, see more below.
Self-inflating, but a specific kind, with rib cage foam structure and air baffles in between.
Two sizes to choose.
Quick deflation.
Inflated with just a couple of breaths.

---
Who is it for
The Therm-a-Rest Trail King SV pad is a tool for a 3-season use, but it offers some insulation.
I have seen it described as a backpacking mattress, but with the weight of 1 lb 13 oz (0.83 kg) for the Regular size, and 2 lb 6 oz (1.08 kg) for the Large version, I doubt that many would take it on an extended backpacking tour.
I see it more suitable for quick overnight hiking or mountaineering adventures, and for any outdoor use where you do not have to carry it in the backpack. So this can include activities like kayaking, cycling, motorbike or car camping, summer camps, open air festivals, and concerts.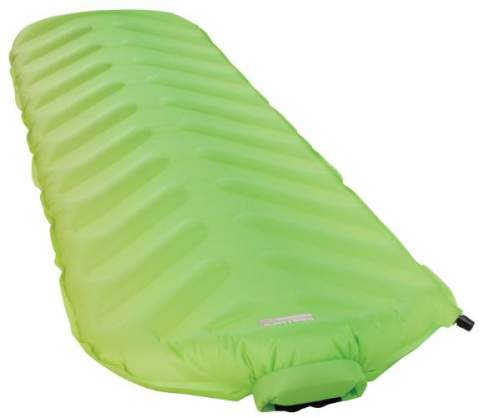 ---
Description
This is a hybrid construction. This means that you have a unique structure with air and foam baffles one after another, built in the V-shape. They extend diagonally instead of longitudinal or transverse direction. This is an optimal way because of the following. When pressed, a pad extends in length if it is with longitudinal baffles; it extends in width if it is with transverse baffles. So the V-shape is an optimal approach to get some extra space in both directions. You have this design in many Klymit pads which you can see here.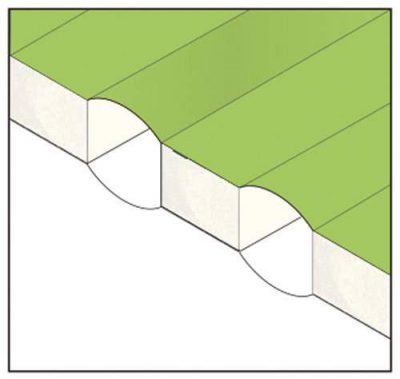 The pad is self-inflating, so you have the open cell foam inside which does the job for you, and it also adds support and insulation. The foam structure is shaped like a rib cage, so less material is used and this sheds the weight while still providing much more support than the standard pads.
The pad comes in two sizes, Regular and Large, see the numbers in the specifications below. The Regular is quite small, the Large is great size but it is considerably heavier. The packed size is quite good for such a design, 11 x 6.6 inches (28 x 17 cm) for the R pad, and 13 x 6.7 inches (33 x 18 cm) for the L pad.
The R-value
The R-value is only 1.8, this may not look much and indeed this is not a winter tool, but it will keep you warm in any 3-season circumstances even with sudden drops of temperature or at higher altitudes.
But if you are using it with a backpacking cot, you can be safe even in winter conditions. This is because the air under the cot takes around 5o times less of your body warmth than the cold ground if you use the pad in the usual way.
What is SpeedValve system
There is a classic small valve (visible in the picture below) which you can use to inflate the pad, but it is slow as usual. Nevertheless, you can use it for small adjustments, for example, if you want to make the surface softer you will use this valve. This is its main purpose in the design which you have here.
But far more effective and unique (although used also in a few other pads from the same brand) is the SpeedValve system. This is a huge roll-top opening, 9.5 inches (24 cm), see it below. You unclip and unfold it and blow the air in it from some distance. This air flow sucks the surrounding air too, your lung power is multiplied by a well-known physical effect, so you can inflate the pad with just a couple of breaths.
After that, roll the opening down 7 times and close it like a dry bag. This same system deflates the pad in seconds, literally. It is best that you see this short video (note, she is using the NeoAir pad from the same brand, but the SV system is the same):
Here is a public demonstration with the Therm-a-Rest Trail King SV Sleeping Pad:
---
Pros & Cons
My short summary is as follows:
  Good & Cool

  Less good

Unique construction.
Easy inflation.
Quick deflation.
Very reliable.
Durable.
Quite thick.

Not so lightweight.
A bit expensive.
My list of Pros is long. Not much to object to this pad except the weight. I am just packing for my tour to the Alps, and my self-inflating pad is around 650 grams and I feel it will be heavy. But this Trail King SV is heavier even in its R size, though indeed it is much thicker.
The price
The price is a bit steep, you have to pay around $130 for the R size and $150 for the L size. But if you can afford it, this pad is worth the investment. You will see in the comparison table below that it is similar to the pads from other top brands.
See how I rate this pad, this is for its R size:
My rating breakdown of the Therm-a-Rest Trail King SV Sleeping Pad R size:
Weight -

9.1/10

Size -

8.4/10

Comfort & features -

7.8/10

R value -

7/10

Packed size -

9.1/10

Price -

8.7/10
---
Specifications
Best use: camping, hiking.
Sizes: R and L.
R-value: 1.8.
Weight:
– R: 1 lb 13 oz (0.83 kg).
– L: 2 lbs 6 oz (1.08 kg).
Size:
– R (L x W x H): 72 x 20 x 2.5 in (183 x 51 x 6.3 cm).
– L (L x W x H): 77 x 25 x 2.5 in (196 x 63 x 6.3 cm)
Packed dimension:
– R: 11 x 6.6 in (28 x 17 cm).
– L: 13 x 6.7 in (33 x 18 cm).
Top fabric: 50D print polyester.
Bottom fabric: 75D polyester.
Foam type: Urethane Foam.
AirFrame construction with 2.5 inches (6.3 cm) of high-loft support.
Fast inflation with SpeedValve technology combined with self-inflating foam.
Fast deflation with auto-reversing SpeedValve.
Stuff sack included.
Country of Origin: USA Built of the Finest U.S. and Global Materials.
Therm-a-Rest Trail King SV vs competitors
See how this pad stands in comparison wit some other top brands, please follow the links to see more:
Therm-a-Rest




Trail King SV

**

Big Agnes
Insulated
Air Core*
Klymit
Static V Luxe
Weight, oz (g)
29 (830)
31 (879)
35 (992)
Dimensions

72 x 20 x 2.5




(183 x 51 x 6.3)

78 x 25 x 3.25
(198 x 63.5 x 8.3)
76 x 30 x 3
(193 x 76 x 7.6)
Packed size
11 x 6.6
(28 x 17)
9.5 x 6
(24. x 15.2)
10 x 5.5
(25.4 x 13.9)
R-value
1.8

4.1

4.4
Insulation

synthetic

synthetic
synthetic
Fabric

50D, 75D poly

50D nylon ripstop
75D poly
Available
sizes & shapes
2
7
1
Price $¹
130
130
120
*The comparison is for LW size.
**This is R size.
¹This is at the moment of writing this text, please follow the links to check for updates.
---
Summary
To conclude this Therm-a-Rest Trail King SV Sleeping Pad review, this is a truly unique and functional design, a quality tool, but a bit on the heavy side if you plan to carry it in the backpack. It is perfect for kayakers, cyclists, motorbike riders, hunters and even for shorter hiking adventures. I trust the brand behind this pad and I can fully recommend it.
Nevertheless, if you feel this pad is not what you want, please have a look at my separate page with many great pads reviewed, both insulated and non-insulated. Check this Klymit UltraLite SL which is below 12 ounces.

Thank you for reading. Please let me know if you have any question or comment, there is a comment box below. I wish you a nice day.


---