---
NEMO Roamer Self-Inflating Sleeping Pad is a very thick, plush, supportive, insulated and comfortable car camping pad with great dimensions and a high R-value.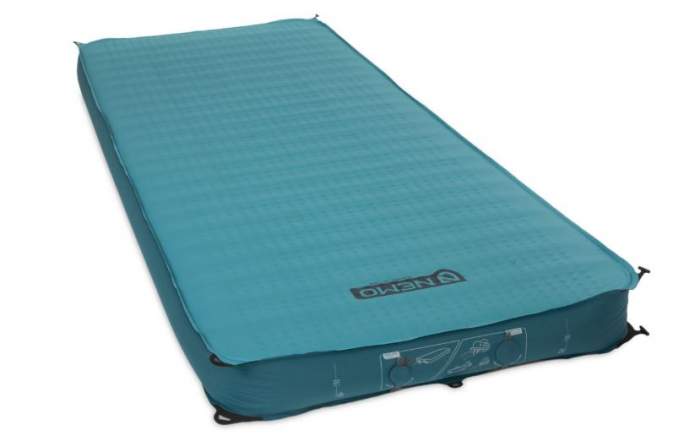 ---
Key features
Very thick pad.
Self-inflating.
Insulating.
Great size.
Attachment system.
---
What this is about – what type is this Roamer Pad
This Roamer pad is a new item on the market, they build it in two sizes, long-wide (LW) and extra long-wide (XLW), you can see them side by side in the picture and you will have the numbers in the specifications below: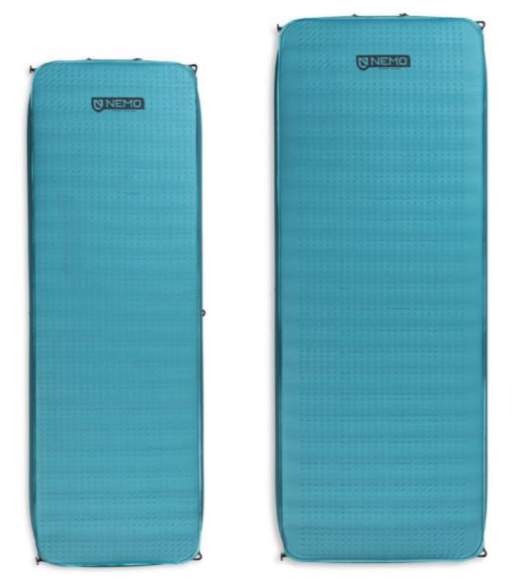 The pad is self-inflating type, so you have an open-cell foam inside and this does the job itself when you want to have the pad ready. You open the valve spread the pad, and do other things in the camp, the pad will self-inflate in a few minutes. You can always blow a bit of extra air in with your lungs.
This foam acts also as an insulator so the temperature rating for this pad is really great, it is suitable for temperatures as low as -30 F (-34 C). If you would rather have this expressed in terms of the R-value, this is a bit more than R-value 7, roughly around 7.5.
The top fabric is plush and stretch, very pleasant and comfortable 50D polyester. The bottom is a more durable and stronger 75D polyester. The sides are completely vertical, and they have added toggles, this is in order to attach the pad to yet another if you are camping with your partner. The toggles will keep the pads together without a gap in between, you can see these details in the zoomed picture below, the loops are on one side and toggles on the other side. Many pads can be connected in a row with these attachment features.
Having such two pads instead of one double size may be more convenient if one or both of the users move a lot during the sleep, so you have less chance to disturb the partner. Two Roamer XL Wide pads toggled together make a queen-sized mattress.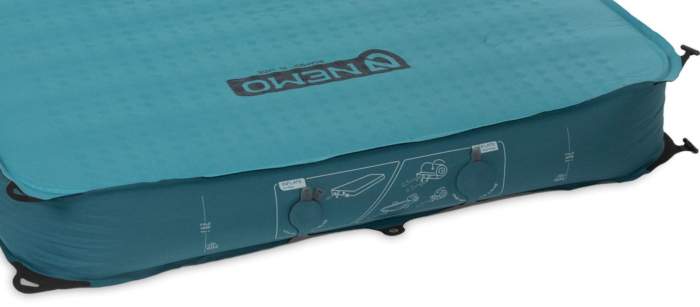 The pad is equipped with what they call Laylow multivalve system with micro-adjustment of the pressure in one of them. One of the valves opens wide for a quick release of air. They are visible above.

---
Who is it for
Size-wise, the two sizes offer options to choose, so the XLW version gives you the area of 80 x 30 inches (203 x 76 cm). This should be good enough even for very tall people. The width is also great. The LW version is still very good with its 76 inches (193 cm) length but its width 25 inches (64 cm) is a bit less impressive.
Note that the pad is 4 inches (10.2 cm) thick, so this should be good enough even for side sleepers. In fact, you will not find many thicker pads of this type on the market. This is why I have included it in my list of thick sleeping pads for camping.
Seasons-wise, with the mentioned R-value, this pad offers enough insulation even in the harshest winter conditions. This holds in particular if you sleep on a cot when you need less insulation in general. So this is a 4-season sleeping pad.
Weight-wise, this sleeping bag is designed for comfort and insulation, and the weight is appropriate, the larger version weighs 5 lb 4 oz (2.38 kg). If you think this is heavy, you will see some of its competitors in the comparison table below. So the weight is not important here, this is a camping sleeping pad and you are not supposed to carry it long distances.
The packed size is quite good for such a type, you can see both versions in the picture, and the numbers are in the Specifications below. Note that such a comfortable sleeping pad will always be a great emergency option at home, for sudden guests and for your kids' sleepovers.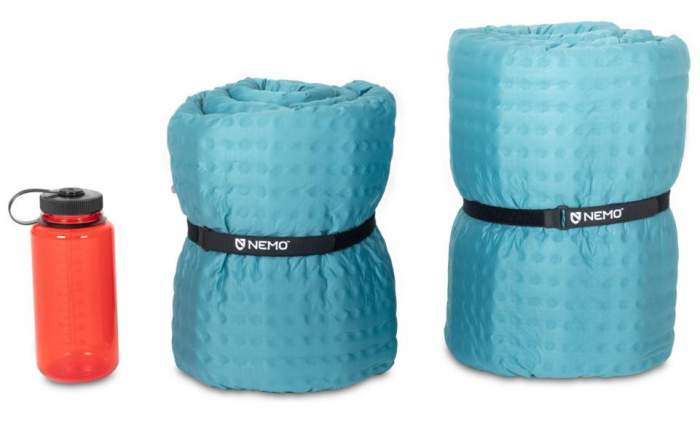 Please see more in this short video:
---
Specifications
Type: self-inflating sleeping pad.
Two sizes: LW (long wide) & XLW (extra long wide).
Temp rating -30 F (-34 C).
Weight:
– LW: 4 lb (1.8 kg).
– XLW: 5 lb 4 oz (2.38 kg).
Dimensions:
– LW: 76 x 25 x 4 in (193 x 64 x 10.2 cm).
– XLW: 80 x 30 x 4 in (203 x 76 x 10.2 cm).
Packed size (L x D):
– LW: 12 x 8.5 in (30 x 22 cm).
– XLW: 15 x 10.5 in (38 x 26 cm).
Warranty: Nemo's lifetime warranty.
Stuff sack included.
---
NEMO Roamer Self-Inflating Sleeping Pad vs Competitors
Such a quality and comfortable pad requires only top-notch pads for comparison. So here are the two of them, the Exped MegaMat Outfitter 10 and Therm-a-Rest MondoKing 3D pad. You will hardly find anything better on the market.
All three are self-inflating and as you realize, they are very close in all numbers, even the prices are very similar. Though the other two pads have a higher R-value (or a better temperature rating). Please follow the links for more details.
---
Final thoughts, rating, pros & cons
So this NEMO Roamer Self-Inflating Sleeping Pad is very supportive and comfortable. It will serve you well regardless of if you use it in the camp or as a spare mattress at home. It is hard to find any objection to this pad.
They claim that this is the plushest pad they have ever built, and you should know that Nemo is famous for its sleeping pads, so imagine. I have included it in my list of best sleeping pads for car camping and in my list of best cold weather sleeping pads.
This pad is expensive but this is a great quality and comfortable pad. Please see how I rate it against standard criteria used for all the sleeping pads here in the site:
If you need more options to choose from, please visit my page with sleeping pads. See this Therm-a-Rest BaseCamp Self-Inflating Sleeping Pad which is light enough to be carried on the trail. You will need a bag as well, so check my page with sleeping bags, you will find the best models available on the market.
Note that this is not a sponsored text, and I am not paid by the brand. Please use the comment box below in the case of questions or comments.