---
This YOUKADA Sleeping Pad Foam Self-Inflating Camping Mat is a double-wide pad with memory foam suitable for 3-season car camping, and with an incredible price tag.
---
Key features & benefits
Self-inflating.
Inflatable pillows.
Double-wide.
Memory foam.
Great price.
---
What type of a sleeping pad is this
So this is one of the pads that are described as self-inflating, and the meaning is that it has an open-cell foam inside. It is interesting that this is not just any foam, according to the specifications this is a memory-foam.
When you want to use such a pad, you simply unfold and open the valves. The previously compressed foam will tend to expand and in the process, it will suck the air inside. After that you just close the valves.
If you feel that the pad is not self-inflated enough, you can always blow some air by mouth. Note that it comes with an integrated head section. This part is without foam so you will have to blow the air by mouth. There are two separate valves for these pillows.
Attaching buttons: This is a bonus here, you have snap buttons on the perimeter (shown below) and this is great to connect it to another pad of the same type. This can be another double or single pad. In such a configuration you will have a large continuous area that covers the tent's floor and they all will be kept together and in place.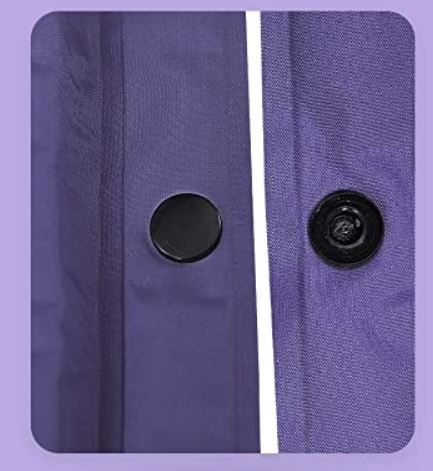 This is very convenient if you use it for camping with several kids, so they will always have the pad underneath them and you will not find them on the cold ground in the morning.
The pillows: I already mentioned them, so this is great to have, you do not need to bring extra pillows with you. These are around 5.5 inches (14 cm) thick. They are fixed and this is both good and bad. The good is that they will not move, but the bad is that you cannot adjust them as it suits you.

How about insulation
Such sleeping pads always provide some insulation. This is due to the foam itself, plus the air that it contains. This is normally expressed through its R-value. However, the manufacturer did not provide such information. So there is no way to know how well you will be insulated. But from my experience, this should be at least R-value 3, probably more.
---
Who is it for
Regarding the dimensions, in view of its 74 x 52.8 inches (188 x 134 cm) size, this is a large pad and completely enough for two adults or for 3 kids. You can compare this with a typical 2-person tent, so check this MOON LENCE Camping Tent 2 Person Dome or Coleman 2 Person Skydome Camping Tent. The pad will fit nicely in any of them.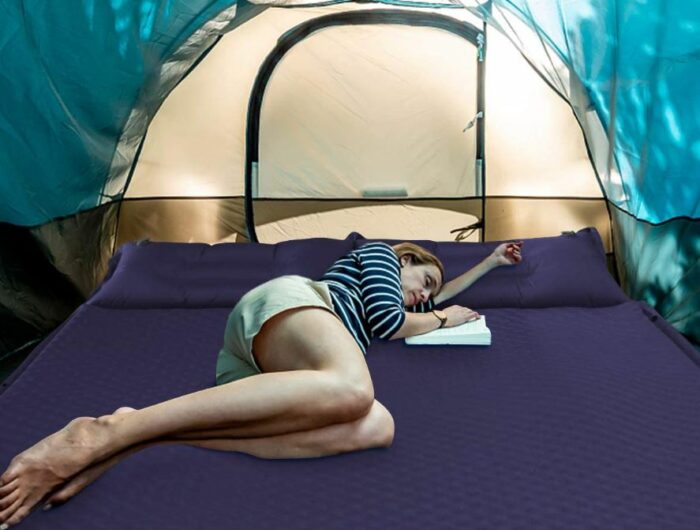 As I mentioned above, you can also use it in larger tents and attach it to some other pads.
Regarding the thickness, with 1.4 inches (4.5 cm) this is a very moderate pad. The foam is high quality but if you are a side sleeper it is better to go for something thicker, so check this list with car camping pads.
Regarding the weight & packed size, this pad is both bulky and heavy and although they give pictures of it attached to a backpack, this is not something you would want to carry long distances. But it is indeed portable with its 7.6 lb (3.4 kg). For longer tours, it is best to check this list of best backpacking self-inflating pads.
Regarding seasons & climate, I see it as a good 3-season pad, it will provide cushion and insulation in almost any weather conditions in such a use. But for extreme conditions, you should go for something with a declared R-value.
Regarding the price, this pad is a true bargain, there is nothing more one need to say here. You can compare with some other pads on the market and you will realize this.
---
Specifications
Type: double-size self-inflating.
Weight: 7.6 lb (3.4 kg).
Dimensions: 74 x 52.8 in (188 x 134 cm).
Thickness: 1.4 in (4.5 cm).
Pillow thickness: 5.5 in (14 cm).
Warranty: 12 months 100% warranty guaranteed.
---
Final thoughts, rating, pros & cons
So to summarize this YOUKADA Sleeping Pad review, what you have here is a pleasant and large sleeping pad, not particularly thick bit you have a memory foam. In view of its weight, it is best suited for camping at places where you would not carry it yourself. The price is simply incredible.
Please see how I rate this pad, the rating for the R-value is low simply because they do not provide its value and I cannot use my standard formulas for rating this feature. But this pad will definitely insulate you.
If you need more options, just search a bit under the category Sleeping Pads, you will find them many. Check our list with self-inflating camping pads where this pad is also included. In particular, see this KingCamp Double Self Inflating Camping Sleeping Pad with its bonus self-inflating pillows. If you would rather have an inflatable double-size pad, please check this ALPS Mountaineering Vertex Air Bed Queen Sleeping Pad.
Thank you for reading. Bookmark this site and visit again, we add texts here regularly and this will keep you informed. Have a nice day.