---
Coleman 2 Person Skydome Camping Tent is easy to use dome tent but with pre-bent poles that create more headroom, with some unique poles features, and an incredible price.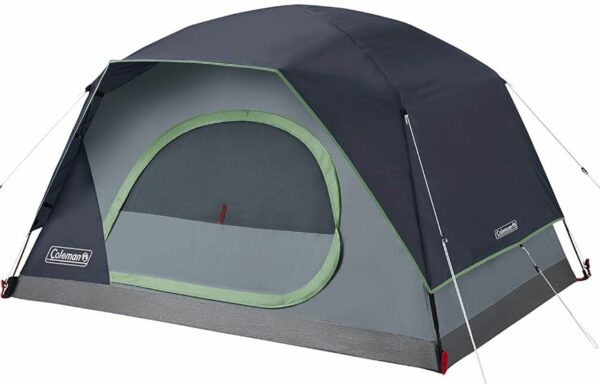 ---
Key features & benefits
Dome style tent.
Affordable.
Easy to use.
Steep walls with pre-bent poles.
Unique poles attachment.
Freestanding.
Fiberglass poles.
---
What this Coleman Camping Tent Skydome 2 Person is about
Here you have the smallest tent in the Skydome series by Coleman. It should not be mixed with their Skydome dark rest series where the fabric is much darker but the rest of the features are the same.
So this is a simple dome-style tent, but they have built it with pre-bent roof poles sections and this gives much more volume and the walls look like in a cabin tent, see the picture below. They claim you have 20% more headroom than in classic dome tents.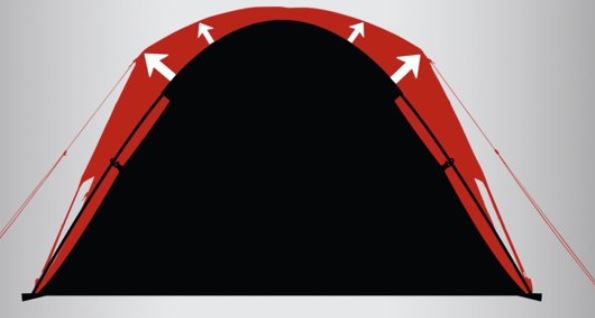 The tent is with one door and you have a window on the upper part of it, so this is a double-layer part with mesh and with a zippered panel.
The peak height is 4 ft (122 cm) so this is a low tent and getting in and out is not so easy, but the good thing here is that they have added a pole that creates a small brim and this makes it easier to enter the tent. Because of this structure, you have the mentioned window.
The tent is fully freestanding, and this is because of its minimal fly that attaches to the tent's base where you have loops for this purpose and the fly has hooks. This means that you can rotate the tent and move around even after the fly is attached. The bad side of this is that there is no vestibule for storage.
Ventilation
The ceiling has a lot of mesh and the window can be kept with mesh only most of the time because it is under the brim.  The fly does not go all the way to the ground so you can have lots of air circulation.
But there are no floor vents here, just to know, the tent would be much better with such a feature when you have to keep the window closed.

---
Materials
The poles: This is a budget tent and the poles are fiberglass as expected. There are two of them for the dome and one extra that creates the brim.
The mentioned unique features are related to the poles attachment to the tent. Instead of the usual pin and ring system, or grommets with holes, here you have corner pockets where you put the pole end.
This design is not completely unique, you have it in Kelty's tents under the name Quick Corner pockets, they are used in this Kelty Night Owl 3 tent, Kelty Late Start 2, and in several other tents. But Coleman's design is a bit different, and more importantly, they have added balls to the end of the poles so that the fabric is not damaged by the pole. See how this looks: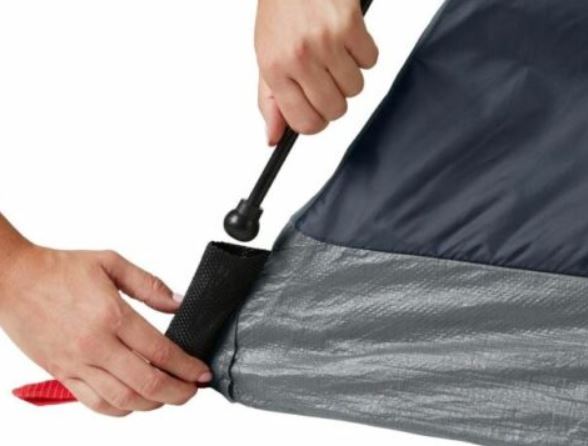 The idea behind this design is to make it easier for one person to set the tent up because the pole's end will not move from this pocket when you go to the other side to put the pole in place.
Note also that they use the term 'pre-attached poles', but here the meaning of this is simply shock-corded poles, not sure why they introduce such a terminology. Please see a bit more in this video:
The fabric: As usual for Coleman-US they do not provide any info about the waterproof rating of this tent. I stress the US here because Coleman-EU always provides such information.
All that they give is a statement about the WeatherTec system used, and this is the same as in many other of their tents. This implies welded corners on the floor, and inverted seams on the tent. Note that the floor is polyethylene, and this is a bath-tub design so you are safe from the ground.
---
Who is it for
Space-wise, with the floor area of 35 ft² (3.2 m²) this tent offers 17.5 ft² (1.6 m²) in the case of 2 users. This is its declared capacity and it is realistic. You can certainly use it as a solo tent as well, this is a camping tent in any case. It fits 1 queen-size air bed.
Weight-wise, as mentioned above, this is a camping tent because of its 8.73 lb (4 kg) of weight, so you would not want to carry it anywhere. It is heavy but it offers more than most of those small hiking tents.
The packed size is 23.5 x 6.5 x 6.5 inches (60 x 16.5 x 16.5 cm), so in principle, you can transport it even on a bicycle.
Price-wise, this tent is a true bargain, you will hardly find something more affordable and still have a product from a top brand.
Regarding seasons & climate, I would first point out its dark fabric, so although it is not officially a dark rest tent (they have another tent also with the name Skydome with such a dark-rest design), it will reduce glare a lot. So this is a good option for summer camping.
There is a statement about testing against winds up to 35 mph winds, but with such a fly, I would not use this tent in such weather conditions. It is far better suited for calm weather.
---
Specifications
Capacity: 2 people.
Weight: 8.73 lb (4 kg).
Dimensions: 7 x 5 ft (213 x 152 cm).
Area: 35 ft² (3.2 m²).
Area per person: 17.5 ft² (1.6 m²).
Peak height: 4 ft (122 cm).
Packed size: 23.5 x 6.5 x 6.5 in (60 x 16.5 x 16.5 cm).
1-Year limited warranty.
---
Final thoughts, rating, pros & cons
In summary, in view of its incredible price, I would not look for bad sides of this Coleman 2 Person Skydome Camping Tent. It looks cool, there are some really interesting and unique details in its design, it is easy to use, so what more to expect? Fully recommended. It is included in my list of best two person tents for camping.
Please see how I rate this tent, the same criteria are used consistently for all the tents here in the site so you can easily compare.
Please check under the category Tents for 2 people if you want more options to check. You might want to compare this tent with the MOON LENCE Camping Tent 2 Person Dome built in the same style. If you would rather have a teepee style tent, check this great ALPS Mountaineering Trail Tipi 2-Person Tent.
Note also that they have recently launched yet another version of this tent, the Coleman Camping Tent Skydome 2 Person with Full Fly & Vestibule.
Note that we add texts here regularly so bookmark this site and come again, stay informed about new trends in outdoor equipment. Thank you for reading and have a nice day.