---
This Coleman Camping Tent Skydome 2 Person with Full Fly & Vestibule is from their new variant of the Skydome series launched for the coming season.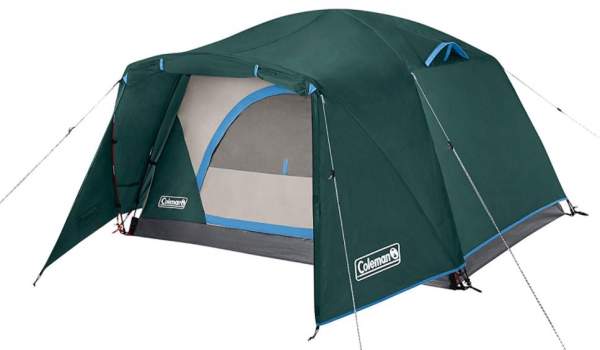 ---
Key features & benefits
Extended dome tent.
Full coverage fly.
Large vestibule.
One door.
One window.
Fly vents.
Great price.
---
What this Coleman Skydome 2 Person Tent is about
If you are familiar with Coleman tents, then you have probably noticed their Skydome series launched a year ago, with two variants, as a dark rest series, and as a non-dark rest series. Well, they did not stop there. Recently, they have launched yet another variant of the same series but this time with a full-coverage fly and a large vestibule.
Below you can see how the tent looks without the fly, the poles are pre-bent, and the side segments are almost straight so the tent looks like a cabin-type. They claim that with such modifications you have around 20% more volume inside as compared to an ordinary dome tent.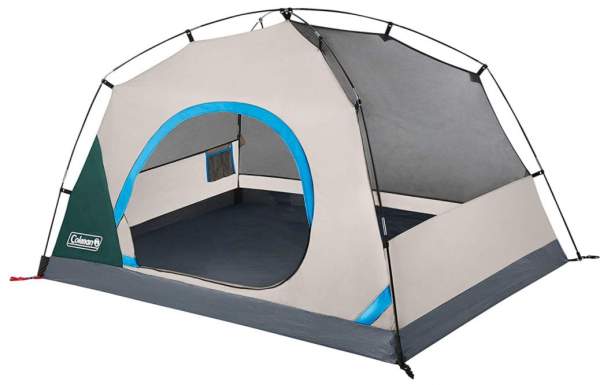 The tent looks very different with the fly on, as you realize from the picture below. So the fly is massive and it creates a large vestibule supported by one extra loop, this is what makes the tent like an extended-dome structure. Because of this added loop, the tent is not freestanding.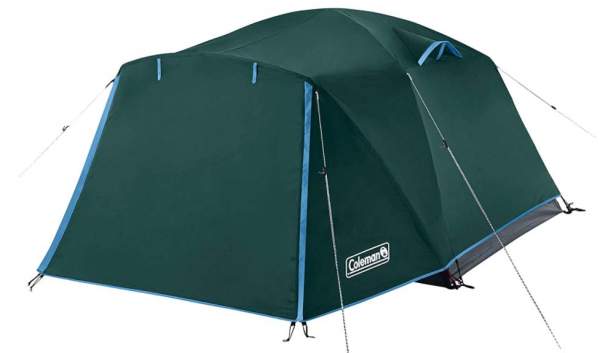 So this is a structure with one inner door which I find quite small although they describe it as large, and you have one window on the door. The window is with a mesh on the upper part, and with a panel, and you can enjoy views when the vestibule flap is rolled up as shown in the top picture above. This is possible because of the parallel side zippers. The tent is moderately low, the peak height is 4 ft (122 cm).
Ventilation
Note that there are no floor vents here, so when the fly is on and the vestibule is closed as in the picture above, you have to rely on the fly vents and on the inflow of air from the ground under the fly.
The inner door can be kept open all the time because it is fully protected by the fly and it is deep under the vestibule, but then you have no protection from insects, the mesh is only on its upper part. Pity that they did not make it with full mesh.
Materials
They do not provide much information, pity. But the poles are fiberglass and they use a very specific design here. On one end of the pole you have a sleeve on the tent where you place the pole (you will see it in one picture below), while on the other side you have the usual attachment shown in the picture below.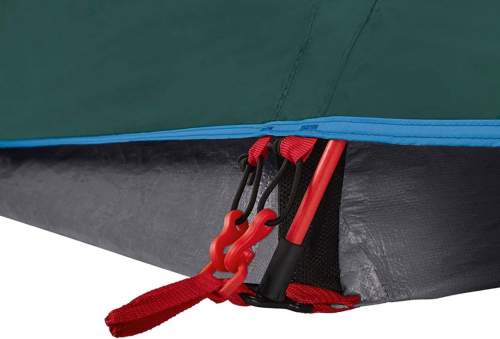 They did not care to provide some information about waterproof rating. But they write that they use their WeatherTec system. This implies welded corners on the floor, and inverted seams on the tent, plus a bathtub floor. The floor is most likely a polyethylene, and this should be fully waterproof, this is a sort of plastic.
Other features
Color coding is in place.
An e-cable port is available, see the picture below.
A couple of small pouches are on the wall, see the picture.
---
Who is it for
Capacity-wise, the tent is officially for two people. For this you have 35 ft² (3.2 m²) in the inner area, and the vestibule adds around 18.3 ft² (1.7 m²). So the total protected space is 53.3 ft² (4.9 m²), and per person this is 26.6 ft² (2.45 m²). This is quite a generous space for two users, much better than in the case of the mentioned Skydome version without the vestibule.
Seasons-wise & climate-wise, they describe it as a 3-season tent, and they claim it can withstand winds of up to 35 mph. This is probably so, the tent is aerodynamic and low profile, and the fly covers it completely. 
Weights-wise, the tent is not very light, you have 12.75 lb (5.78 kg) here. The packed size is 25 x 7.5 x 7.5 inches (64 x 19 x 19 cm). So all in all, this is a camping tent and you would not want to carry it anywhere.
Regarding the price, I find it simply incredible, this is a true bargain.

---
Specifications
Official capacity: 2 people.
Weight: 12.75 lb (5.78 kg).
Dimensions: 8 x 7 ft (244 x 213 cm).
Inner area: 35 ft² (3.2 m²).
Inner area per person: 17.5 ft² (1.6 m²).
Vestibule area: around 18.3 ft² (1.7 m²).
Total protected space: 53.3 ft² (4.9 m²).
Total protected space per person: 26.6 ft² (2.45 m²).
Packed size: 25 x 7.5 x 7.5 in (64 x 19 x 19 cm).
Peak height: 4 ft (122 cm).
Poles: fiberglass.
---
Final thoughts, rating, pros & cons
So this Coleman Camping Tent Skydome 2 Person with Full Fly & Vestibule is an improvement as compared with the previous version with a partial coverage fly. It offers far more protected space because of the vestibule and you have better protection from the elements. The price tag is extraordinary.
Please see how I rate this tent. The same criteria are used for all of them so you can easily compare.
BEST PLACEs TO BUY regarding shipping and price:
For more options in this capacity group please check in the category Tents for 2 people. You might want to subscribe to my newsletter, there is a subscription form below, this will keep you informed. Thank you for reading and have a nice day.