---
This Coleman 4-Person Dark Room Skydome Camping Tent is a freestanding, easy to use, and very affordable tent designed to block sunlight up to 90%.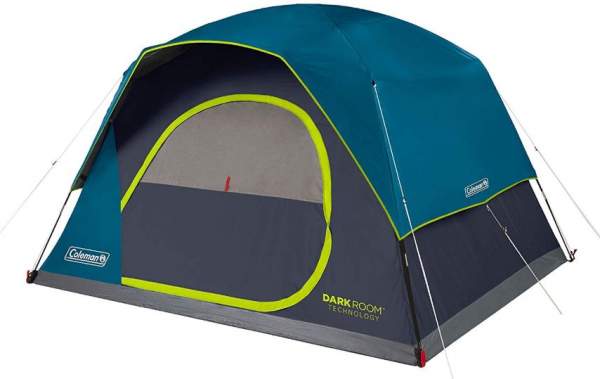 ---
Key features & benefits
Dark room technology.
Easy to use.
Very steep walls.
Gear loft included.
Fiberglass poles.
Very good price.
---
What this is about 
This Coleman Skydome 4 Dark Room Tent is a dome-style structure but with very steep walls so it looks almost like a cabin tent. They claim that it offers 20% more headroom than traditional Coleman dome tents. You can realize this from the picture below that shows it without the fly.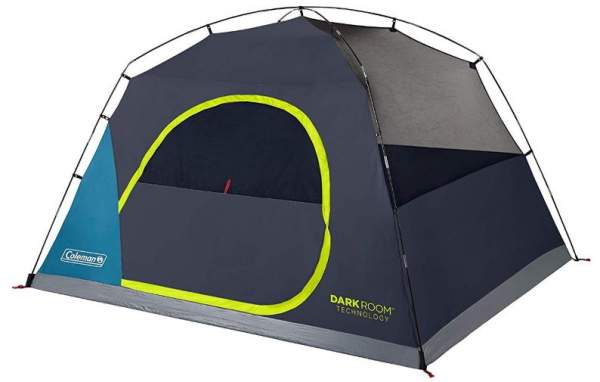 The tent is also quite tall for its size, so you have 4 ft 8 inches (142 cm) center height. This is a simple single-room structure with two main poles that support its dome, and you have only one door shown above.
Note that the door has a window which is a double-layer construction with mesh and a zippered panel from inside. This window is partly protected by the small awning above, so you can keep it with mesh only almost all the time and have views around.
Because of this same great feature, you do not have any vestibule here. On the other hand, the fly is designed to attach to the frame and this is why the tent is fully freestanding. This implies that you can rotate the tent and move around even after you add the fly. So this is all kind of trade-off.
The picture below shows the tent from the back side and you realize that the bigger part of the tent is covered. The walls below are the same material as the fly. Observe also that you have many guylines around to secure the fly, and the lower guylines can be positioned so that you have an increased airflow underneath the fly.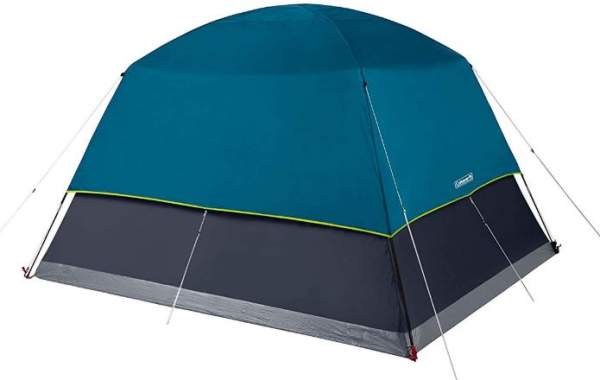 Dark rest design
Here you have something special mentioned in the name, so dark materials are used in the tent's construction. They claim that their Dark Room technology blocks 90% of sunlight.
Coleman is well-known for its dark-rest tents, you can see also their Coleman Carlsbad 4 and also Coleman Oak Canyon 4 tents built with the same dark rest or dark room or blackout technology.
This allows you to sleep longer in the morning and also to take a nap during the day. The fly reflects a part of the sunlight and this creates a bit cooler atmosphere in the tent.
Ventilation
The inner tent is dark so perhaps you cannot clearly see in the pictures what you have, but the biggest part of it is mesh. This in combination with the shallow fly profile created by those brim poles is a guarantee that you will always have enough vertical airflow so vapor will escape and condensation will be reduced to a minimum. Nevertheless, I miss a floor vent on the back side, pity they haven't added it here.

---
Who is it for
Regarding seasons & climate, what you have here is a summer camping tent, suitable for up to two seasons. The dark-rest technology is there to protect you from strong daylight.
Such a high fly is not the best option for strong winds, but they claim the tent was tested to withstand up to 35 mph winds. You have a full set of stakes and guylines to secure it and to fix to the ground, see the picture.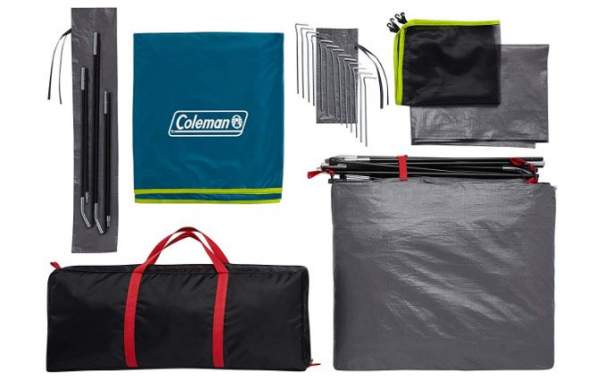 Regarding capacity, officially this is a tent for 4 people. You have 56 ft² (5.2 m²) of the inner floored area and this means 14 ft² (1.3 m²) per person in the case of 4 occupants. It is indeed possible to place 4 pads on the floor, see the dimensions below, so this may work for a group of friends at a summer festival or an open-air concert.
Regarding the weight, the tent is on a heavy side with its 12.2 lb (5.53 kg). So this is not a backpacking tent, check this list if you want something for the trail.
The packed size 24.7 x 9.4 x 5.4 inches (63 x 24 x 14 cm) is not so bad. All in all, this is for places with a motorized access but you can transport it also on a bicycle. I have included it in my list of best 4 person car camping tents.
---
Materials
The poles
There are some unique features here. The poles are fiberglass but you have a plastic ball added to one end. On the other hand, the tent's front corners are with some small pockets where you place those ends of the poles, see the picture below.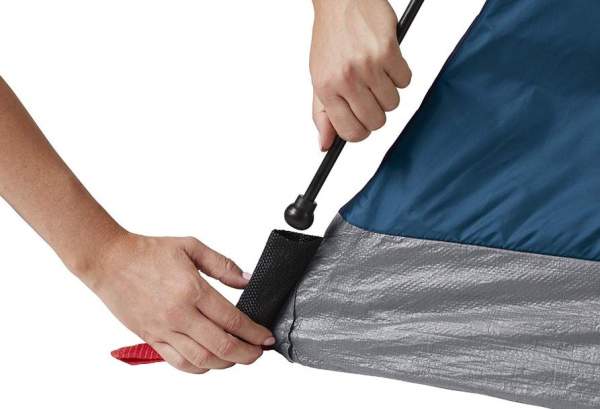 This is similar to the so-called Quick Corners design in some of the recent Kelty's tents like Kelty Wireless Tent 4 and Kelty Late Start 2 person tent. So when you put this pole with the ball in the pocket, it will stay there for sure while you go to the opposite side to attach it in the grommet (shown below). This makes one-person pitching far easier.
The opposite end of the poles is also different from standard fiberglass poles, and you can see this in the picture below.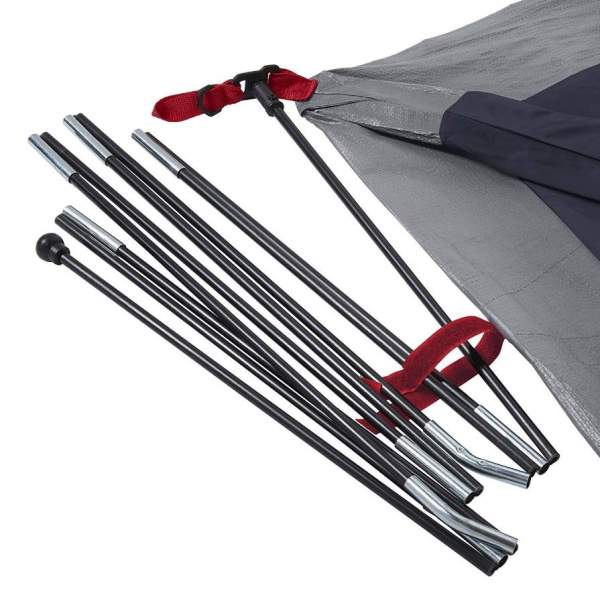 The fabric
There is not much information given by the manufacturer. But the floor is a rather strong and thick material and they write that their usual WeatherTec system with welded corners and inverted seams is applied here. This is what you have in almost all the tents of this brand.
There are a couple of mesh pockets on the walls, and there is also a gear loft to keep small items organized.
---
Specifications
Weight: 12.2 lb (5.53 kg).
Dimensions: 8 x 7 ft (244 x 213 cm).
Area: 56 ft² (5.2 m²).
Area per person: 14 ft² (1.3 m²).
Center height: 4 ft 8 in (142 cm).
Packed size: 24.7 x 9.4 x 5.4 in (63 x 24 x 14 cm).
Carry bag included.
1-Year limited warranty.
Fits 1 queen-size air bed.
Carry bag included.
---
Final thoughts, rating, pros & cons
In the summary of this Coleman 4-Person Dark Room Skydome Camping Tent review, I wish to stress that what you have here is a combination of i) some unique features (poles design, and their attachment to the tent) and ii) some feature(s) which this brand is famous for (the dark rest design).
Now, combine this with the incredible price and you realize that you have an exceptional piece for outdoor adventures. The capacity and size combination is far less impressive, but this is so typical for most of the tents on the market.
Note that they have also a new tent in this Skydome series, the Coleman Camping Tent Skydome 4 Person with Screen Room. But see also my list of Coleman 4 person dome tents.
Please see how I rate this tent against my standard set of criteria used for all the tent for easy comparison:
If you need more options in this size range, check under the category Tents for 4 people. They have a great tent with a screen room under the name Coleman 4 Person Cabin Camping Tent with Screen Room. Check also this Kelty Wireless Tent 4 Person if you want a tent with vestibules and two doors.
Remember that this Skydome series includes several tents, and more importantly, they have launched two separate series with the same Skydome name, but one is with and the other without the dark-rest technology. You will see them below, so do not make a mistake and follow the links given in the text if you want this dark-rest version.
Note that we add new texts on a regular basis, so bookmark this site and check occasionally. There is a subscription form below for our weekly newsletter, so subscribe and stay informed. Have a nice day.