---
If you need an affordable camping shelter for your occasional outdoor adventures, this selection of Coleman 4 person dome tents is for you. Keep reading.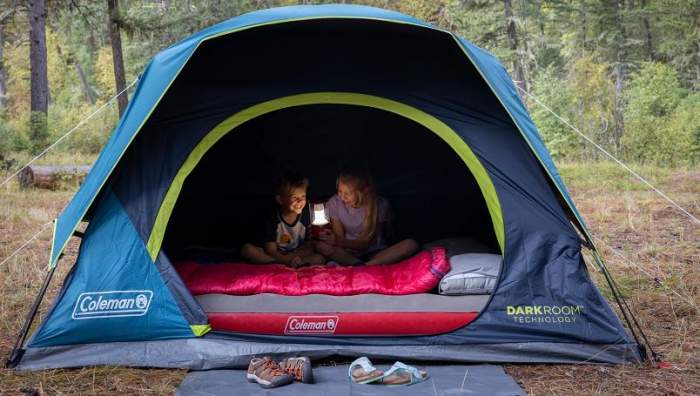 The capacity of these smaller tents of Coleman is typically determined by the number of sleeping pads that fit on the inner floor.
Such a principle is standardly used for backpacking tents, but these are camping tents and such a capacity is usually not very realistic. You can indeed put 4 sleeping pads in such a tent, but if you need a bit of comfort, it is best to downgrade the number of users by one.
The term 'dome tent' implies a simple structure that is supported by two X-crossed poles. But some of them can have one or two extensions supported by extra loops. In some cases, such a loop is added to support an oversized vestibule or a screen room. Tents with such additions are described as extended dome type and you will see them here in the list.
---
My selection of Coleman 4 Person Dome Tents
So, here is my list, the tents are ordered by the inner floor area from smaller to larger:
---
1. Coleman 4-Person Dark Room Skydome Camping Tent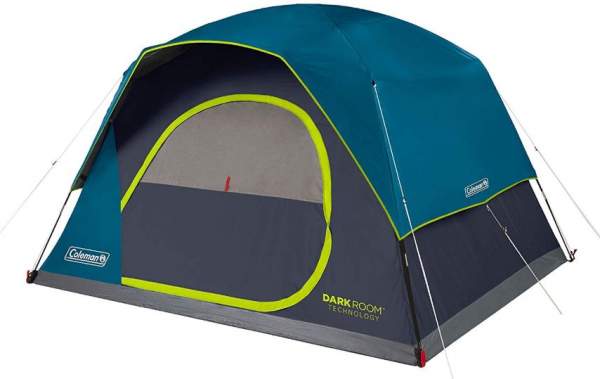 This Coleman 4-Person Dark Room Skydome Camping Tent is fully freestanding. This is because of its 3/4 fly, so there are no vestibules, and the fly attaches to the frame. So even with the fly on, you can still rotate the tent and move it short distances.
It is supported with fiberglass poles, and their attachment at the tent's base is quite unique. Note that there is an extra ridge pole added to create a small brim above the door so you have a dry entry.
The tent is a great example of their dark-rest tents. They claim it blocks sunlight up to 90%. You will want to know that the tent is very affordable. It weighs 12.2 lb (5.53 kg) and the area is 56 ft² (5.2 m²).

---
2. Coleman OneSource Rechargeable 4 Person Tent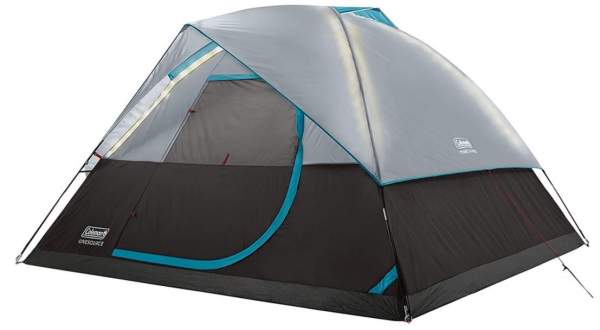 This tent comes with a rechargeable One Source battery, and you have an integrated lighting system powered with the battery. It has also a fan included and it is powered from the same source. Now you understand what behind its name is.
The frame is simple, only two main fiberglass poles and one short ridge pole that adds some protection to the door. This makes the tent fully freestanding. 
Note that you have a floor vent and also two fly vents, so ventilation is excellent here. There are three windows and one door. The tent weighs 14.33 lb (6.5 kg), and the floor area is 63 ft² (5.8 m²).

---
3. Coleman Sundome 4 Person Tent
This tent is Coleman's classic. It has been on the market for many years already, and it is exceptionally popular and versatile tent, built for summer camping. It comes with an incredible price tag, and it is hard to find a match for it.
So this is a tent for users who do not want to spend much and need a tent for occasional use in very mild summer conditions. The floor size is 63 ft² (5.8 m²).
The tent has a floor vent, it is freestanding and supported with two main fiberglass poles. One short ridge pole creates a small brim above the door. The weight is very good 9.7 lb (4.4 kg), so this tent can even be carried on the trail. 

---
4. Coleman Carlsbad 4 Person Tent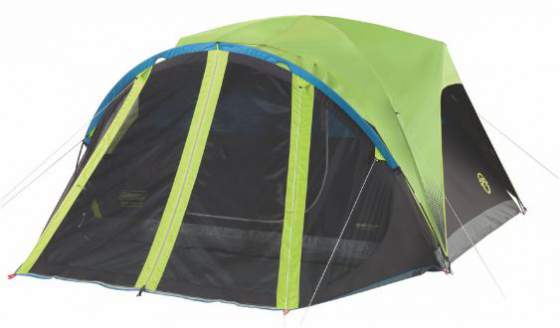 This Carlsbad 4 tent combines two great features, it has a screen room and the inner tent is a dark rest technology. The screen room is an area for sitting and cooking as long as the weather is fine. It is not fully protected from the rain, so its floor is with openings to let the rainwater get out.
However, the inner tent is a bedroom and it is fully protected and here you have the dark test design at its best. They claim it reflects up to 98% of the sunlight, so the atmosphere in the tent is cooler and far darker than in other dark rest tents. This allows you to sleep longer in the morning and to take a nap during the day.
So the tent can be described as a 2-room design, and this is an example of an extended-dome type tents. The total area is 99 ft² (9.2 m²; 5.84 + 3.34 m²), and the first number here is for the inner tent area. So this tent provides lots of pleasant space. 

---
5. Coleman Camping Tent Skydome 4 Person with Screen Room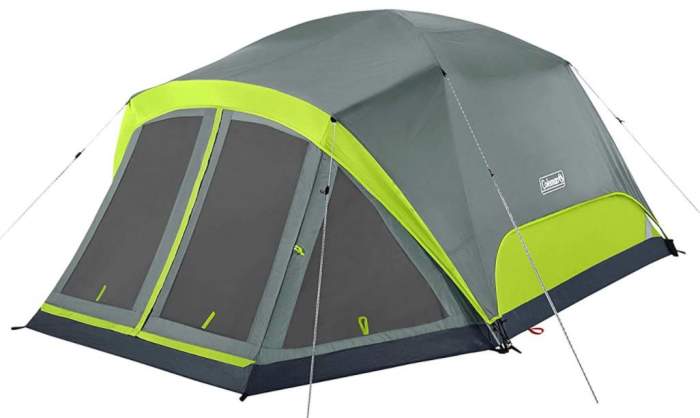 This Coleman Camping Tent Skydome 4 Person with Screen Room is again an extended dome 2-room tent. But here you have the front screen room that is fully protected with its inner panels. You can unzip them when the sky is clear. Its floor is also fully sealed.
The fly covers most of the tent so you have full protection and this is a true 3-season camping tent. Note that the poles are pre-bent and almost completely straight.
The tent weighs 16.8 lb (7.6 kg) and the area is 56 + 22 ft² (5.2 + 2 m²). The poles are fiberglass. There are several storage pouches on the wall, and an E-cable port.

---
6. Coleman Ridgline Plus 4 Four Person Tent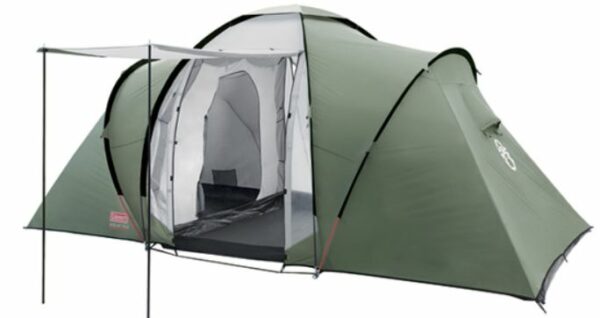 This tent has two extensions on the sides, so it is more a hybrid dome-tunnel tent than a dome tent. There are two inner tents on the sides, and the central area under the dome is a large living room. So the tent is a 3-room configuration. 
Note that the floor in the living room is linked-in and not sealed. The inner tents are with fully sealed floors. The total floored area is 105.3 ft² (9.79 m²).
The poles are fiberglass, there are 2 doors and 4 solid windows. This is one of the tents they originally built for the EU market, so the waterproof rating is huge. It comes with an awning setup and the price is great.

---
Final thoughts
So this was my selection of the Coleman 4 person dome tents, all of them are compact, and easy to use. For most of them the weight is such that they are best suited for places where you would not carry them long distances. But you can transport them even on a bicycle.
The list will be updated whenever I add their new good 4-person tent of this type here in the site. This is why you might want to bookmark this post and visit it occasionally. 
Note that there is a comment box below, so let me know if you have questions or comments. Thank you for reading.