---
In this Coleman Sundome 4 Person Tent Review, you can read about an exceptionally popular, versatile and nicely built freestanding 3-season tent with an incredible price tag.
---
Key features & benefits
Incredibly affordable & very popular tent.
Very lightweight.
Freestanding.
Very easy setup.
Ventilation opening near the floor.
2 mesh pockets for storage.
2 windows.
Electricity port.

---
Coleman Sundome 4 tent – what is in the name
This is a freestanding type. The meaning of the term is that you can pitch it on any terrain and you will never get in trouble while trying to find a proper place for this tent, so this is a big plus for me. More about this terminology you can see here.
In specifications, it is described as a 3-season tent. But I would narrow it down to a summer-type because it is for really mild weather situations and not designed for heavy rains and winds. So you use it for summer vacations and you will enjoy it; if you need something for more serious challenges, you will have to pay much more.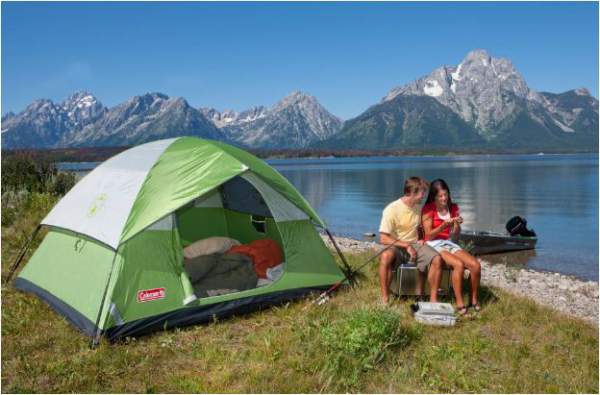 Obviously, this is a dome-shaped tent with all good and bad sides of such a design. The height is 59 inches (150 cm) and it has only one door, so these are not so great features in my view. But such a dome-style design implies it is lightweight and its design is simple so the setup is easy.
---
Who is it for
The declared capacity for this tent is 4 people. Its dimensions are 9 x 7 ft (274 x 213 cm), so this is surely enough to put 4 standard (but narrow) sleeping pads on the floor and 4 people can stay there overnight.
But bear in mind that you do not have a vestibule and you will not have space for gear. So ideally this is a tent for 2 – 3 people.
However, as I said, it has space for 4 users, and it is also light enough, 9.7 lb (4.4 kg), so that such 4 users can carry it for some shorter overnight or weekend hiking or mountaineering yours. But I see it more as an ordinary camping tent.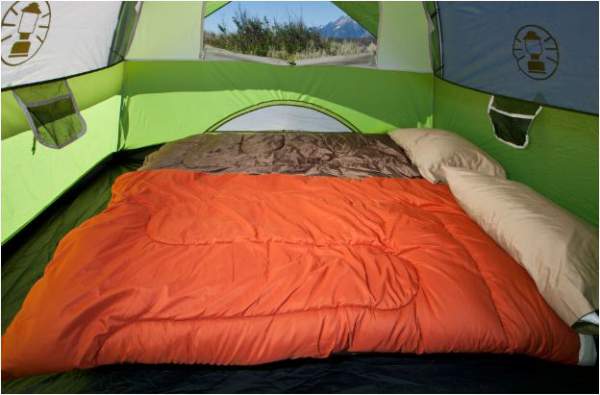 Note also that its packed size 60.5 x 16.5 cm is really impressive, so it can be carried in various ways, and it can be transported on a bicycle, on a motorbike, in a kayak, car, etc. So this is a versatile tent in the true sense.
Its price tag is simply unbelievable, so this is a tool for people who:
do not want to spend much, and/or
need a tent for occasional use only.
If you are in any of these groups, look no further, there is nothing more affordable on the market.
---
Materials & construction
What is included
You have the following stuff in the package:
10 stakes.
3 shock-corded fiberglass poles.
Rain fly.
Tent body. Here you have PE floor, waterproof lower walls' sections, and mesh on the upper sections. All fabric is marked as fire-retardant.
Welcome mat.
Nice carry bag.
The setup
This is a freestanding structure because of the following. When the poles are passed through the sleeves, and you put the integrated pins from the tents' four corners into the poles' ends, the poles are fixed in place, and the tension is created in the tent fabric and it becomes self-supported and freestanding. This is further reinforced when you attach all 8 additional clips to the poles. This is visible from the picture below.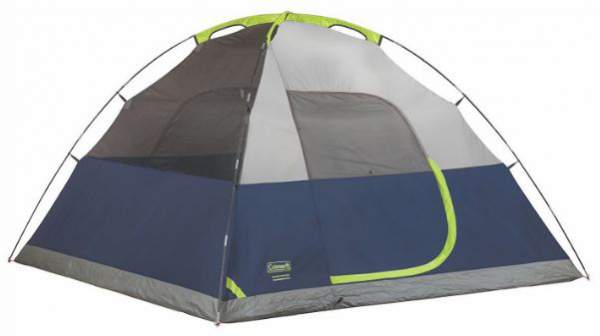 So you do not have any hub in this structure, but this is typical for many larger tents and for family camping tents. With this, the tent is set up and ready.
When you use the fly, you add the remaining third pole to the fly (there are two small pockets on two opposite sides of the fly, for the ends of the pole) and fix the pole to the fly by Velcro tabs.
After that, you put the fly on the tent so that the fly-pole is oriented front-back. Note, this fly-pole creates two small awnings, one on the front and one on the back. These awnings are there to partly protects the front door and the back window and to keep the fly up so that you have unobstructed views.
The fly is with 4 guylines with hooks, so you attach the hooks to the tents' corner rings. With this, the fly is fully secured.
Ventilation
The tent is good in this respect. You have mesh in the upper portion on all 4 sides. You also have windows on both sides (located under the mentioned awnings), so you can unzip them. The awnings are small but you can still keep those windows open even when it is raining.
In addition, there is a floor vent on the back of the tent, and you can see it in the picture below. To have it fully functional, it may be necessary to stake it out. But in any case, this vent is protected by a panel from outside, so you can keep it open at all times. This is a really good and very useful feature, and this makes this tent more livable than some other tents on the market, bear this in mind. Though I wonder why they did not make it bigger.
Inside organization
There are 2 small mesh pockets on the wall, for small gear.
On the ceiling, you have a hook for a lantern.
Yet another useful feature is a zippered port for an electrical cord.
Weather protection
The official waterproofness rating for this tent is 600 mm. This does not look so impressive, just a bit more than an ordinary umbrella which is typically 400 – 500 mm. But the question is if you really need more. If you use this tent in mild summer conditions, you will be fine. But do apply something on the upper seams, just in case, it can never be too much sealing.
For the floor, they use what they call the WeatherTec patented system with welded seams. If you are not familiar, this is the best system for seams in general, see more here. Note also that the floor is a bathtub design which is a good feature in general. More problems regarding the weather protection you can expect from above because the rain fly is not a full coverage type.
More about this tent and the Sundome series in general, you can see in this short video by Coleman:
---
Good and less good features
Here is my short summary:

Totally crazy price.
Several great features.
Great weight and packed size.
Easy setup.
Freestanding.

No vestibule.
One door only.
Not for heavy rains.
The price
No doubt that the price contributes to the popularity of this tent. As of the moment of writing the text, the Amazon price for this tent is simply incredible, in the range $44 – 84 (dependent on the color). It is hard to find anything that would match this price and features combination.
Here I give the link which will show the daily updated price, so you will have an accurate info when you read the text. Note that this is an Amazon Prime item.
What users think & my rating
The Sundome 4 tent has been on the market for a number of years already, and it has received an incredible number of reviews. On Amazon alone, you have them more than  640, and the average rating is really high, 4.3/5. See how I rate it:
My rating breakdown of the Coleman Sundome 4 person camping tent
Weight -

8.2/10

Floor area -

7.8/10

Area/Weight ratio -

8.7/10

Packed size -

8.6/10

Reliability & protection -

7.8/10

Ease of use -

9.0/10

Comfort & features -

8.4/10

Price -

9.9/10
---
Specifications
Type: freestanding, 3-season.
Capacity: 4 people.
Weight: 9.7 lb (4.4 kg).
Dimensions (L x W x H): 9 x 7 ft (108 x 84 in; 274 x 213 cm).
Floor area: 63 sq ft (5.84 m²).
Peak height: 59 in (150 cm).
Packed size (L x D): 23.8 x 4.5 in (60.5 x 16.5 cm).
Warranty: 1-year limited warranty.
Doors: 1.
WeatherTec system – patented welded floors and inverted seams.
---
Coleman Sundome 4 person dome tent 9 x 7 vs Competitors
Here I give a comparison table, I believe this is the best way to realize and understand the features of a tent. To see more please follow the links, the other two tents are also described in the site in separate reviews.
---
Final thoughts
I would conclude this Coleman Sundome 4 Person Tent review by saying that this tent clearly has many great features. The ventilation is good, the carry bag is nicely designed, the packed size is also great, it offers more space than the competitors in the comparison table above. So I am impressed in general.
But bear in mind that it has no vestibule so if it is raining all the gear must be kept inside, including your boots and shoes. The same is when you prepare meals, this must be done inside if it is raining.
The price is really incredible, so if you need a tool for an occasional use in mild weather conditions, this is it. However, if you need a heavy-duty tent for a more professional use in more challenging weather conditions, be ready to pay 4 – 5 times more. There are reasons for such high prices. The Marmot Limestone 4 in the table above is one such example.

In any case, if you are still undecided, please visit my page with tents and shelters, you will surely find something for you. Check this EXIO 4 person tent, a new item on the market and a quality tool.
Need something (much) bigger for family camping? No problems, check here. In the case of questions or comments, please use the comment box below. I wish you a nice day.

---