The Coleman OneSource Rechargeable 4 Person Tent is lighted and incredibly well-ventilated with floor and fly vents and its included fan powered by an included battery.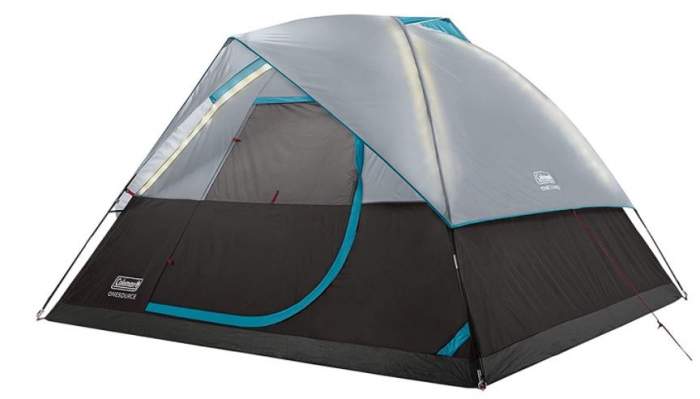 ---
Key features & benefits
Fan included.
Built-in LED lighting.
OneSource Rechargeable battery included.
Dome-shaped tent.
Fiberglass poles.
Fly vents.
3 Windows.
1 Door.
Freestanding.
---
What is in the name
The name of this tent is officially Coleman OneSource Rechargeable 4-Person Camping Dome Tent with Airflow System & LED Lighting, so it is really descriptive. This is one of the products from their OneSource System. This is a simple dome supported by two main poles, the picture below shows its rear side when the tent is without fly.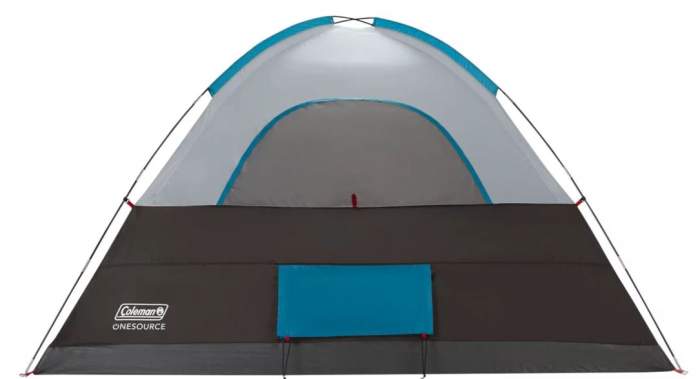 The tent is moderately tall, the peak height is 59 inches (150 cm). There are 3 separate windows, and you can see them in the picture below. They are with inner zippered panels and with mesh from outside. One additional window is on its single door visible in the top picture above.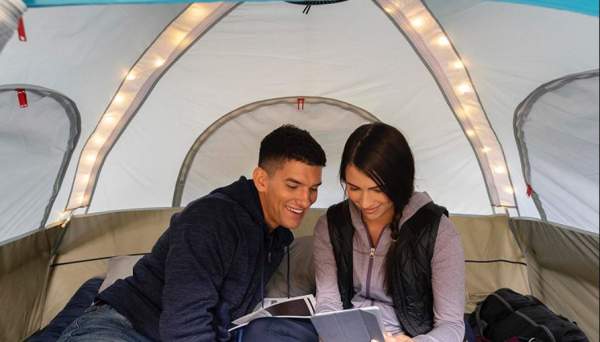 The tent is freestanding and the fly could be described as a 3/4 type, so it covers the side windows and therefore they can be used only for ventilation.
Bonuses: fan, integrated lighting & included OneSource Rechargeable battery
So this is the most important side of the tent, you have a removable fan that you put on the top of the ceiling, see the picture below. This is what they call the Airflow system because it pushes hot air out of the tent.
The zippered sleeves in the picture contain integrated LED lighting system that provides warm diffused overhead lighting.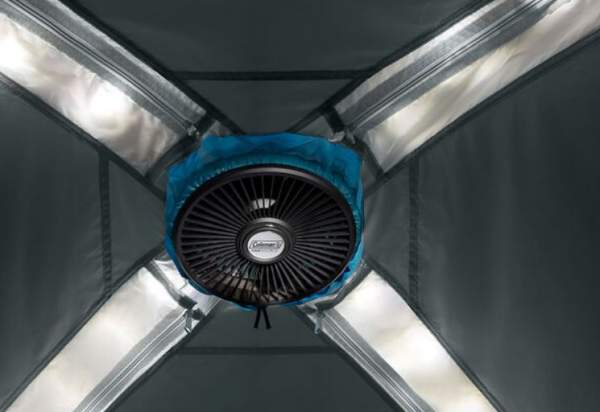 This all is controlled from the battery docking station with fan and light controls shown in the picture below. The included OneSource Rechargeable battery is a 4800 mAh lithium-ion type that powers the tent's fan with two settings (up to 4 hours on high), light (up to 12 hours on high), and air-circulating system. As the picture below shows, you can use the same battery to charge your phone.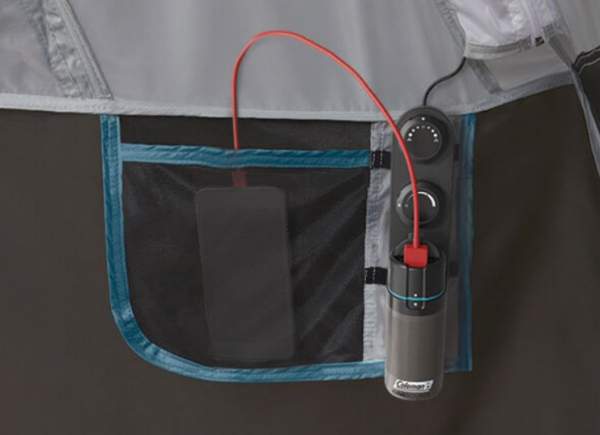 The battery charging time is 2 hours with quick-charging station (sold separately) or 2.4 amp USB output, and 5 hours with 1 amp USB output. It can also be recharged from any USB port (wall outlets, vehicles, OneSource charging stations, etc.). Battery supports USB-charging of external devices while powering gear.
Ventilation
You have already seen the fan and where it is placed. It is able to pump out the whole air from the tent 6 times per hour. So this is an excellent tool to fight condensation and to reduce humidity. Though I have seen some users complaining that it is weak, but they might overlook the fact that the fan does not pump the air in, it pumps it out, so it is natural that you do not feel it much.
In any case, this modern extra design is helped with some classic features. The canopy is a breathable taffeta without mesh, and for hot weather this may not look great. But as mentioned, there are two side windows that are covered by the fly. So you will want to keep the with the mesh only all the time, unless you feel cold, and this will provide enough air. When the sky is clear you can keep the rear and the front windows also with mesh.
They have also added a large floor vent shown below, it is on the rear side of the tent: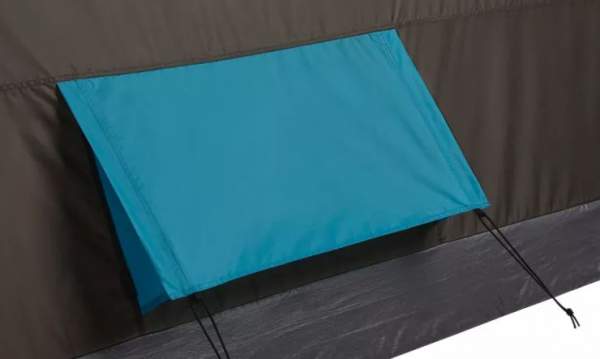 You also have two fly vents that are supported by an extra pole, one is shown below. I must say that they are completely on the top, so in the case of a side wind combined with rain this may bring water inside.

All in all, regarding ventilation, all classic elements are in place, and the included fan makes lots of difference, so I think you cannot expect more from a tent.
Materials
The poles & stakes: You have two main X-crossed poles that support the dome, plus one ridge pole that creates brims on the front and on the back, this is equivalent to having two extra fly vents. One short pole supports the mentioned real vents on the top. This is all fiberglass material typical for budget tents.
The poles attach to the tent's base with the usual pin and ring system, and on canopy you have clips and sleeves. simple J-type stakes are included, you can see them in the picture below.
The fabric: They do not provide information about the fabric, but it appears to be a polyester with their standard inverted seams, and welded corners on the floor which is a thick polyethylene with a bathtub design.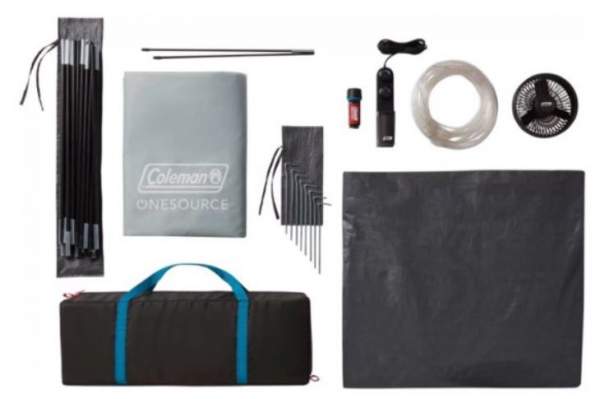 ---
Who is it for
Regarding the best use & climate, I already mentioned that the inner tent is a taffeta, and the windows are closable. This is why the tent can be used even in a cold climate. The included fan and battery, together with large mesh windows and the low and high vents, make it suitable for warm weather camping.
The tent is low profile and aerodynamic. They claim it can withstands up to 35 mph winds, but I do not think I would put a tent with such a fly design to such tests. This is a design for quiet weather only.
Regarding the size, you have a floored area of 63 ft² (5.8 m²), and its official capacity is 4 people. This would give 15.7 ft² (1.4 m²) per person. So this is a very modest value, and there are no vestibules for storage.
The tent can easily accommodate a queen-size bed. All in all, I see it as a perfect tent for couples.
Regarding the weight, the tent is heavy with its 14.33 lb (6.5 kg). But you have seen its canopy which is not a mesh, and windows are two layer, so there are some good reasons for the weight. In any case, this is a car camping tent.
Regarding the price, it may look a bit steep, but you have seen all its bonuses, so this is a fair price for all that.
---
Specifications
Official capacity: 4 people.
Weight: 14.33 lb (6.5 kg).
Dimensions (L x W): 9 x 7 ft (274 x 213 cm).
Area: 63 ft² (5.8 m²).
Peak height: 59 in (150 cm).
Poles: fiberglass.
---
Final thoughts & rating
In summary, this Coleman OneSource Rechargeable 4 Person Tent comes with a remarkable collection of bonuses that include a rechargeable battery, a fan, and an LED lighting. The tent is nicely ventilated and with a full taffeta canopy that makes it suitable for both warm and cold weather. It is included in my list of best 4 person car camping tents.
Below you can see how I rate this tent against my usual rating criteria. This will help you to easily compare it with other tents of this size.
BEST PLACEs TO BUY regarding shipping and price:
For more options, please check under the category Tents for 4 People. Check this Kelty Discovery Basecamp 4 Person Tent built in a similar style. But see also this Browning Echo 4-Person Tent if you want space for storage, it has a full fly and two vestibules.
Bookmark this site and come again, this will keep you informed because I add texts here regularly. Let me know if you have questions or comments, there is a comment box below. Have a nice day.