---
Camping and backpacking tents are built either with a flat floor or with a bathtub floor. So what is a bathtub floor on a tent? This question appears occasionally on some forums, so I have decided to write this text as a reference. Please keep reading, the answer is in the text.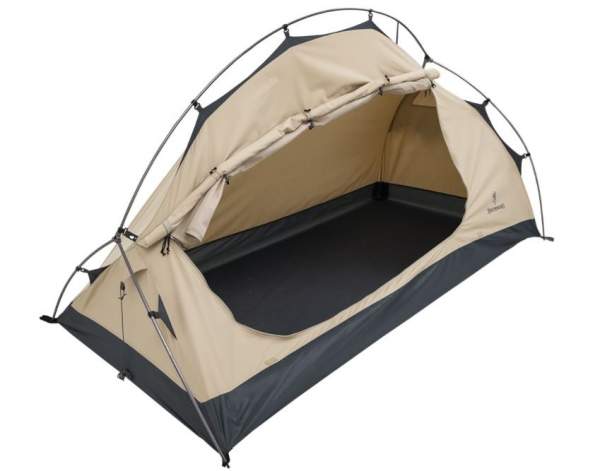 What is a bathtub floor tent?
This term describes the fact that the floor doesn't end at the perimeter of the tent, but it raises up above the ground, typically 15 cm or so, and it becomes the lower section of the tent's wall. In most of the tents it is of a different color than the rest so you can easily notice it.
So this design is different from what is called the catenary cut or flat floor design where the floor is exactly the size of the tent's base, and the canopy is sewn-in at the perimeter.
Now you realize that with the bathtub floor, the seams connecting the floor and the canopy are at some distance from the ground. This is good in cases when the seams in this particularly important connecting area are not properly taped as it reduces chances for leaks.
On the other hand, with such a raised floor, the tent's sides closer to the ground are also protected from splashes. The rest is normally protected by the fly. But even if this is a tent with a partial fly type, it is still good that the seams are above the ground.
What are bathtub floor materials?
You can have the following materials used for a tent floor in general:
Polyethylene.
Polyester.
Nylon.
Dyneema.
The heaviest material here is polyethylene of course, so this is what you normally have in family camping tents and in budget tents. Polyester is the most frequently used material in backpacking tents, and Dyneema is rare and expensive.
Is a bathtub tent floor a must?
There are several aspects to consider here. I mentioned seams connecting the tent's floor with the canopy. So quite generally it is better to have them above the ground, but there is more to that.
i) The floor itself is not always one single piece. In other words, it may have its own seams on the ground. This is so in the case of a polyester or nylon used for the floor. In this case, a bathtub floor design will not save you from the ground water if the floor seams are not properly done.
Note also that bathtub designs always imply seams in the corners. This must be so to create a bathtub profile. So floor seams cannot be avoided in any case.
ii) In the case of a polyethylene floor which you have in many budget and family camping tents, instead of seems you have welding. Such connection between pieces of the floor is very strong and it is usually fully waterproof. 
However, such a polyethylene floor must be connected with the rest of the tent which is usually polyester, nylon, cotton, or polycotton. So here you must have seams, bust such a connection is sometimes difficult to make waterproof because tapes do not work well with a polyethylene and with the cotton (or polycotton).
In such cases, it very good if not essential, to have a bathtub floor.
All in all, the bathtub design may not be essential in some tents, this depends on their materials, but it may be very important in some other tents as described above.
So a bathtub floor is not really a must, but it may have some advantages as compared to the flat floor design.
What are the downsides of bathtub floors in tents? Are there any?
Quiet generally, there are no real downsides of a bathtub floor. If this is about a polyethylene floor used in camping, this will add a bit of weight because this material is heavier than the polyester used for the walls. But this is irrelevant because you are not supposed to carry such a tent long distances. 
One possibly negative aspect of such a design would be the fact that it is easy to trip over the entrance if this is a bathtub design, because the floor is raised up. But in good family camping tents they make it a drop-down design. This is convenient if you camp with kids who will run around. One example you can see in this Vango Stargrove II Air 600XL Tent.
This means you have short zippers on the sides of the entrance to the tent, so you can unzip the floor under the door and then fix it to the ground with stakes, and make the entrance completely flat. Such tents always have extra attachment options for stakes. In the case of a strong rain, you can always raise this part and zip it up.
Is a bathtub floor a feature of expensive tents?
This may be so but there are no strict rules. In general, the answer is no. You can find very expensive catenary cut floors in some top-class tents. See this NEMO Aurora Highrise 4 Person Tent as one example.
On the other hand, there are so many inexpensive, and frankly speaking low-quality tents that have a bathtub floor.
So a bathtub floor is not a guarantee for a quality shelter. Remember that a tent also implies a fly and walls, and those should keep you protected.
Is a bathtub floor dependent on the material used in its construction?
The answer here is no. You can have budget tents with bathtub type polyethylene floors, and you can also have the most expensive backpacking tents with such a bathtub polyester or nylon or Dyneema floor. 
Are there more bathtub type tents than catenary cut (flat floor) tents?
I would say that there are more bathtub tents on the market, and this holds both for backpack-portable tents and for camping tents.
Does a bathtub floor imply a thicker material?
The answer is very easy, no. You can indeed have a thick polyethylene bathtub floor. But think about those ultralight backpacking tents and not only ultralight tents, they are usually with the same material used for the fly and for the floor. This Sierra Designs Nomad 4 Person Tent is one example.
Is a bathtub floor more waterproof than the rest of the tent?
The answer is typically yes, but not always. For example, if you have a thick polyethylene floor, its waterproof rating is very frequently of the order of 10000 mm or so. But such family camping tents may have a fly that has only 600 or 800 mm waterproof rating.
But again, this is not because it is a bathtub type, this holds also if the floor is a flat type. Namely, it is important to have a higher waterproof rating on the floor because of the pressure which you make with your body. For example, in The North Face Stormbreak 2 Person Tent you have 3000 mm floor rating and 1200 mm fly rating.
But you will see some really expensive tents that have the same waterproof rating on the floor and on the fly. One example you have in the Snow Peak Fal Pro Air 2, 3, 4 Tents. The same is with the KLYMIT Cross Canyon Tents.
In fact, there are even tents where the floor rating is lower that the fly rating. It is hard to understand why they decide to make such a tent, but you can see this in North Face Eco Trail 3-Person Camping Tent. Here you have 1500 mm for the floor and 3000 mm for the fly.
What is a typical bathtub floor waterproof rating?
This question is partly answered above. There is no typical value, it depends on the materials and on the purpose of the tent. 
The highest rating you can have in the tents with a thick polyethylene used for the floor. It can be over 10000 mm. In the case of backpacking tents, this is usually in the range 1200-1500 mm. Why so low? Well, coating adds weight, the more the heavier. All other tents are somewhere in between.
So before you get impressed with a weight of a backpacking tent, have a look at its floor features. 
Is a bathtub floor always sewn-in to the canopy?
Typically it is sewn-in and this is optimal because this adds to protection, you are safe from crawling insects and from snakes.
But there are tents where the bathtub floor is not sewn-in. Usually it is linked in, so you have Velcro tabs, a zipper, or buckles with webbing loops. Examples? You can see this design in the Gazelle 22272 T4 Pop up Portable Camping Hub Tent.
---
So this was what I wanted to say about the bathtub floor in tents. Let me know if you think I should add something here, there is a comment box below. Thank you for reading and have a nice day.