---
This Sierra Designs Nomad 4 Person Tent is a top-quality structure with a full-cover fly and vent, two doors and two vestibules, and DAC aluminum poles. Keep reading.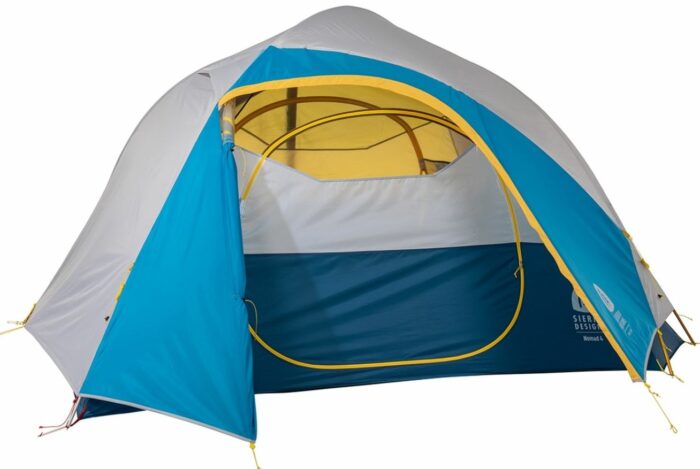 ---
Key features
2 Doors & 2 vestibules.
Full-coverage fly.
Lightweight.
Integrated solid window.
Fly vent.
DAC Aluminum poles.
---
What this Nomad 4 Person Tent is about
Here you have a completely new tent on the market but they have had tents with the name Nomad for many years already. This new version is a mini-series with two tents launched so far. So if you are familiar with the previous Nomad 4.1 and Nomad 4.2 tents, what you have here is a different and slightly larger tent.
They describe it as freestanding, but strictly speaking, this applies only to the inner tent which you can see in the picture below. Tents with vestibules are never truly freestanding, and here you have 2 vestibules. So they must be staked to be functional. The picture below shows you its two doors as well.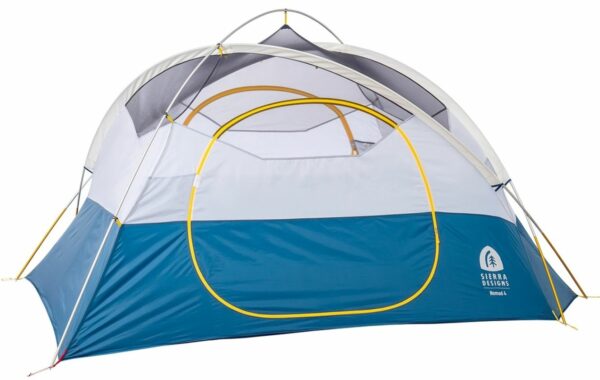 This is a dome tent and this means a bit limited volume, but note that the poles are with a very unique geometry and this gives more volume inside as compared to the usual dome tents.
It is moderately tall with its 54 inches (137 cm) peak height. They describe this as a "near-standing peak height for maximum livability", well, this may be if you are a Hobbit. I guess they copied the description from its bigger 6-person cousin.

---
Who is it for
Space-wise, you have a 4-person tent by the declared capacity. For this, you have 68.4 ft² (6.3 m²) of the inner floor area plus the space under the vestibules of 25.4 ft² (2.3 m²). So the total protected area per person is 23.4 ft² (2.2 m²), and this is quite a lot for a tent of this type.
Note that I am using official numbers from the manufacturer's site, but their own dimensions (shown in the specifications below) give around 6.5 m² of the inner area. So somebody obviously did some mistake but these are minor differences in any case. In any case, this tent provides quite enough space, and you will realize this when you compare it with some of its competitors in this list.
Climate-wise & seasons-wise, what you have here is a very reliable 3-season tent with a full-coverage fly, an aerodynamic shape and ventilation. The canopy is with lots of mesh and this is best suited for a mild climate.
The poles create several intersections and the profile is aerodynamic and not too high, so the tent should perform well if you use it in windy conditions and above the tree line.
Weight-wise, with its 9 lb 15 oz (4.5 kg) this is a lightweight tent and it can be carried on a shorter trail. But there are much lighter options for such a use, see them here. So I see this tent better suited for car camping or anywhere where you would not have to carry it yourself, on motorbike and bicycle tours, etc. I have included it in my list of car camping 4-person tents.
---
Materials
The poles
The poles are with an interesting design, three of them with a diameter of 12 mm. Te picture below shows the top view of the tent. You can see also how 4 pads fit on the floor.
This is a top-quality DAC Pressfit 6061 aluminum. You might want to know that DAC is the leading manufacturer of tent poles, so this is among the best material you can expect with such a tent.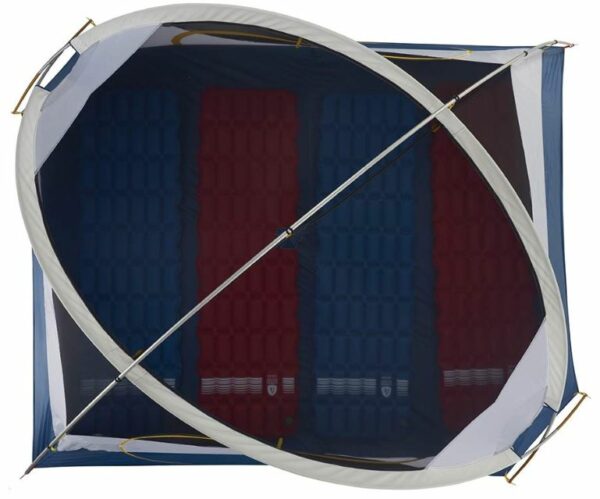 All is color-coded, you have red and yellow colors used for an easy setup. The poles attach to the tent through long sleeves and through clips, and on the base you have the usual grommets, see the picture below. They recommend testing it at home first to learn how to make the tent ready quickly.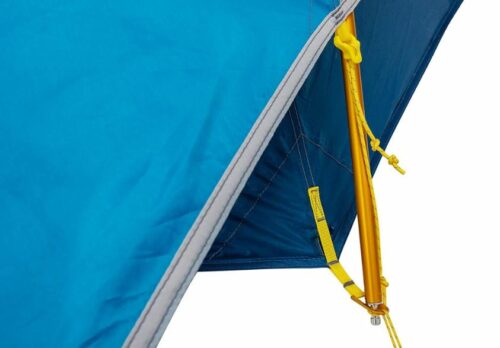 The fabric
I could not find any information about the waterproof rating, very unusual. But the fly is a durable 68D poly taffeta with a vent, and the same material is used for the floor. All seams are taped. The inner tent canopy is a 15D nylon No-See-Um mesh. Note that the fly is with a solid window so you can have views around even when the vestibules are closed.
The package includes the tent body, rain fly, poles, guy cords, Hex peg-stakes, storage bag, and pole bag with stake pocket.
---
Specifications
Packed weight: 9 lb 15 oz (4.5 kg).
Dimensions: 110 x 92 in (279.4 x 233.68 cm).
Floor area: 68.4 ft² (6.35 m²).
Floor area per person: 17 ft² (1.6 m²).
Total vestibules area: 25.4 ft² (2.3 m²).
Total protected area: 93.8 ft² (8.6 m²).
Total protected area per person: 23.4 ft² (2.2 m²).
Peak height: 54 in (137 cm).
Poles: DAC Pressfit aluminum.
Manufacturer's warranty: Limited Lifetime.
---
Final thoughts, rating, pros & cons
So to summarize this Sierra Designs Nomad 4 Person Tent, what you have here is a durable and reliable tent from a world-renown brand. If you did not know, Sierra Designs has been around since 1965, so you know what you are buying. The tent has all the features you need for a great 3-season performance, but it is best not to use it in a cold environment.
The poles create a quite unique configuration. Yes, there are long sleeves for two of them, but sleeves distribute tension and this is a great design in the case of strong winds. Fully recommended.
Please see below how I rate this tent against my standard set of criteria, so you can easily compare it with other tents presented here in the site:
If you need more options, please check under the category Tents for 4 people, you will find them many and all from top brands in this industry. You might want to compare it with this MSR Habitude 4-Person Camping Tent which is also with a full-coverage fly.
Note that we add new texts on a regular basis, so bookmark this site and check occasionally. There is a subscription form below for our weekly newsletter, so subscribe and stay informed. Have a nice day.