---
Dyneema Fiber Fabric is also known as Cuben Fiber, this is a new material used for super-ultralight backpacking tents, so here are a few facts about it which you might want to know.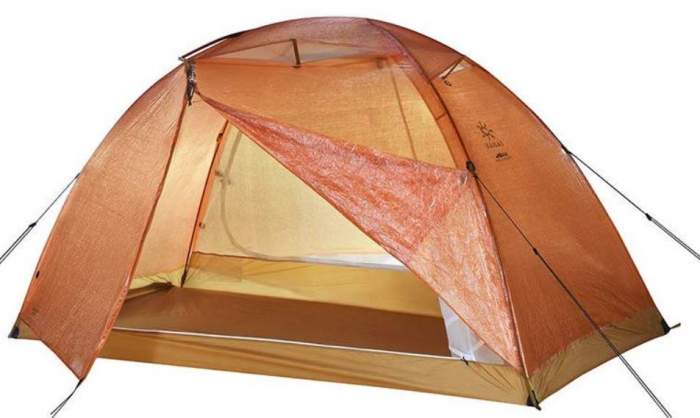 Why this text
The main reason for this text is a new series of super-ultralight tents by Big Agnes. You can see a bit more in my texts Big Agnes Scout 2 Carbon vs Big Agnes Scout 2 Platinum and Big Agnes Scout 2 Carbon vs Big Agnes Fly Creek HV 2 Carbon.
This new material is introduced into the backpacking tents industry and no doubt it is going to stay there. So I thought it would be good to have some basics about it in a text that would serve as a reference.
About the origin of the name – What is Cuben Fiber?
There are several names and acronyms used for this material. You have probably heard of Cuben Fiber so this is the same material as Dyneema. It was developed by Cubic Tech Corporations in the 1990s. The name Cuben Fiber was coined in 1992 related to sails used by a boat that won the America's Cup.
Then in 2015, the Cubic Tech Corporation was purchased by Dyneeema a branch of the DSM Dutch company. But see the following:
Who invented Dyneema?
Now, this is ironic. This material was invented in 1968 by chemist Dr. Albert Pennings who worked for the same DSM company mentioned above.
But there is more irony to this, it was discovered accidentally. While doing some research related to polyethylene, he discovered a thread which he couldn't pull apart. A bit more about this issue of strength:
Is Dyneema fiber stronger than steel?
According to the statements from Dyneema, it is 15 times stronger than steel on a weight-to-weight basis. This sounds impressive to me.
Is Dyneema stronger than Kevlar?
Kevlar is around 5-7 times stronger than steel, and you have seen above how Dyneema compares with it. So it appears that currently, Dyneema is the strongest fiber.
So what is Dyneema fiber fabric really? What does Dyneema mean?
Dyneema is a gel-spun, multi-filament fiber created from ultra-high molecular weight polyethylene (UHMWPE). This is an odorless, tasteless, and non-toxic material, a sort of plastic. But Dyneema fabric used for tents is a bit more than just a plastic.
So you have the Cuben Fiber/Dyneema as a thin sheet laminated between two sheets of Mylar plastic. This is behind the word Composite in yet another acronym used for this material, the DCF (Dyneema Composite Fabrics).
Please see more in this video:
Why this is important for the tent's industry?
If you have ever used a tent, then you know that if it leaks, this is usually on seams. Seams are normally taped in better tents, but these tapes can degrade in time. So even if you do not use a tent and keep it stored at home for a few years, and then decide to take it on camping, you may be unpleasantly surprised.
This is why the MSR brand introduced their Xtreme Shield system without tapes on seams. You can see it in their MSR Carbon Reflex 3 Tent. But this is still the classic technology with some innovative approach. Now, let me correct myself here. Such a tape-less system with inverted seams has been on the market for many years in the tents of Coleman, so it is not new at all.
In any case, this problem of seams is solved with such plastic materials like Dyneema. The Big Agnes Dyneema tents currently on the market are with welded seams. The big difference is that such welded seams are even stronger than the rest of the tent, and the good news is that they will never degrade and leak. Now you realize why this material is so important.
But there is much more, see the following:
Is Dynema light
Yes, it is, this is an incredibly light material. Check my text Big Agnes Scout 2 Carbon vs Big Agnes Fly Creek HV 2 Carbon and you will see two-person tents that are lighter than the lightest solo tents built from "standard" materials. But there is more related to the tents' industry:
Is Dyneema fabric waterproof?
Dyneema Composite Fabrics are considered 100% waterproof. This does not hold (in principle) if you have stitching unless they are properly taped. But if the seams are welded, nothing will pass through.
It also doesn't absorb water, this is not so with Kevlar mentioned above which can absorb 3.5% of its own weight in water.
Is Dyneema breathable?
The short answer is, no it isn't. The Big Agnes tents mentioned above and a few more currently on the market are not breathable. But this depends on the combination of materials used with the Dyneema. For example, there is the Djedi DCF-eVent Dome by LOCUS GEAR which is breathable due to the added eVent membrane.
Is Dyneema/Cuben Fiber flammable?
The answer is, yes. This is a plastic material and the tents built from it are extremely expensive, so keep your stove out of it.
What color is Dyneema?
Apparently there is black Dyneema and white Dyneema, and the latter is used for tents, but see this KAILAS Stratus CUBEN Tent (the top picture above).
The big Agnes tents are currently all the white Dyneema. Not sure why they decided to go that way, but I am sure I dislike it. You cannot have any shade in such a tent, it is translucent.
But see a bit more about the black Dyneema in this video:
Where is Dyneema made? Who is Dyneema manufacturer?
Currently, this is exclusively by the Netherlands-based DSM mentioned above.
---
Final thoughts
So I hope this text has been useful and you have a bit more clear idea about this new material used for backpacking tents. My focus here is on tents but this material is used also for backpacks, ropes, etc. You might want to bookmark this text and keep as a reference.
Thank you for reading. Please use the comment box below in the case of questions, comments, and suggestions. Have a nice day.

---