---
This 2019 MSR Carbon Reflex 3 Tent Review is about one of the lightest backpacking tents on the market with 2 doors & 2 vestibules and with new Xtreme Shield waterproof system.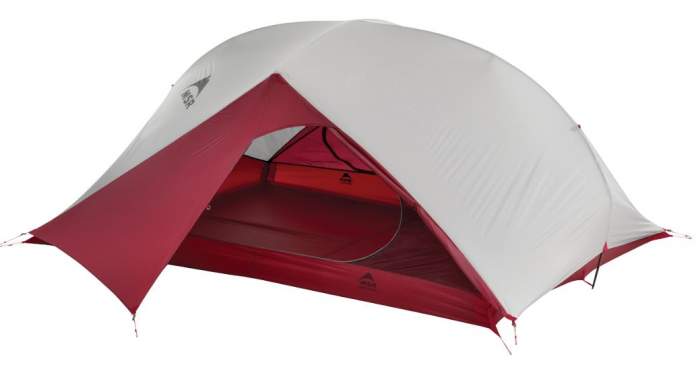 ---
Key features
Carbon poles.
Ultralight tent.

Xtreme Shield waterproof floor & DuraShield waterproof rainfly.

Non-freestanding.
Zipper-free vestibules.
---
What this is about
This MSR Carbon Reflex 3 Tent has been on the market for many years already, for a decade or so, but they have launched a new version for the season 2019. This is now the tent with their Xtreme Shield floor and DuraShield rainfly. I blogged about this new technology when it appeared on the market, so check in my separate text. The same system you have in their MSR Mutha Hubba NX 3 tent, and they are introducing it in all their new tents series.
They claim that this is a coating which should last three times longer than a standard coating, and the seams are now without tapes, but they made them waterproof differently. Both 2018 and this new version are on the market, so do not get confused, you can see them here.
This is a tent with 2 doors and 2 vestibules, and it is non-freestanding, so you have to stake it down. See the picture without the fly to realize why: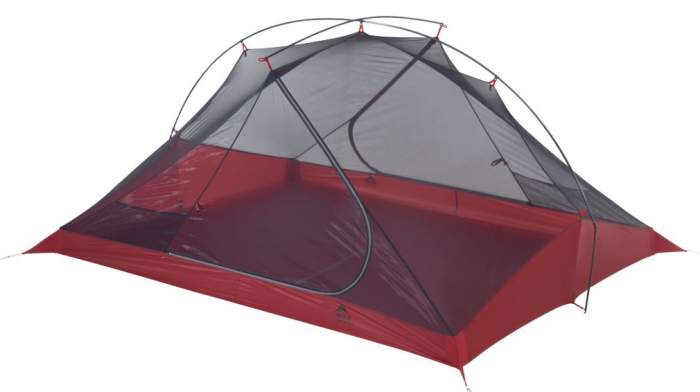 This is the largest tent in the series which includes also 1-person and 2-person tents, all of them are shown in the picture: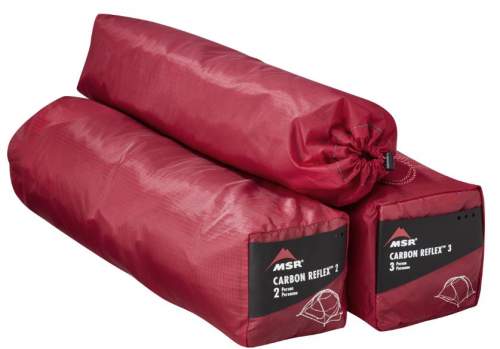 ---
Who is it for
Size-wise, the declared capacity is 3 people. But the area is small even for backpacking standards. The inner area is 38.5 ft² (3.58 m²) so per person this gives 12.8 ft² (1.2 m²). There are two vestibules which add 14 ft² (1.3 m²), see the picture below.
So the total covered area per person is 17.5 ft² (1.6 m²) and this is still a small number. All in all, this can be a shelter for three backpackers, but in view of its incredible weight, it is best to use it as a 2-person tent or even as a solo tent.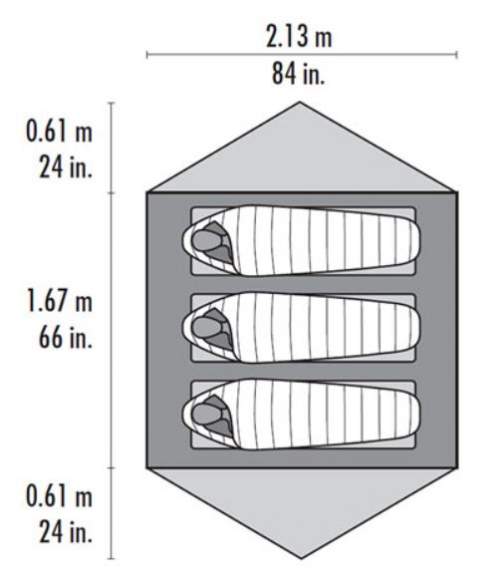 Weight-wise, this tent is impressive, it weighs only 2 lb 10 oz (1.19 kg). For a tent with 2 doors and 2 vestibules, this is indeed an ultralight structure. Note that this is exactly the same weight as in the Big Agnes Tiger Wall UL 3 tent.
They give packed weight and minimum weight (the numbers are in the specifications below). These terms follow ASTM International F 1934-98 standards, so the packaged weight is the total weight off the shelf. The minimum weight is the combined weight of the tent body, rainfly, and tent poles.
The packed size (L x D) 18 x 6 inches (46 x 15 cm) is simply excellent, so even if you use it as a solo tent this is still a nicely packable option.

---
Why is this Carbon Reflex 3 tent so light
You might want to know that the version 2018 is in fact a bit lighter, 2 lb 4 oz (1.03 kg). But they are both incredibly light tents. So let's see what behind the weight is.
The fabric
Be ready for this: The fly is 7D ripstop nylon, can you believe this? The floor is only 15D ripstop nylon, and the rest is 10D polyester micro-mesh. The waterproof rating is 1200 mm for both the fly and the floor, this does not look a lot but this is perfectly enough if all the seams are watertight. As mentioned above here you have what they call the Xtreme Shield technology.
Note also that this is zipper-free vestibules design, you have Velcro tabs and metal clasps instead, so the weight is saved there as well. But no worry, the inner tent is with standard zippers so you will be safe from insects.
The poles
The frame is minimal so you have one main Easton Carbon 6.3 pole plus one cross pole that lifts the doors up. This is a flexible material and apparently with a strength-to-weight ratio greater than steel.
A bit more about the Xtreme Shield system
Please see this short video where the person from MSR gives a few details:
---
Specifications
Capacity: 3 people.
Weight: 2 lb 10 oz (1.19 kg).
Minimum weight: 2 lb 4 oz (1.03 kg).
Dimensions: 114 x 84 in (289 x 213 cm).
Inner area: 38.5 ft² (3.58 m²).
Inner area per person: 12.8 ft² (1.2 m²).
Total vestibules area: 14 ft² (1.3 m²).
Total area per person: 17.5 ft² (1.6 m²).
Inner peak height: 40 in (101 cm).
Packed size (L x D): 18 x 6 in (46 x 15 cm).
---
MSR Carbon Reflex 3 Person Tent vs Competitors 
It is always a good idea to see how such a tent compares with some other 3-person tents on the market. So I have decided to show you yet another ultralight option, the Big Agnes Tiger Wall UL3 with very similar features.
The second tent in the comparison table is yet another top-quality tent the Big Agnes Van Camp 3 which is a "normal" 3-person tent and this means much heavier. I show it on purpose, to realize how incredibly light the two other tents are.
As you see, the Van Camp 3 tent is almost the same size, yet it is almost three times heavier and far less packable. However, it is only half the price of the other tents, and this is also an expensive tent. Please follow the links to read more.
---
Final thoughts, rating, pros & cons
So in the summary of this Carbon Reflex 3 Tent Review I wish to stress that you have the most advanced technology integrated in the construction of this tent. But this all comes at a price. The area is not so impressive so it is best to use it as a tent for two. Nevertheless, I have included it in my list of best backpacking 3-person tents.
Please see how I rate this tent against standard criteria used for all of the tents here in the site:
MSR Carbon Reflex 3-Person Ultralight Mesh Backpacking Tent with Rainfly
If you need more options to check, please see my page with tents, you have them in the sizes 1-4 people.
Please note that this is not a sponsored text, and I have no business relationship with the brand. There is a comment box below, so use it in the case of questions or comments.