---
This MSR Mutha Hubba NX 3 Review is about the new version of their best-selling tent which is now with their new Xtreme Shield waterproof system and composite Easton Syclone poles.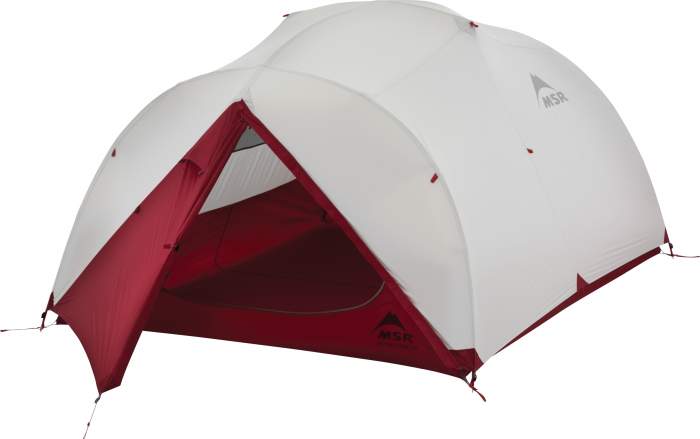 ---
Key features
Xtreme Shield waterproof technology.
Ultra-durable Easton Syclone composite poles.
Lightweight tent.
2 Doors & 2 vestibules.
Full coverage fly.
---
So what this is about
The MSR Mutha Hubba NX 3 tent has been around for many years already, but this year they have upgraded it and introduced what they call the Xtreme Shield design described in my separate text published when they announced it. In short, they claim that the new type of coating is 3 times more durable, and the seams are without tapes, so you have a different stitching and a poly-cotton thread that swells when wet and then closes the stitching holes.
Note that both previous (2018) and new (2019) versions are on the market and it is easy to get confused because they look identical. So this is still the tent with exactly the same dimensions, lightweight enough to be used for backpacking, but I would not call it ultralight; see this Big Agnes Tiger Wall 3 to realize how light such a tent can be.
For a backpacking tent, it is tall enough, the inner peak height is 44 inches (112 cm). The tent is freestanding (at least this is how the manufacturer describes it) in the usual sense, so this holds for the inner tent only. The fly is with vestibules and to have them functional, you have to stake them down.
This is a symmetric design with exactly the same vestibules and doors on the two sides, so you have nothing to guess when you set this tent up, you will see the floor plan below. You might want to know that this is a part of a series that included tents for 1, 2, 3, and 4 people, see them all packed: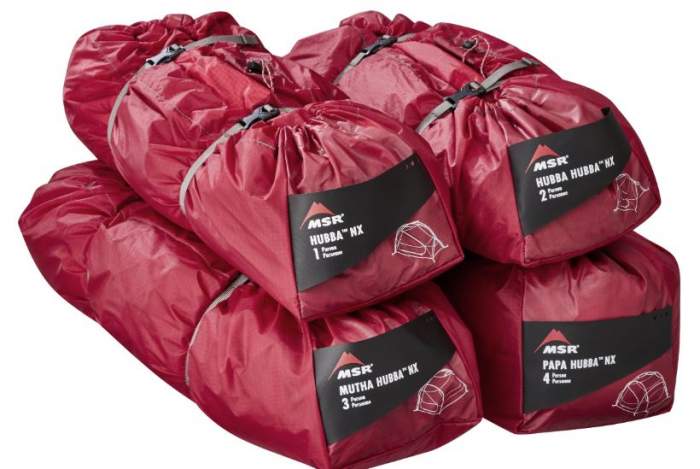 ---
Who is it for
Climate-wise & seasons-wise, they describe it as a 3-season tent, but when you see all that mesh on the inner tent, you realize you would not want to use it in a cool environment. So it is better suited for a warmer climate, say two seasons maximum (late spring, summer, and early autumn).
If you would need something for a cold weather, better check this Big Agnes Copper Spur HV Expedition 3 Tent which is a convertible design.
The Mutha Hubba tent is aerodynamic and relatively low, the poles are absolute top in the industry, so this tent can withstand practically any wind conditions. The waterproof rating (shown below) may not look high but you do not need more.
Size-wise, this is a 3-person tent, not particularly large for such a number of users but it offers enough space, see the picture below. So you have 39 ft² (3.67 m²) of the inner floor area, plus two vestibules that add 14 ft² (1.3 m²). So in total, you have 54 ft² (5 m²) of covered area, which gives 18 ft² (1.65 m²) per person. Not exactly a castle, but this is quite enough for a trail tent.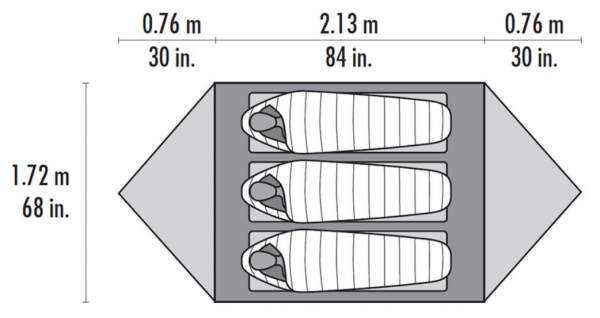 Weight-wise, this is not the lightest option if you want to carry it on a long trail. It weighs 4 lb 13 oz (2.18 kg) so I would say this is a mid-class tent with respect to the weight. You will see it compared with some other tents, there is a comparison table below. The packed size is 21 x 7 inches (53 x 17 cm) and this makes it the same as the Big Agnes Van Camp SL 3 tent.

---
The materials & construction
The tent is slightly elongated so users are supposed to sleep in the directions of the two D-shaped doors. You have the doors on both sides so the access is easy for the occupants. Each of the vestibules offers 0.65 m² of the covered area and this is big enough for boots and backpacks.
The poles – Easton Syclone composite
The poles are the best part of this tent. You have what they describe as "virtually indestructible" Easton Syclone poles. This is a cutting-edge aerospace composite material, extremely flexible and durable, ideal for challenging and windy conditions. As you see from the picture below, the frame looks complicated, but this is one single hubbed shock-corded piece. Note that the previous (2018) model is with DAC poles.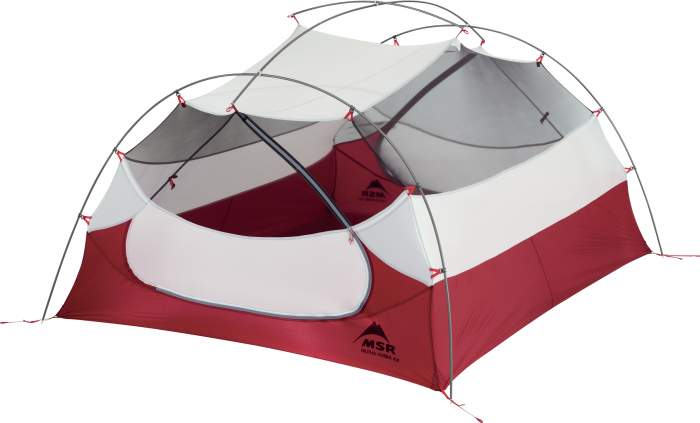 They do not provide info about the exact materials used in the construction of these Easton Syclone poles, but this is a synthetic material that can be up to 80% more flexible than aluminum. They also return to their initial shape after being bent, and this makes them perfect for windy conditions. Though, I must say that in extremely heavy winds I would love to have poles with some resistance. Such poles are also not the best option in situations with sudden snow accumulated on the roof, the tent would go flat.
The weight of this composite material is very similar to aluminum. You realize this also when you compare the weight of the previous Mutha Hubba NX 3 with its DAC poles and this new version with composite poles, the weight is almost exactly the same. I do not know if they can make it super-light because this tent is not in this category yet.
The structure is not a dome, it is more a tunnel style structure. The main ridge pole pulls the doors up and makes them vertical. The short cross pole pulls the walls up. Those two combined effects give lots of headroom in this tent. The poles' attachment to the tent's case is through the usual grommets, see one in the picture: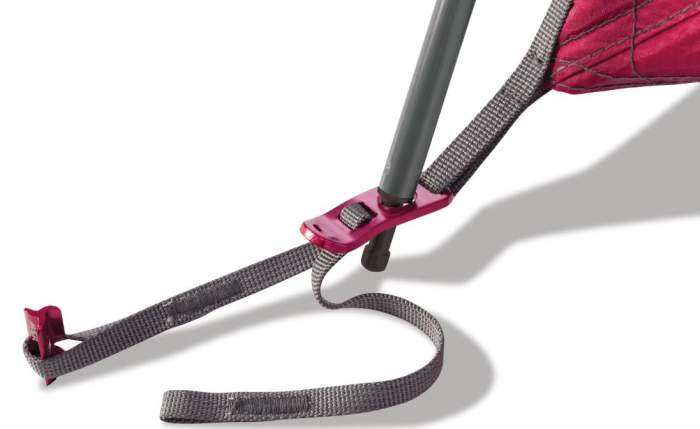 The fabric
The full-coverage rainfly is 20D ripstop nylon with a 1200 mm Xtreme Shield waterproof rating. The canopy is 20D ripstop nylon and 15D nylon micro mesh. The floor is 30D ripstop nylon with a 3000 mm rating, it is a bathtub design. They use what they call StayDry door design which channels the water along the door instead of getting on the zippers.
Ventilation
There is plenty of mesh everywhere around on the inner tent, and this is combined with 2 vents on the fly. So ventilation is good and condensation should be minimal, but this depends on the number of people, outside temperature, wind direction, and various other factors.
Other features
Side entry zipper orientation.
Adjustable rainfly (roll-up vestibule & stargazer view).
Adjustable integrated stake-out loops.
Lightweight reflective guy-outs.
Stakes, guy-out cords and compression stuff sack with carrying handle included.
Please see more about the Xtreme Shield system applied in the design of this tent:
---
Specifications
Capacity: 3 people.
Packed weight: 4 lb 13 oz (2.18 kg).
Minimum weight: 4 lb 5 oz (1.95 kg).
Dimensions: 84 x 68 in (213 x 172 cm).
Floor area: 39 ft² (3.67 m²).
Vestibules area: 14 ft² (1.3 m²).
Inner peak height: 44 in (112 cm).
Packed size: 21 x 7 in (53 x 17 cm).
Poles: Easton Syclone composite.
---
MSR Mutha Hubba NX 3 person tent vs Competitors
I have decided to show this tent side by side with two other 3-person tents that are quite different in the weight. This is on purpose to demonstrate that it is in between the ultralight backpacking tents (like this Big Agnes Tiger wall UL 3) and those that are on the heavier side like the other tent of Big Agnes shown in the table.
As you see, they are almost identical in various parameters but the difference in the weight is substantial. There are differences in the poles' material as well. The Easton Syclone poles used in the Mutha Hubba 3 tent are without a match here.
---
Final thoughts, rating, pros & cons
So this MSR Mutha Hubba NX 3 person tent is from their already existing tents (by name) but which now include the mentioned Xtreme Shield waterproof technology. They claim that they were testing the system for a couple of years before releasing it in their new tents. The time will show how this new stitching without tapes holds, and if the new coating used here is indeed as durable as they say.
They do not say much about the technology behind this new ultra-durable coating. Note that it is used also in their MSR Carbon Reflex 3 Tent.
This tent is expensive but this is a top-quality product from such a renown brand. Please see how I rate it for the standard set of parameters used for all the tents in the site:
This tent is included in my list of best 3-person backpacking tents. It is in the same weight range as this new Kelty All Inn 3 Tent which is less expensive so have a look.
Note that this is not a sponsored text and I have no business relationship with this brand. Please use the comment box below in the case of questions or comments. Have a nice day.