---
Kelty All Inn 3 Tent and All Inn 2 Tent are from a new lightweight series they launched recently, with aluminum poles, Silnylon fabric, and unique side vestibules. Keep reading.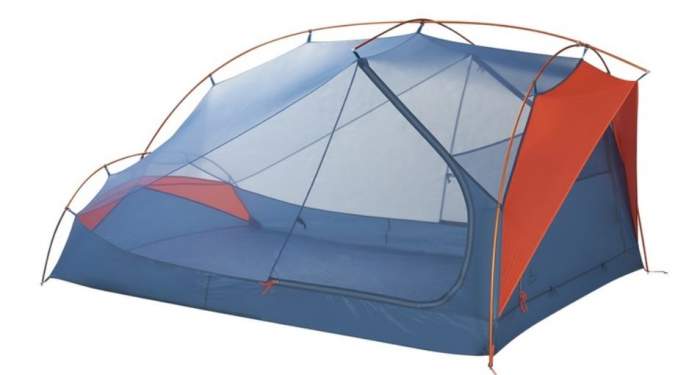 ---
Key features
Very light tents.
Freestanding.
Some unique features.
Aluminum poles.
Siliconized nylon ripstop.
---
So what this is about
Here you have two tents, for 2 and 3 people, and they have introduced some new features that set these tents apart. The concept of the front entrance without the vestibule which you have here is very interesting, but you have a very similar idea used by Sierra Designs in their Lightning 2 Tent (which seems to have been discontinued), and also in their Nightwatch 2 Tent.
So the concept used in the Kelty All Inn Tents series is not new. The idea is to have an unobstructed entry point without wrestling with the vestibule all the time, while still having the entrance that is fully protected from the rain. This is why the front is with this small brim which you see in the picture below.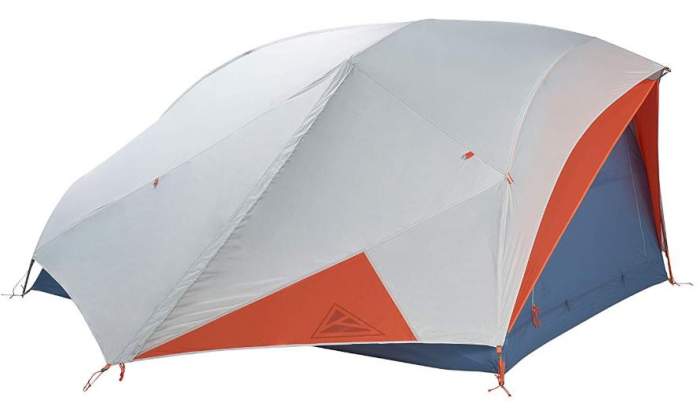 On the other hand, the vestibules are moved to the sides. Note that All Inn 2 Tent has only one vestibule on the left side (and the corresponding second entry point), while All Inn 3 Tent has two symmetric side vestibules and this means 3 doors in total, see the picture below.
But note that the mentioned Sierra Designs tents have no side entry points; the vestibules on the sides are only for storage of the gear, and you can access them from inside only. So the concept used here in Kelty's All Inn Tents is much better and far more functional. You can access the gear stored under the vestibules even from outside, and you have extra entry points of course.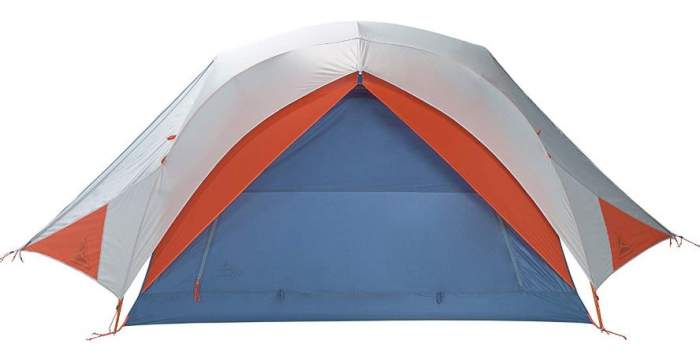 The tents are freestanding as long as this is about the inner tents of course. When you add the fly, it must be staked down to have the vestibule(s) functional. But the fact is that you can use the tent without the vestibule staked down.
They describe them as backpacking tents, so they are lightweight but not ultra-light strictly speaking. To see what I mean, you can compare All Inn 3 with this MSR Carbon Reflex 3 which weighs twice less.
Both All Inn 3 Tent & All Inn 2 Tent side by side
Here are some basic numbers for both tents, this might be useful if you are undecided which one would be better for you:
Vestibules area, sq ft (sq m)
Inner area/person, sq ft (sq m)
Total area per person, sq ft (sq m)
Weight per person, lb (kg)
As you see, All Inn 3 Tent offers a bit more total covered area per person, with less total weight per person. Note also that the price difference between the two tents is only around $30. So All Inn 3 appears to be a better option, it is light enough to be used by two people as well.

---
Who are they for
Size-wise, this should be obvious. They are light enough to downgrade the number of users by 1. If you transport the tent on a bicycle or on a motorbike, you can use any of them as a solo tent as well.
Weight-wise, these are not the lightest hiking and backpacking options, but here you have a great balance between the money and weight. To have something far lighter, you will have to pay far more. You will see a lighter option in the comparison table below.
Seasons-wise, these are tents for warm weather. The inner tent is all mesh so this is great for venting but not great for a cooler climate. The tents are low profile, with a decent waterproof rating and top quality poles, so you will have all the protection you need on the trail.
The packed size is in the rank of the most expensive tents on the market, you will realize this from the comparison below. You can also compare 18 x 6.5 inches (46 x 17 cm) packed size of Kelty All Inn 3 with 18 x 6 inches (46 x 15 cm) of MSR Carbon Reflex 3 which costs twice more.
---
Materials
The poles
This is a hubbed freestanding system with Y-shaped structures on both sides. So these structures pull the two ends of the tent out and this creates lots of volume inside.
The top ridge pole is introduced extra to lift the side doors. The material is among the best you can have in this industry, the DAC Pressfit aluminum. Everything is color-coded.
Note that here they use standard grommets design, and this is different from their Quick-Corner design used in their recent new series, see for example their Kelty Late Start 2 tent with such a design.
The fabric
Here again you have great materials. The fly is 40D siliconized nylon ripstop with 1500 mm waterproof rating. You should know that such a waterproofing makes the fabric stronger and it also lasts longer than a PU coating.
The floor is the same material, and the same rating. Note that the floor is a bathtub type. The inner tent is all 15D No-See-Um mesh.
Now, you can compare this with the fabric used in MSR Carbon Reflex which is ultralight but they use 7D ripstop nylon for the fly and the floor is only 15D ripstop nylon, while the mesh is 10D polyester micro-mesh.
So you realize that extra weight in these Kelty's tents is not there without a reason, those are far more durable tents than those ultralight things which you have to pay far more.

Ventilation
There are no vents on the fly, but with such a design you do not need them. Ventilation is excellent with such a mesh inner tent, and this is further helped with the front door which is with mesh in the upper section. Note that here you have a panel as the second layer as well, it is needed in the case of side rain.
The inner tent has a beak on the front and the fly extends also over it. So you have an entry area for airflow under the fly which is good to fight condensation.
Other features
Mesh pockets are available on the walls.
The stuff sack is with what they call Shark Mouth design, so the opening area is much wider for easy packing of the tent.
Please see more in this short video:
---
Kelty All Inn 3 Tent vs Competitors
To realize where these tents fit in the crowd, I have decided to show Kelty All Inn 3 Tent side by side with two top-class tents from renown brands. So Big Agnes Tiger Wall UL 3 is in the category of ultralight backpacking tents, and MSR Mutha Hubba NX 3 is a new version of their celebrated tent which is lightweight so in the same group as the Kelty's tent.
As you realize, All Inn 3 offers more comfort with its 3 doors, and it is close by all other parameters to the MSR tent. None of them is a close match to Big Agnes tent regarding the weight. But check the prices, so follow the links and you will realize that Kelty tent is far more affordable.
---
Final thoughts, rating, pros & cons
So these Kelty All Inn 3 Tent & All Inn 2 Tent may not be in the category of ultralight backpacking items, but they are ultra-comfortable, at least from a backpacker's perspective. Having 3 doors and 2 vestibules is a real luxury on the trail, and all this with reasonably durable materials. These tents are a great option for humid and hot areas. Fully recommended. I have included the 3-person version in my list of best 3-person backpacking tents.
The price is high but this a quality tent. Please see how I rate it against my standard set of criteria used for an easy comparison with other tents presented in the site:
If you need more options to consider, please visit my page with tents, you will find the top models and top brands presented in detail.
Note that this is not a sponsored text and I am not paid by the brand. Please share your thoughts about this or any other tent, there is a comment box below. Have a nice day.