---
This Kelty Late Start 2 person tent review is about a new Kelty's tent on the market, with aluminum poles, with some truly unique features, and with a great price tag.
---
Key features
1 Door & 1 vestibule.
Kelty Quick-Corner Technology.
Full coverage fly.
Aluminum poles.
Great price.
---
What this Kelty Late Start 2 is about
This tent is a part of their Late Start series launched for the season 2019 and it includes a solo tent, this 2 person, and yet another 4-person tent. This is a minimalist design but you will see a few great features which they introduced here. Kelty never misses to surprise me.
This is a simple dome construction and the inner tent with its poles is a freestanding design. But here you have something unique and they call it Quick Corner technology. The picture below shows what this is – instead of usual grommets at four corners, they have added four sleeves. The same design they use in their Kelty Night Owl Series.
But this is not all. The carry bag is yet another unique feature here. This is what they call 'shark mouth' design, and this means that the entry side is much wider than the rest, so you will be able to pack the tent in the bag even if you did not fold it perfectly. I wonder if the words 'late start' in the name have something to do with this design.
This is a tent with one door and one vestibule. This should not be a problem if the door would be on the narrow side, you have such a design in their Kelty Horizon 2 tent. But here, the door is on the wide side, so the door is also wide but the access to it is not the same for both users. 
You have a full fly here and the picture below shows how it looks. Observe that the vestibule is with a central zipper so you can roll it to the side. One thing I dislike is that the fly is without vents.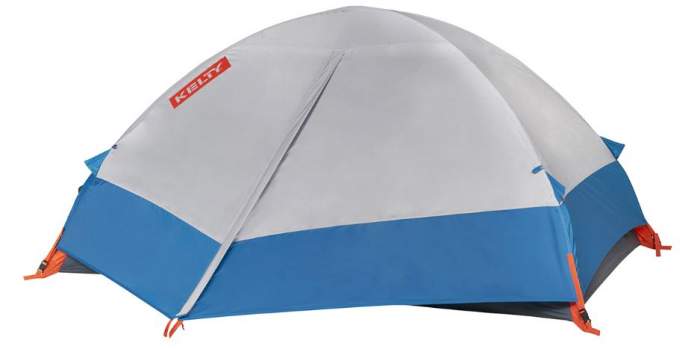 The fly attaches to the corners by buckles, one is shown in the picture below. When you add fly, you can still move the tent around and rotate, but to have a functional vestibule, it must be staked down.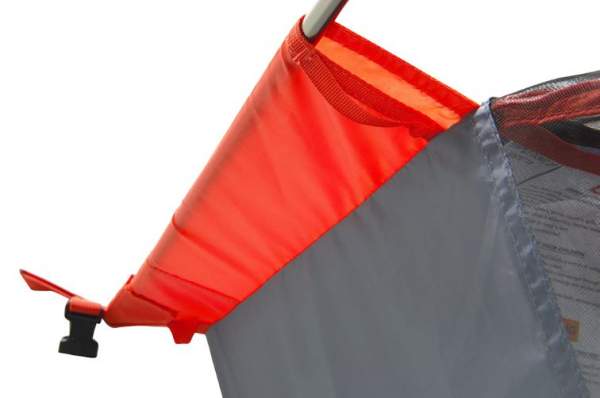 ---
So who is it for
Capacity: The declared capacity is 2 people, so let's see what the tent offers. The inner area is 32 ft² (2.9 m²) and the vestibule adds 7.85 ft² (0.7 m²). So the total covered area per person is 19.9 ft² (1.8 m²). This is quite good if you use it as a hiking or backpacking tent. But see the weight.
Weight-wise, with 4 lb 8 oz (2.04 kg) this is not an ultralight option. To see what I mean you might compare it with this Big Agnes Tiger Wall UL Backpacking Tent which weighs below 1 kg but it costs 3 times more. So this is a mid-class tent regarding the weight and you will see below how it compares with some other tents in this weight range.
The packed size is quite good, it is shorter when packed than the mentioned Big Agnes tent. So I would say it is best not to carry it if you do not have to, but it is indeed lightweight enough for a pack, but better suited for a bicycle, motorbike, or kayak. I see it also as a great solo tent in all situations where you would not carry it, this in particular holds in view of its single door.
Seasons & climate: They describe it as a 3-season tent and this should be understood in the sense of protection from the rain and wind. The waterproof rating is good and the poles are aluminum. The tent is low and aerodynamic so it will behave well in windy conditions. But this is all mesh and there are no vents. If you have to keep the vestibule closed, condensation may become an issue.
In the case of a cooler climate, there is too much mesh here. So better check this Big Agnes Copper Spur HV2 Expedition Tent which is a convertible design, but again see the price.

---
Materials
The poles
This is a very simple 2-pole construction. The poles are aluminum, shock-corded they attach to the tent through clips. Note that the poles are pre-bent in the lower area and this gives more volume in the tent.
The fabric
The full coverage fly is 68D polyester with an 1800 mm waterproof rating. The same material is used on the floor where you have a bathtub design. All the seams are taped. The inner tent is all No-See-Um mesh.
Other features
There are side pockets for both users, plus one overhead pocket.
Hideaway pockets on the fly for the guylines. This is convenient as they will not dangle around.
Please see more in this short video:
---
Specifications
Declared capacity: 2 people.
Packed weight: 4 lb 8 oz (2.04 kg).
Minimum weight: 4 lb (1.83 kg).
Dimensions (L x W): 85 x 54 in (215 x 137 cm).
Floor area: 32 ft² (2.9 m²).
Vestibule area: 7.85 ft² (0.7 m²).
Total covered area: 39.85 ft² (3.6 m²).
Total covered area per person: 19.9 ft² (1.8 m²).
Height: 40 in (101 cm).
Packed size: 16 x 7 x 7 in (41 x 18 x 18 cm).
---
Kelty Late Start 2 Person Tent vs Competitors
I have decided to show you this Late Start 2 tent side by side with the Big Agnes C Bar 2 which is also a single-door construction but with the front door, and the Eureka Summer Pass 2 which has two doors and it is also in the group of middle-weight tents.
The prices are not much different, though the Kelty tent is the most affordable here, and it packs better than the other two. But note that Eureka tent comes with a footprint included and I find it a better option in general.
Vestibule area, sq ft (sq m)

---
Final thoughts, rating, pros & cons
So this Kelty Late Start 2 Person Tent comes with some unique features and the price is more than appropriate for such a tent. This is not the lightest option if you need something for the trail, but this is a very affordable option and a great choice if you are on a budget. With the full coverage fly and a decent waterproof rating, this tent will indeed protect you from elements in a 2-3 season use.
As of the moment of writing this text, the tent is new on the market but it already has a number of reports by users and on Amazon it has scored an exceptionally high average rate. Note that they sell all three sizes at the same place on Amazon so it is far from clear to which tents the reports refer. But they all share the same main features.
In any case, please see how I rate it against the usual set of criteria. This allows for easy comparison with some other tents here in the site:
If you want something bigger from the same brand, check their new Kelty Wireless Tent 4 Person with the same Quick Corner design.
Note that this is not a sponsored text, and I have no business relationship with the brand. But I do have a lot of respect for Kelty as a brand, they have been around even before I was born, and I am not a youngster. What do you think about this tent? Please share your thoughts, there is a comment box below.