---
Eureka Summer Pass Tent is an incredible combination of the price and features, a tent with aluminum poles, 2 vestibules, and a footprint included.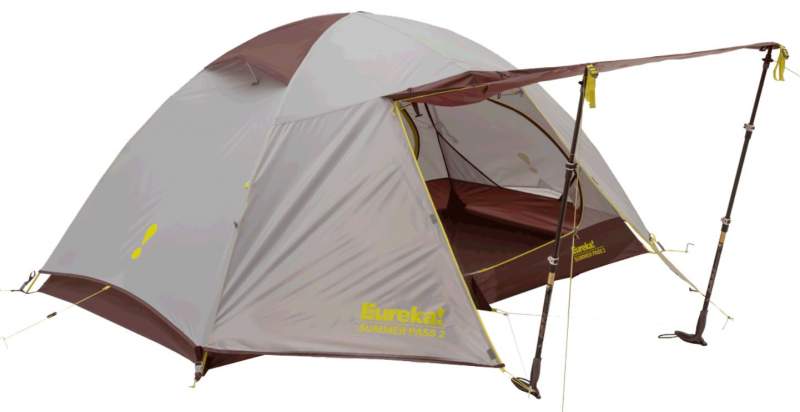 ---
Key features
Aluminum poles.
Awning configuration.
Footprint included.
2 Doors.
2 Asymmetric vestibules.
Great price.
---
Where to buy
This tent is available on Amazon. So follow the link and benefit from their global shipping service.
---
What this is about
This Summer Pass 2 Tent presented here is a part of a new series which Eureka launched for the season 2019. It includes also the Eureka Summer Pass 3 tent. The focus here is on the 2-person version but those tents share the same features, it is just the difference in numbers. You will see below some data for the 3-person tent.
So this is a dome style tent with a full coverage fly which creates two asymmetric vestibules. The front vestibule (shown above) is with two parallel zippers and it allows for the awning configuration with the pair of trekking poles.
The back vestibule is with a central zipper and it offers possibilities to open any of the two wings, for wind/rain protection and to regulate ventilation, see the picture: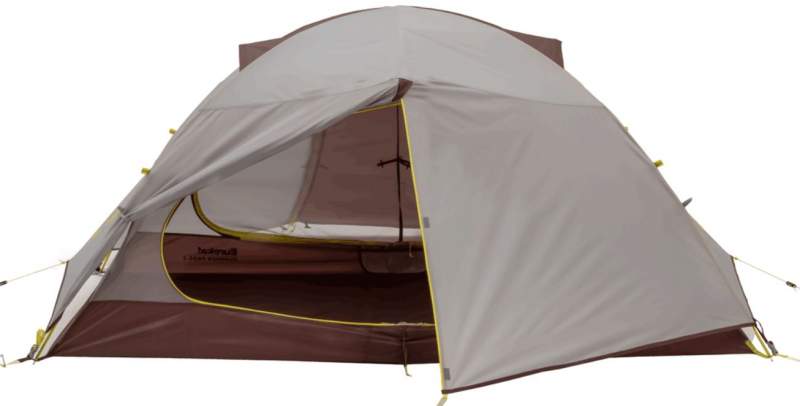 The tent is low as you would expect from a backpacking tent, with the peak height of 41 inches (104 cm). The picture below shows its frame and the inner tent, note that the inner tent doors are the same size.
As you realize from the picture, the inner tent with the frame is a freestanding structure. But when you add the fly, the two vestibules are not functional unless you stake them to the ground. This is always so with tents that have vestibules, a sort of trade-off, extra storage space they create requires staking them down.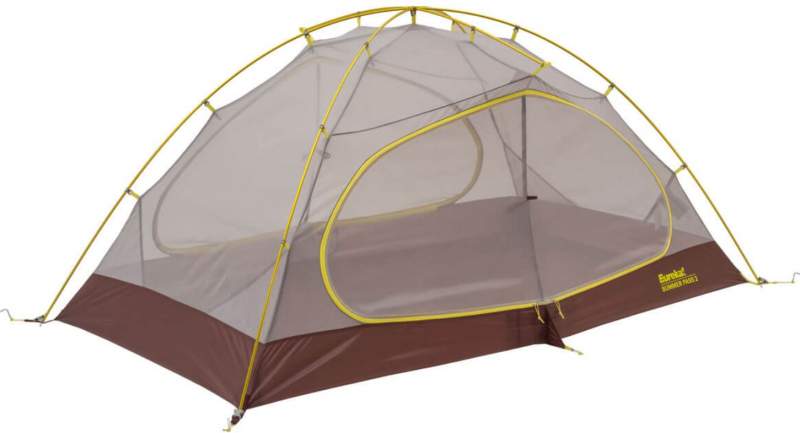 Fast fly variant
The Eureka tent comes with a bonus footprint included (shown below), so you have protection for the floor. This also gives extra versatility, you can use it in the fast fly variant, with the fly, poles and the footprint only. This is an ultra-light option for the trail.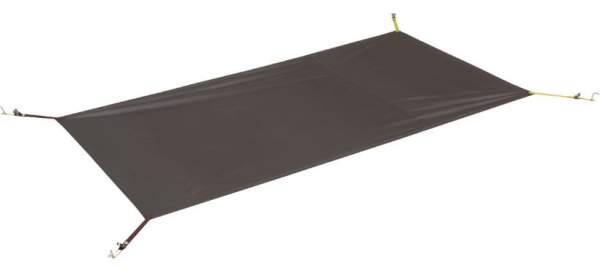 ---
Who is it for
Capacity: As I said above, the focus here is on the Summer Pass 2 Person tent, and below you can see the floor plan and some of its dimensions. So you have two trapezoid areas with 1.48 m² each, and the total inner area is thus 31.9 ft² (2.96 m²). This makes 16 ft² (1.48 m²) per person which is reasonable. Note that the declared inner area is 29.3 ft² (2.7 m²), but this seems to be inconsistent with the official dimensions presented in the picture below.
But there are two vestibules which add in total 20.1 ft² (1.87 m²). So the total area per person is 26 ft² (2.4 m²), and this means you have a backpacking castle.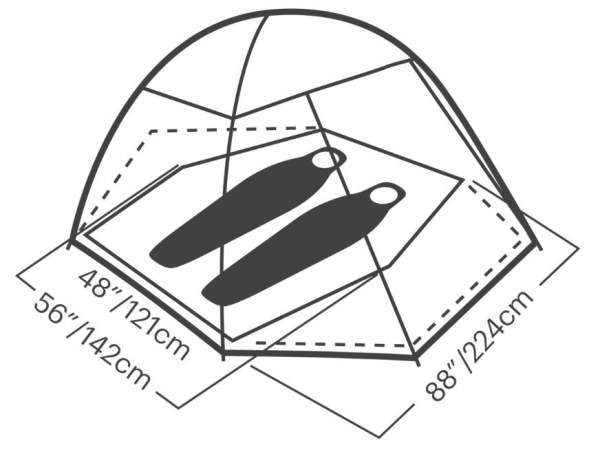 Seasons-wise, they describe it as a 3-season tent, but when you see its inner tent which is completely mesh, you realize that such a configuration is not for a cooler environment. So I see it as a 2-season tent, suitable for summer, late spring, and early autumn, or for a warm weather use in general.
Weight-wise, with 5 lb 1 oz (2.3 kg), this is not an ultralight tent, but it is in the range of lightweight tents. You will see how it stands when compared with some of its competitors, there is a comparison table below.
The packed size is very good, 20 x 6 in (51 x 15 cm), so you can carry it attached to the pack and transport it on a bicycle or in a kayak. The carry bag is shown in the picture.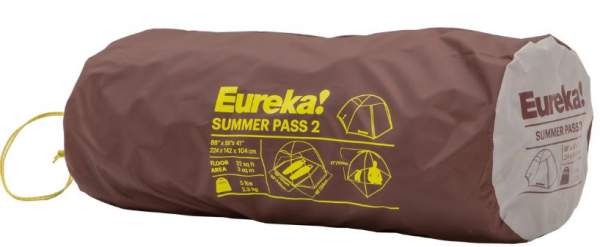 ---
Materials & construction
You have already sean a lot about the structure of the tent, but here are a few more details.
The fabric
The inner body fabric is 68D 185T polyester taffeta and 20D Nylon no-see-um mesh. The rainfly fabric is also 68D 185T coated polyester taffeta with the waterproof rating 1500 mm. The floor is the same material but with 2000 mm coating. These are all good numbers, you do not need more if the seams are properly done.
The poles
The tent comes with a hubbed system, with TRX 8.5 mm 7000 Series Eco-Duralumin poles. So the frame is strong, durable and lightweight. This is really surprising when you see the price of this tent. The picture below shows the top hub where the main two poles connect, and the third is the short ridge pole which serves to pull the walls up and make the doors vertical. So this is a shock-corded construction, easy to use and reliable.
Ventilation
With the inner tent which is all mesh, ventilation cannot possibly be an issue. But there is always the issue of condensation which is caused by various factors.
However, here you have what they call High/Low venting system which implies the air exchange system due to completely adjustable options with vestibules. You can roll up the vestibule and keep it at various positions, and have extra airflow underneath it. This in combination with two vents on the fly (one shown in the picture above) is a guarantee that the condensation is reduced to a minimum.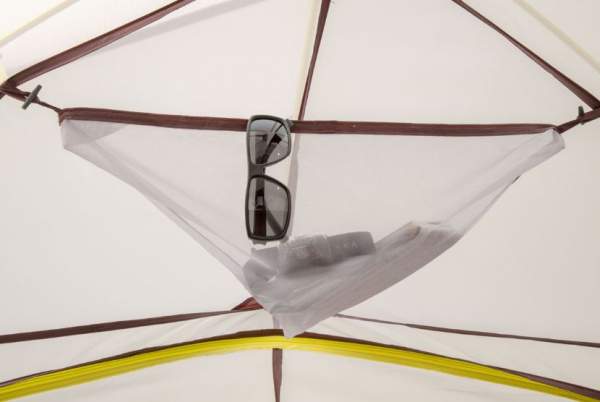 Other features
Gear loft is included.
Small mesh pockets are in the corners. There are pockets underneath the doors to keep them out of the way when unzipped completely.
The tent is Camp Comfort Sleep System compatible.
Please see more about this Eureka Summer Pass Tent in this short video:
---
Good and less good features
Here is my short summary:

Great size.
Great price.
Very good ventilation.
Very reliable.
Quality craftsmanship.
Aluminum poles.
Footprint.
Gear loft.

A bit heavy for backpacking.
The price & rating
This tent is on the market with the price tag around $173, and I think this is incredible for a tent with such features. Just bear in mind its aluminum poles and footprint, plus its size and functionality. Please see how I rate it against the standard set of parameters used for all the tents here in the site:
My rating of the Eureka! Summer Pass 2 Person Tent:
Area per person -

8.1/10

Area/Weight ratio -

8.7/10

Packed size -

8.8/10

Reliability & protection -

9.3/10

Ease of use & features -

9.2/10

Price -

9.8/10
---
Specifications
Type: dome tent.
Capacity: 2 people.
Weight: 5 lb 1 oz (2.3 kg).
Floor dimensions: 88 x 48/56 in (224 x 121/142 cm).
Inner area: 31.9 ft² (2.96 m²).
Inner area per person: 16 ft² (1.48 m²).
Vestibules area: 12.5 + 7.6 ft² = 20.1 ft² (1.87 m²).
Total area: 52 ft² (4.8 m²).
Total area per person: 26 ft² (2.4 m²).
Interior height: 41 in (104 cm).
Packed size (L x D): 20 x 6 in (51 x 15 cm).
---
Eureka Summer Pass 2-Person Tent vs Competitors
In the table below I give this tent side by side with two other 2-person tents that are declared as backpacking tents as well, the Exped Mira II HL, and Marmot Force 2.
The first thing you notice is that it is far heavier. But there is the reason for this. The frame is much stronger, the other two tents have only one main ridge pole, they are semi-freestanding constructions. So I have no doubt at all that this Eureka tent offers far better protection. In the case of a sudden snow on the trial, its frame is definitely strong enough to protect you, and I do not think this is so with the other two tents.
Note also that Eureka tent is more versatile because of its footprint which the other two tents do not have. Above all, it is far more affordable. Please follow the links to see more about the other two tents.
---
Eureka Summer Pass 3-Person Tent
This 3-person version is with the same features and functionality as the 2-person tent. The only difference is that it comes with 2 gear lofts. But it is bigger of course, so below you have the floor plan, and all the numbers are in the specifications farther below.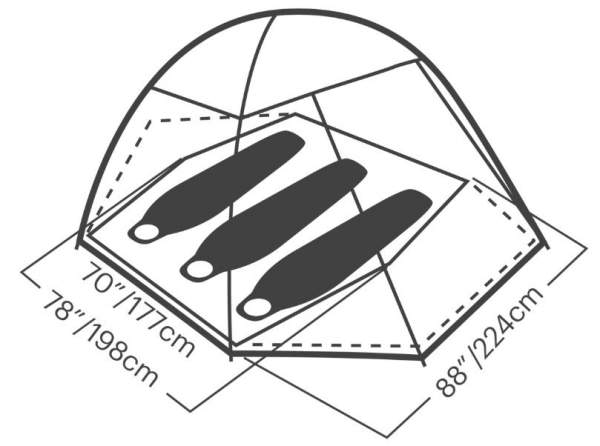 Specifications
Capacity: 3 people.
Weight: 6 lb (2.7 kg).
Floor dimensions: 88 x 70/78 in (224 x 177/198 cm).
Inner area: 42.8 ft² (4 m²).
Inner area per person: 14.3 ft² (1.3 m²).
Vestibules area: 14.2 + 9.5 ft² = 23.7 ft² (2.2 m²).
Total area: 66.5 ft² (6.6 m²).
Total area per person: 22.2 ft² (2.2 m²).
Interior height: 44 in (112 cm).
Packed size (L x D): 25 x 8.5 in (64 x 22 cm).
---
Final thoughts
In the summary of this Eureka Summer Pass Tent review, I would stress again that I am impressed with the value/price combination which this tent offers. You will hardly find something more affordable with such features and from such a top brand.
They describe it as a backpacking tent but it is on the heavy side for such a purpose. There are much lighter (but also much more expensive) options on the market for such a use. This tent is better suited for situations where you would not carry it in the backpack, but this is indeed possible when two users share the weight.

If you need more options in this weight and size range, please check my separate list with best 2-person camping tents where this tent is also included. For backpacking 2-person tents, please check here.
Note that this is not a sponsored text and I am not paid by the brand. Please use the comment box below in the case of questions or comments.

---