---
Here you have Big Agnes Scout 2 Carbon vs Big Agnes Scout 2 Platinum side by side to see their differences and similarities. Both are ultralight and ultra-packable.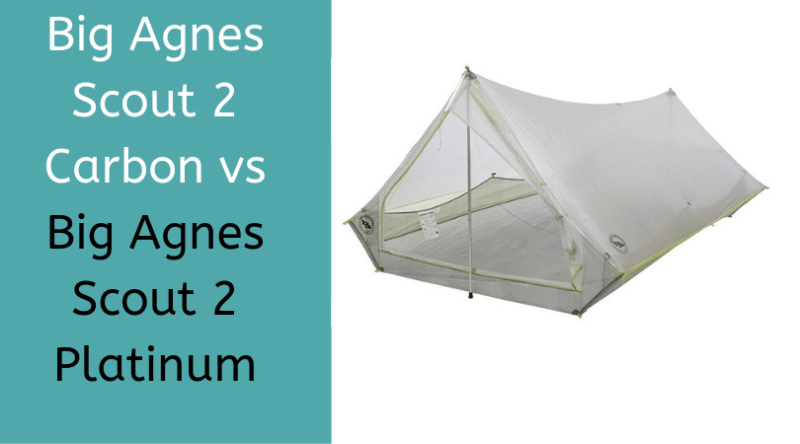 ---
What this is about
Big Agnes Scout 2 Carbon and Scout 2 Platinum tents are new on the market. Those are 2-person tents, but they are so light that you can use them as solo tents as well, and you will still have ultralight tents.
The tents come without poles. You are supposed to support them with a pair of your trekking poles. But if you do not use them, you can order 2 specifically built poles for these tents, the Big Agnes Accessory Backpacking Tarp Poles. Those are DAC Pressfit aluminum poles, adjustable from 33 inches (84 cm) to 45 inches (114 cm). They weigh 6.5 oz (185 g) and their collapsed length is 17 inches (43 cm).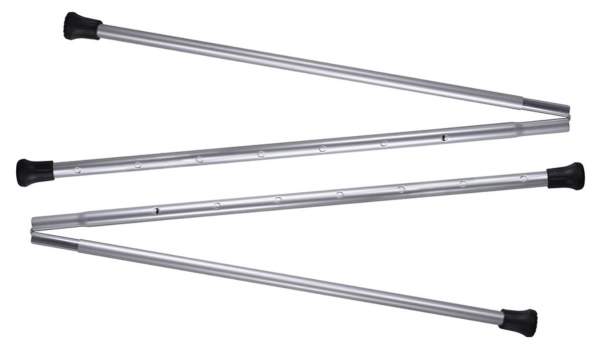 ---
Essential common features
Here are some features shared by the Scout 2 Platinum and Scout 2 Carbon tents:
Both tents are A-shape single-layer constructions.
Both have a tapered floor design.
Both have the height 45 inches (114 cm) on the front and 33 inches (84 cm) on the rear pole.
Both tents are with 1 door.
Both have excellent ventilation.
They are non-freestanding.
But both are a bit small for 2 people.
Also, both are very expensive, but there is a big difference in the price.
The Scout 2 Platinum tent is described in detail in my separate text, so please follow the link and have a look there.
---
The differences
I have summarized the differences here in the table:
Floor area**, sq ft (sq m)
*Trail weight is the weight of the tent components necessary for setup and function. Packed weight is the weight with everything included with purchase.
**Note that manufacturer's dimensions for both tents are the same 84 x 48/38 inches (214 x 122/97 cm). Yet, in the specifications, they give different floor areas. Not sure what this is so, but the difference is negligible in any case.
The main difference here is the fabric, and this then results in different weight and waterproofness. The nylon ripstop used in the Scout 2 Platinum tent, has been around for many years already and this is a top-quality material, but…
…What is Dyneema fabric?
Dyneema Composite Fabric is perhaps better known as Cuben Fiber. This is a non-woven composite ultra-high molecular weight polyethylene, ultralight, and 100% rainproof.
This is a fabric with extremely high tear-strength which allows for a welded construction. So now you realize why they may claim it is totally waterproof. Normally, in standard nylon or polyester tents, even 600 mm waterproof rating is completely enough if seams are properly taped. But, such tapes degrade in time and eventually even the best tents leak. The same holds for the PU coating used to make such fabric waterproof.
This all is avoided by using Dyneema fabric which is waterproof by itself and there is no need for coating of any type. This is a sort of plastic so it allows for welding of seams instead of sewing them in. Welding produces areas that are usually even stronger than the rest of the material, and there is no leak.
All in all, you have a material with enhanced durability and which is fully waterproof, and it is without coating because it is naturally waterproof. Can it be better?
Footprint for Big Agnes Scout 2 Carbon
This is a thin material and it is advisable to order a footprint specifically built for it, the Big Agnes Footprint for Scout 2 Carbon Backpacking Tent. Note that this is not Dyneema, this is a 15D nylon R/S with 1200 mm PU/Sil coating. The packed weight is 3 oz (85 g), the packed size is 8 x 5 x 1.5 inches (20 x 13 x 4 cm).
The total weight 
So even when you add the footprint, in the Scout 2 Platinum you have 624 grams (1.38 lb) for the trail weight. Compare this with 397 grams (0.88 lb) in the Scout 2 Carbon.
If you add poles, the two weights are 809 grams (1.78 lb) and 582 grams (1.28 lb), respectively.
In the text about the Scout 2 Platinum, there is a video to see the tent. A bit more about the Scout 2 Carbon tent in this video:
---
Final thoughts
So I hope that this Big Agnes Scout 2 Carbon vs Big Agnes Scout 2 Platinum comparison has helped to understand the crucial differences here. The Platinum version is a standard technology, with thin materials and minimalist design and this is what makes it so ultralight.
On the other hand, the Carbon version is a totally extra class plus a minimalist design, and the result is its incredible weight and durability. You might want to check also my Big Agnes Scout 2 Carbon vs Big Agnes Fly Creek HV 2 Carbon tents comparison.
Thank you for reading. Please use the comment box below in the case of questions or comments. Have a nice day.
---