---
Here you have Big Agnes Scout 2 Carbon vs Big Agnes Fly Creek HV 2 Carbon, both ultralight tents presented side by side. See and decide for yourself which is better.

---
Why such a comparison
This is about the tents that are among the lightest from Big Agnes brand and on the market in general. But see also this Big Agnes Scout 2 Platinum. So for ounce counters, it may be interesting to see these two tents side by side. Here are a few common features:
Both are with the same 2-person declared capacity.
In both tents they use the advanced Dyneema fabric.
Both tents are super-ultralight so that you can use them as solo tents and they will still be in the category of ultralight solo tents.
This is practically all they have in common. But there are some important differences, so see the comparison table below with the most important features:
Vestibule area, sq ft (sq m)
*This is the weight without poles.
**According to the manufacturer, the trail weight is the weight of the tent components necessary for setup and function. Packed weight is the weight with everything included with purchase.
The weight: So as you see, the Scout 2 tent is lighter, but this is the weight without poles. You are supposed to use your trekking poles, it needs two of them. But if you do not use them, you can order 2 specifically built poles for these tents, the Big Agnes Accessory Backpacking Tarp Poles. Those are DAC Pressfit aluminum poles, adjustable from 33 inches (84 cm) to 45 inches (114 cm). The weight is 6.5 oz (185 g) and their collapsed length is 17 inches (43 cm).
When you add this weight to the trail weight, you get 497 grams (1.1 lb) foor the Scout 2 Carbon tent, and its packed weight becomes 639 grams (1.41 lb). So in both cases it is slightly lighter than the Fly Creek HV 2 Carbon. But note that the Fly Creek is a 2-layer tent and it offers more protected space.
Protected area: Both tents are very small for two people, but the Fly Creek HV 2 Carbon has a vestibule which adds a useful storage area.
Height: Regarding the height, you have a bit more in the Scout 2 Carbon tent, 13 cm to be precise. Both tents decrease in height in the feet zone.
Inner volume: This is an interesting aspect, you have much more volume in the Scout 2 Carbon tent because of its side walls that are overhanging outward. You will see this in the picture below.
On the other hand, the front and the rear walls in the Scout 2 Carbon tent are completely vertical. But the top of the tent sags in the middle, this is not so great feature here.
In the Fly Creek HV 2 Carbon tent the rear wall is very low so the volume is considerably reduced. Note also that there is a large gap between the fly and the inner tent which hangs on the ridge pole, so the tent is very low.
Freestanding or not: The Fly Creek 2 Carbon tent could be described as semi-freestanding. You have a Y-shaped pole structure, but the feet zone must be staked to have it fully functional. They have added what they call shape-holding corner construction which gives the floor plan a boxy structure and adds some volume.
On the other hand, the Scout 2 Carbon works with two poles only, so it is definitely not freestanding.
Ventilation: The two tents have a completely different design. In the Fly Creek HV 2 Carbon tent you have the inner tent which is all mesh so this is the usual design. But there are no vents on its Dyneema fly, so this is not optimal regarding condensation.
But the Scout 2 Carbon tent is a single-layer structure and it is all built by Dyneema which is not breathable. This is why it has exceptionally long mesh vents on both sides. In addition, it has also roof vents in the corners close to the points where poles support the tent, so ventilation is not bad at all.
The price: Both tents are very expensive, but the Fly Creek costs more. As of the moment of writing this text, its price is around $850, and compare this to $700 which you have to pay for the Scout 2 tent.
If you buy the poles for the Scout tent, it will still be a bit less expensive.
Dyneema fabric – what is this?
Dyneema Composite Fabric is also known as Cuben Fiber and this is a non-woven ultralight composite ultra-high molecular weight polyethylene, 100% rainproof. It is built to resist stretching and sagging. If it gets punctured, this will not spread, so it behaves like a ripstop fabric.
They provide a repair kit to restore full functionality if a puncture appears. It is advisable to put patches on both sides of the fabric. They strongly recommend using a footprint and they have it built specifically for these tents.
Being a sort of plastic, it allows for a welded construction. Welding produces areas that are usually even stronger than the rest of the material, and there is no leak. This together with its other features makes it totally waterproof.
Normally, in standard tents you have taped seams. But such tapes degrade in time and tents leak. Quite similar is with standard PU coating used to make such fabric waterproof. You have no such problems with this Dyneema fabric which is waterproof by itself and there is no need for coating of any type.
So Dyneema is a fully waterproof material with enhanced durability and without coating because it is naturally waterproof.
---
Big Agnes Scout 2 Carbon Tent – overview of features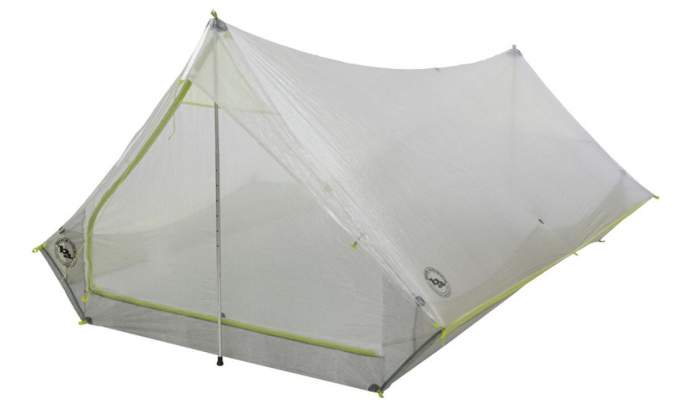 This tent is built as a single-layer and this is all Dyneema. What you see in the picture above is all this tent has, there is no inner layer. So this is a particular A-frame configuration. This pole in the middle of the only door may be annoying for some people.

Note that it has those low side walls that are at an angle of 45 degrees or so in the outward direction. This increases the volume and livability in this tent, so it offers more volume than what you would expect from its relatively small floor size shown below.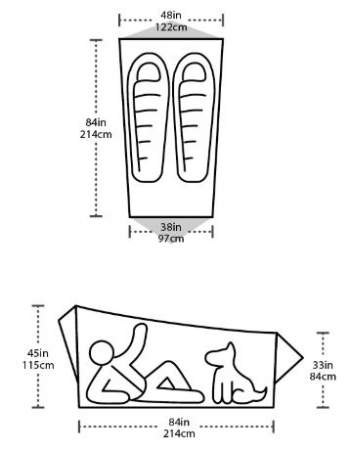 Other features include:
2 Full-length wall vent pockets.
8 DAC superlight aluminum J stakes.
Gear loft loops are included.
Full-body vent system with mesh vents.
Vertical head-entry door with extended dry-entry eve.
Double slider zippers allow for venting from the top or bottom.
Self-adjusting guyouts on front corners.
Pre-cut guylines and tensioners attached to fly.
Reflective guylines and webbing.
They have a footprint for this tent, the Big Agnes Footprint for Scout 2 Carbon Backpacking Tent. This is a 15D nylon R/S with 1200 mm PU/Sil coating. The packed weight is 3 oz (85 g) and the packed size is 8 x 5 x 1.5 inches (20 x 13 x 4 cm).
Here is a short video about the Scout 2 Carbon tent, please have a look:
What I like in Scout 2 Carbon Tent
It is very easy to use.
Full protection.
Obviously, its weight is currently without a match.
Great packed size.
Single-layer construction allows for pitching it even if it is pouring with rain and the inner will remain dry. This is normally described as "fly-first" design, but here there is nothing but the fly. If you try to pitch a standard two-layer tent when it is raining, everything will become soaked with rain before you put the fly.
Overhanging (or over-vertical) side-walls create some extra volume.
What I dislike
The fabric is translucent, so you cannot have a proper shade in this tent. For the same reason, you will wake up early because of the sunlight in the morning.
The front door has a section with mesh, but this is only in the upper corner. Pity they did not make it bigger.
They speak about pockets on the sides. So indeed those structures look like pockets, but I am convinced they can only be used as vents. If you put larger pieces of cloths, you will prevent air flow.
On the other hand, the single-wall structure which you have here is subject to condensation and it will normally run down into the mesh. So those "pockets" are just openings for the condensed water to escape.
If you put anything in these "pockets", it will become wet because of the condensation which moves in this direction.
I miss seeing some stiffeners on those "pockets" which would keep the vents open.
The roof sags in the middle and there is no way to avoid this with such a construction.
The pole is in the middle of the door.
The price.
---
About Big Agnes Fly Creek HV 2 Carbon Tent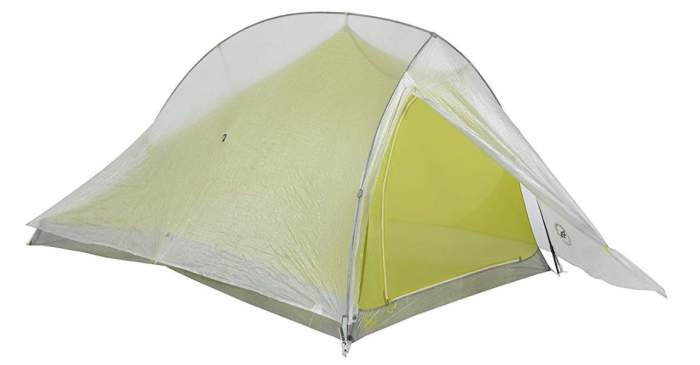 This is a semi-freestanding tent with hubbed carbon poles and Dyneema fabric used for the fly and the floor. Tent body is breathable nylon mesh. The mentioned poles are Easton carbon, incredibly lightweight and strong.

The structure is 2-layer by the design, so you have the inner tent plus a full-coverage fly. With such a fly, you get a vestibule as an extra storage space for boots and for the gear.
Note that you have a single front door with a two-zipper design. This means that both users have the same access, but the vestibule is quite small. Though, better anything than nothing, you do not have it in the Scout 2 tent shown above. The floor plan and the most important dimensions are shown in this picture: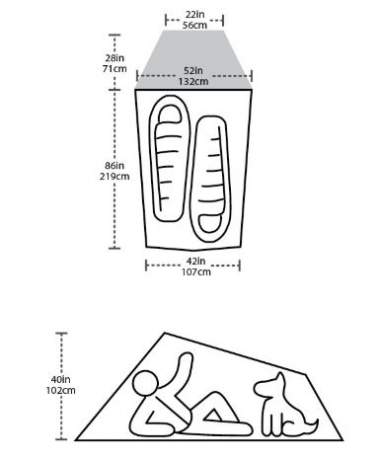 Other features include:
Side-access vestibule for a dry front entry.
Oversized ceiling pocket as a storage space.
Media pockets located above sleeping area enable clean earbud-cord routing from phones or other devices.
6 DAC superlight aluminum J stakes are included.
Color-coded webbing and buckles.
Pre-cut guylines and tensioners attached to fly.
Reflective guylines and reflective webbing.
Easy-grip zipper pulls.
Multiple interior loops for use with gear lofts.
Ultralight plastic clips attach tent body to the poles.
They suggest protecting the floor, so you have this specifically built Fly Creek HV Carbon Series Tents footprint. Its packed weight is 4 oz (113 g) and the packed size is 8.5 x 4.5 x 1 in (22 x 11 x 3 cm).
Please see more about this tent in this video:
What I like in Big Agnes Fly Creek HV 2 Carbon Tent
Great weight and packed size.
Full protection.
Two-layer design.
What I dislike
The same issue with translucent fabric. No shade here. You have to use it under trees to have any shade.
There are no vents on the fly.
Not freestanding.
The price.
---
Final thoughts – which is better
So this was Big Agnes Scout 2 Carbon vs Big Agnes Fly Creek HV 2 Carbon comparison. I have presented all the essential features and listed what I like and what I dislike about each of them.
I do not feel it is up to me to be a judge and to say which is better. This is a matter of preference. What matters to me is not necessarily what matter to you. Such individual needs cannot be compared.
For more tents in all possible sizes and from top brands please visit mu page with tents. Check also my text with Scout 2 Carbon vs Scout 2 Platinum comparison.
Thank you for reading. Please use the comment box below in the case of questions or comments. Have a nice day.

---