---
This Coleman Camping Tent Skydome 4 Person with Screen Room is from their new series, a 2-room tent for 3-season camping, nicely built, and very affordable.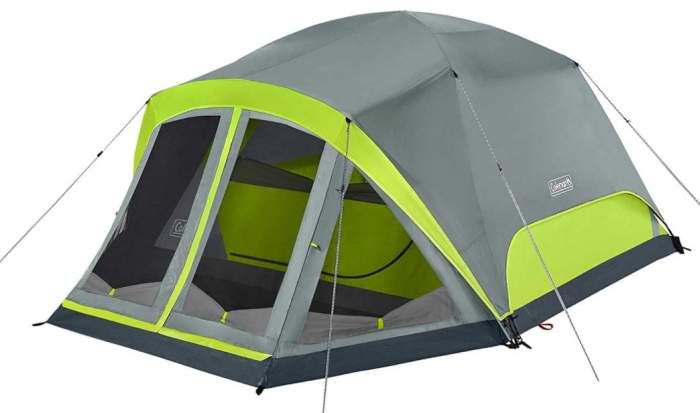 ---
Key features & benefits
Two rooms.
One room is a screen room.
Large door.
Very reasonable price.
---
What this is about
This is currently the smallest of three tents from Coleman's new series they launched for the season 2021, the other two are 6 person, and 8-person tents. These tents should not be mixed with their other Skydome series of tents where they have two separate versions with a dark-rest design and without it.
So the main difference is the screen room added on the front. Note that this screen room is completely protected. You have a sewn-in and sealed floor, and the walls are double-layer with mesh against insects and panels against elements and for privacy. The picture below shows it without the fly so you can better understand its structure.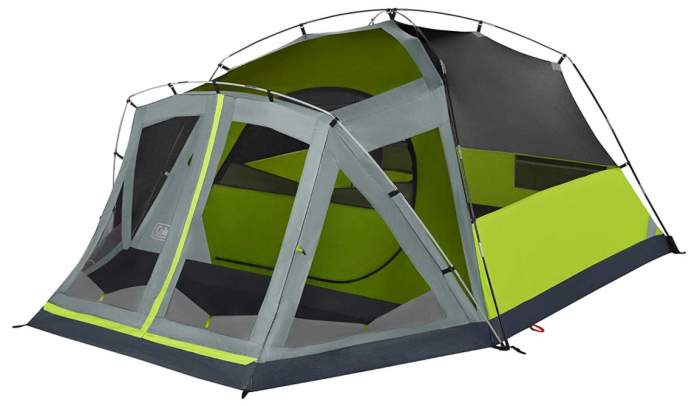 In other words, here you have a true 2-room tent and the front room is a nice extension that adds to the versatility of this tent. You can use it for sitting while being protected from insects, and when needed you can fully close it and have a completely protected space, see how it looks when closed: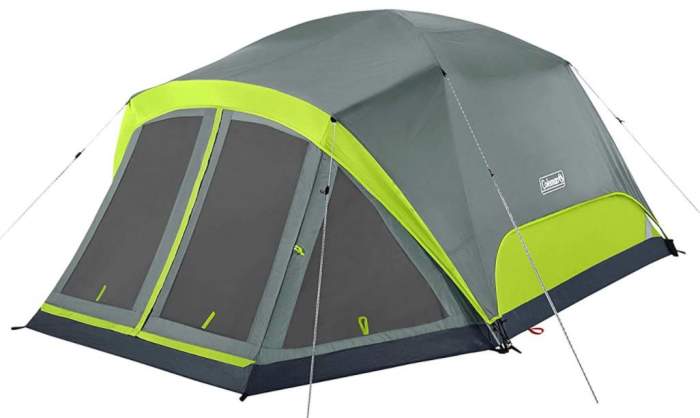 The tent has one large door with an inverted T-shaped zipper, so when you have to bring your stuff inside this is easy. There is an inner door which is partly a double-layer structure, you have a mesh and panel in the upper part.
Materials
They did not bother with providing details, so you can only guess what you have. This is really disappointing but it is quite typical for Coleman.
The poles are fiberglass, and they use the new design introduced earlier in the mentioned Skydome series, below you can see some details of the poles attachment to the tent. Note that the poles are i) prebent, and ii) the side poles are straight so the tent looks almost like a cabin tent. They claim with such a profile you have 20% more volume inside as compared with the usual simple dome structure.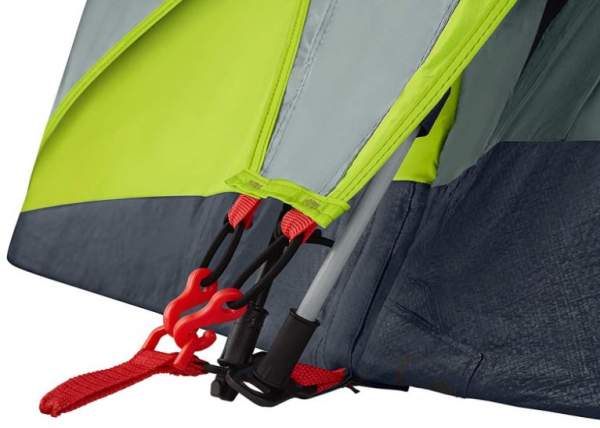 They write about pre-attached poles, so this is meaningless. The poles are simply shock-corded, there is no quick setup here, this is all standard design.
The fly attaches to the tent's base and you can see this in the picture. But in spite of this, the tent is not freestanding because of the screen room and its supporting pole. This part of the tent must be staked properly to be functional. You have all the stakes for this included in the package.
There is no information about the waterproof rating of the fabric, it is not high for sure but the seams are taped, and they use their usual WeatherTec design. This includes inverted seams, a tub-like floor, and patented welded corners.
Ventilation
You have seen in the picture without the fly that the tent is with a mesh on the canopy. There is mesh on the screen room of course, so this should work great as long as the sky is clear. But in long hours with rain, you have to close all this and in such circumstances, it would be good to have floor vents. Pity they have not included it.
Other features include:
Storage pouches on the wall, see the picture below.
The official setup time is 5 minutes.
An E-cable port is available.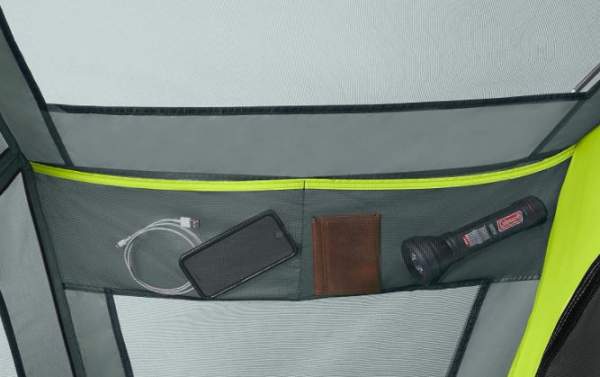 ---
Who is it for
Capacity-wise, the tent is officially for 4 people, but they did not care to provide details about the actual area that it offers. But the inner room is around 56 ft² (5.2 m²),  and there is around 22 ft² (2 m²) under its trapezoid screen room. So the total area per person is around 19.5 ft² (1.8 m²). This is quite a lot, and as mentioned above, both rooms offer full protection from insects and from the elements. 
Regarding seasons & climate, here again there is no information about waterproof rating. But you have seen how the tent looks so it is a 3-season structure as the manufacturer officially declares. They claim it can withstand winds of up to 35 mph. This may indeed be so, the tent is quite aerodynamic when you close everything properly, and it is almost completely a double-layer-tent.
Regarding weight and packed size, both are moderate. So the tent weighs 16.8 lb (7.6 kg), and the packed size is 24.5 x 9.5 x 9.5 inches (62 x 24 x 24 cm). So they describe it as a camping tent and this is it, you will use it at places where you would not carry it long distances. I have included it in my list of best 4 person tent for car camping.
Regarding the price, I see it as more than fair, this is a great value for the money.

---
Specifications
Official capacity: 4 people.
Weight: 16.8 lb (7.6 kg).
Dimensions: 10.5 x 8 ft (320 x 244 cm). 
Screen room dimensions: 8 x 3.5 ft (244 x 107 cm).
Area: 56 + 22 ft² (5.2 + 2 m²).
Area per person: 19.5 ft² (1.8 m²).
Height: 4 ft 8 in (142 cm).
Packed dimensions : 24.5 x 9.5 x 9.5 in (62 x 24 x 24 cm).
Poles: fiberglass.
---
Final thoughts, rating, pros & cons
In summary, this Coleman Camping Tent Skydome 4 Person with Screen Room is nicely proportioned and well-organized with its two rooms. Both rooms offer full protection so there is enough space for users and for gear. The price is more than fair. 
Please see how I rate this tent, the rating is well-balanced through all separate criteria.
For more options please check under the category Tents for 4 people. Subscribe to my weekly newsletter and stay informed, I add texts here regularly. Thank you for reading and have a nice day.