---
Coleman 4 Person Cabin Camping Tent with Screen Room is a pleasant and tall 2-room structure with three panoramic windows, and in two variants, with or without the waterproof porch.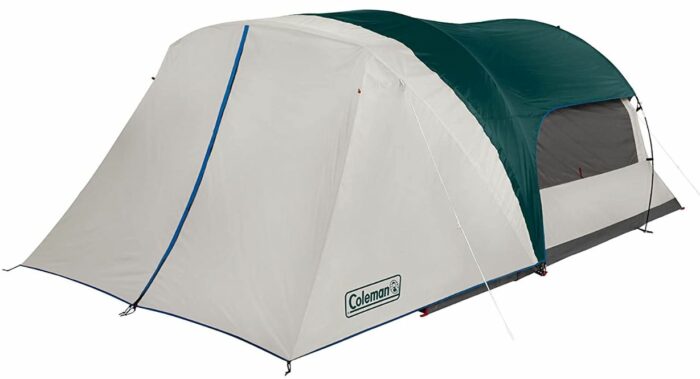 ---
Key features & benefits
Tunnel tent.
Two different options, without and with a waterproof porch.
1 Large door.
Screen room.
E-cable port.
Great price.
---
What is in the name
As you see, there is the word Cabin in the name, this is a part of its official name and this is why I am using it in the title. But this tent is everything but cabin type, and it is hard to understand why they decided to describe it that way. In fact, this is a great example of a tunnel-type tent and you can realize this from the picture below that shows the tent without the fly.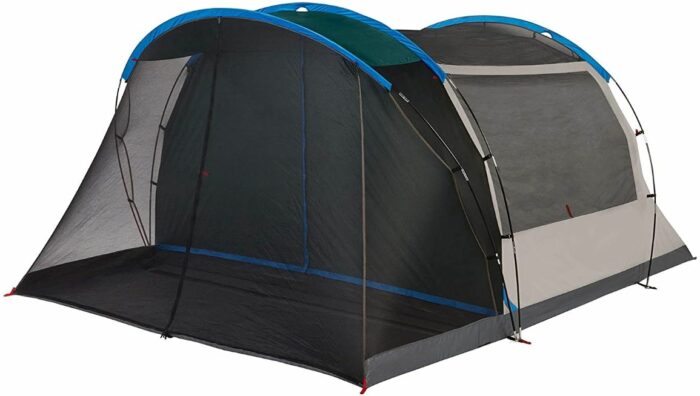 This is the smaller tent in their series that also included a 6-person tent with the same features. As mentioned above, there are two variants of this tent, the top picture above shows the version which comes with a waterproof porch.
The picture below shows the other version that is without the porch but it has an awning supported by a separate pole, and two long windshields on the sides. So the front screen room is almost fully protected.
Note that regarding the inner tent, there are no principal differences between the two versions. But the tent with the porch offers more of the fully protected area. The picture below shows the tent's rear side, so you see this is a non-freestanding tunnel structure supported by three main loops.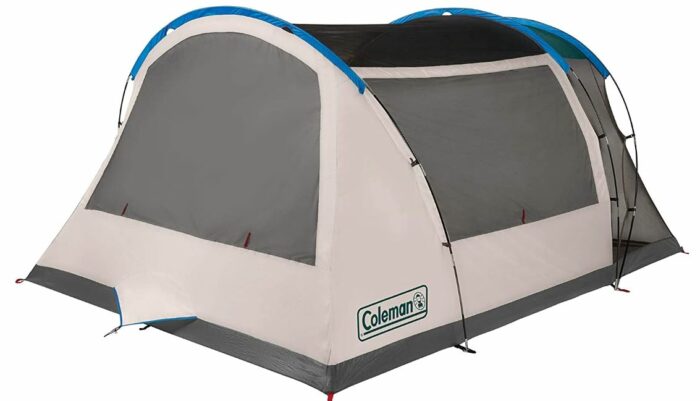 There is one door and this is the entrance to the front screen room. The tent is a pleasant construction with large windows on the three sides, they are two-layer structures with mesh outside and with panels from inside. The picture above shows two of the windows with panels in position. Note also that the tent is quite tall with its 6 feet (183 cm) peak height.
The rooms
This front room is the screen room, and it is floored. But note that there is a mesh section close to the inner door. This is added to drain the rainwater and this is of importance for the tent without the porch. This floor is not removable. The picture below shows how deep the screen room is under the porch, and it is fully protected from the rain. The porch itself adds some extra covered area for storage.
The inner door is also huge and this is again a double-layer type, with mesh and with panels. The back room is fully protected and with a bathtub floor.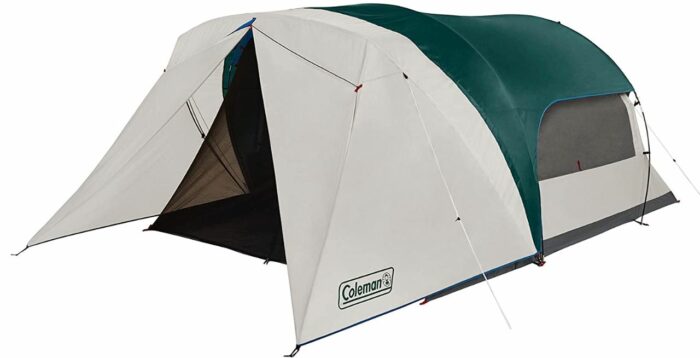 The fly 
The picture below shows the tent with fly on and the view is from the back. So this is a partial-coverage type and this allows for the large windows on the three sides.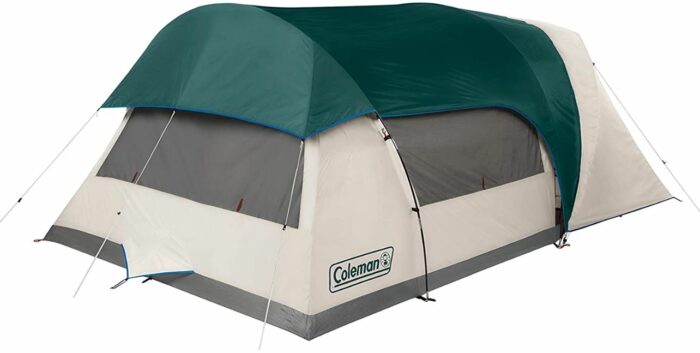 Ventilation
With all the large mesh areas around and with the inner door that is also a double layer type, ventilation will never be an issue in this tent. There is enough space between the fly and the inner tent for air circulation and this will eliminate condensation.
The picture above shows that they have added a floor vent on the back. This is good to have when the panels are closed due to rain. So all you need is in place.

---
Who is it for
Space-wise, the dimensions are 11 x 8 ft (335 x 244 cm) and the back room has around 64 ft² (6 m²). But there is also the front screen room that adds around 2 square meters and this space is partially protected even in the tent's version without the porch.
With porch, the screen room is fully protected, and the porch itself adds some covered area. Note that the manufacturer did not provide any exact numbers. In any case, this is quite a generous space for 4 users and I have added this tent to my list of best car camping 4-person tents.
Weight-wise, with its 23 lb (10.4 kg) this is a heavy structure, and as mentioned above this is not to be carried anywhere. Note that the packed size is quite good 26 x 10.5 inches (66 x 27 cm) and you can transport it on a bicycle.
Seasons-wise & climate-wise, although all the openings are with panels so you can close them if it is chili, I see this tent best suited for warm weather camping or maximum for two seasons (late spring, summer, and early autumn).
At Coleman's site they claim the tent can withstand winds up to 35 mph. Bit with such a fly, I would rather avoid such weather conditions, this is a tent for calm weather.
---
Materials
The poles & stakes
There are 4 poles and this is fiberglass, 3 are used for the inner tent and one for the awning. You have the usual attachment system, and this means pin and ring at the tent's base, and above you have clips and sleeves. All is color-coded. You have plenty of steel stakes included, they are shown in the picture below.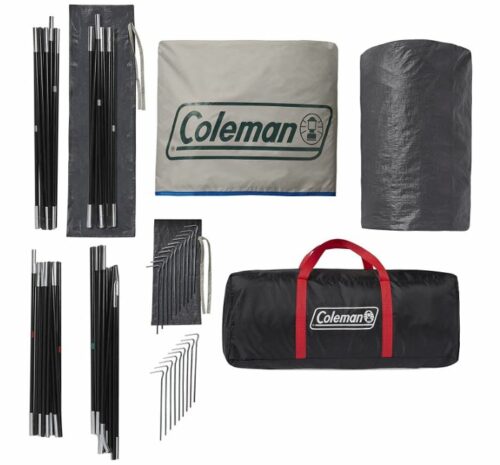 The fabric
The fabric is what they call WeatherTec and this is a polyester. There is no information about its waterproof rating, so this is quite disappointing. Note that they use inverted seams in all their tents. The floor is most likely a polyethylene, no official info about this.
Other features
The tent comes with wall organizers and an e-cable port shown in the pictures.
---
Specifications
Declared capacity: 4 people.
Weight: 23 lb (10.4 kg).
Dimensions: 11 x 8 ft (335 x 244 cm).
Total area: 88 ft² (8.2 m²).
Total area per person: 22 ft² (2 m²) + porch area.
Inner area: around 64 ft² (6 m²).
Peak height: 6 ft (183 cm).
Packed size (L x D): 26 x 10.5 in (66 x 27 cm).
---
Final thoughts, rating, pros & cons
To summarize this Coleman 4 Person Cabin Camping Tent with Screen Room review, what you have here is a really nicely designed and pleasant tent with plenty of space for up to 4 people.
You have two different options to choose from, and both of them come at a fair price, at least on the US market. As of the moment of writing this text, this tent is much more expensive on the EU market, not sure if this will change in time. I have included it in my list of best 4 person tent with a screen room.
Please see how I rate this tent against my standard set of criteria so you can easily compare with the other tents here in the site:
We have many more options under the category 4 Person Tents so have a look. Check their another tent which they launched recently, the Coleman 4-Person Dark Room Skydome Camping Tent or perhaps this Sierra Designs Nomad 4 Person Tent that is also new on the market.
Note that we add texts regularly, so bookmark this site and stay informed. Subscribe to our weekly newsletter, there is a subscription box below.