---
Here I give a few thoughts about choosing the best car camping mattresses and show some great examples for a variety of possible situations.  
---
About terminology
Car camping is my own main way of sleeping in mountains, and I have been doing this for many years already. My area is the European Alps, and almost always this implies staying at high elevations. So I thought it would be appropriate to write something about this.
As I see it, the term car camping can be used at least in the following meanings:
This is a camping where you transport all your camping stuff in the car but you sleep outside the car. This can include: i) regulated camping spots, or ii) wild camping where it is allowed (or where nobody would care, or nobody would see you if this is just overnighting).
This can be camping where you sleep in the car. My guess is that the term 'car camping' is mainly used in this sense, but I may be wrong.
It can be a combination of both. My ways are 2 and 3.
Why it matters where you sleep
If you sleep in the car, most likely you will not need an insulated pad, but you can use it for sure. But sleeping in the tent next to your car on a mountain pass in the Italian Alps, like Gavia pass or Stelvio pass, is a different story. You can have sub-zero temperatures there in mid-summer.
Even at lower elevations you can have freezing temperatures in August, see a bit about this in my text from the last summer in the Austrian and Italian Alps. My car was covered by a layer of ice in the morning after a cold night in Vent before my tour.
On the other hand, the space in the car and in the tent may be different, so you will have to choose a proper size of the pad. I have space in the car for around one meter of width, and this is perfectly enough for me.
Sometimes I make a short hike away from the car, and set my camp at a higher elevation so that next morning I have a better start point for my tour.
So for all these circumstances, you may need different pads, or you might wisely choose only one which will do the job.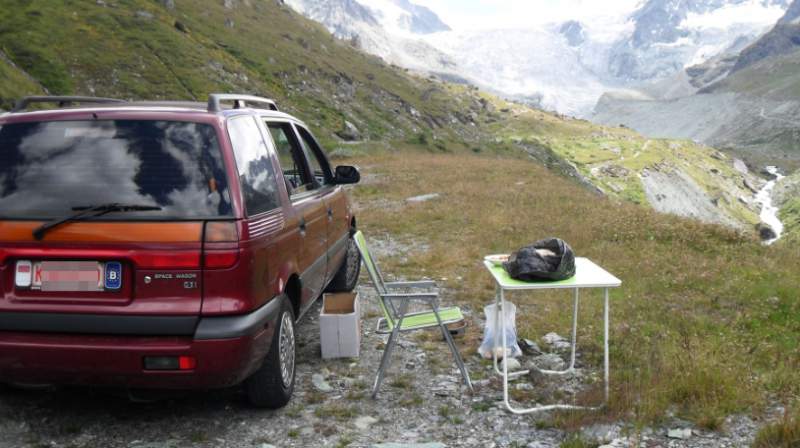 ---
Pads for car camping vs pads for hiking and backpacking
If you have some hiking or backpacking pad, you can certainly use it for car camping, no need to spend money without reason. But the point is, those pads are designed with the stress on weight and packability due to obvious reasons, and this is on the account of comfort.
But for a car camping, you might want something more comfortable. So indeed, I do not see any difference between my own sleeping in the car and at home. I think I sleep even better in the car.
♦ So a car camping mattress can be a really luxurious option when compared to what people use for hiking. You would want to have a rather thick pad and this is what you usually have in this group. See what I have included on my list of such car camping pads.
Of course, such car caping mattresses are also portable and packable, and for that reason, they are usually inflatable. Here you can have self-inflating open-cell sleeping pads or air pads. Closed cell pads are thin (and very bulky) so it is better not to think of them in this context. More about this terminology you can see in my general text about sleeping pads.
♦ Yet another important difference is the size, and this is again for obvious reasons. You would go for a lighter variant if you have to carry it in the backpack, so it would be narrow. This is not so for car camping. I choose them as wide as possible (I am short so the length is usually not an issue in any case).
You will see from some examples that such car camping mattresses are either large or extra large. Take a look at this Exped MegaMat Outfitter 10 pad or this Term-a-Rest MondoKing 3D pad. They both are 10 cm thick and they are huge.
My own car camping is always related to climbing and hiking, I am a mountaineer. So the need for such a comfortable sleeping pad comes from the fact that I need a proper rest after a whole day of a hard activity on very high elevations.
But when I make longer tours and sleep much higher on a mountain, then I have no choice but to carry my ordinary hiking self-inflating pad, the one I use recently is only 4 cm thick and 50 cm wide.
---
So what type car camping mattress to use 
About types, in general, you have in my text about sleeping pads so you might want to see more there. Here just in the context of the car camping to stress again, if you are happy with what you use for your longer tours, then use it in the car as well.
Self-inflating car camping mattress
Many pads in my car camping list are of this type. These are what the name says, self-inflatable and with foam which does the work for you. When you unfold the pad, the open air cells in the foam will suck the air in, this may take a few minutes but you may be doing other works in your camp while this is happening.
The foam always has some insulation properties so this is their obvious advantage as compared to air mattresses. Take just one example, this Therm-a-Rest MondoKing pad with its 11.4 R-value. So you can use the pad both in the car and in the tent next to the car. Such pads may be more stable than air pads because air does not move completely freely in the pad, the foam cells slow its motion down.
But these pads are always heavier and bulkier than air pads. Some are built to be heavy and bulky, to provide the best possible comfort. They can be very pricey as well, see this Exped MegaMat Outfitter 10 pad to realize what I mean, but see how great and comfortable it looks: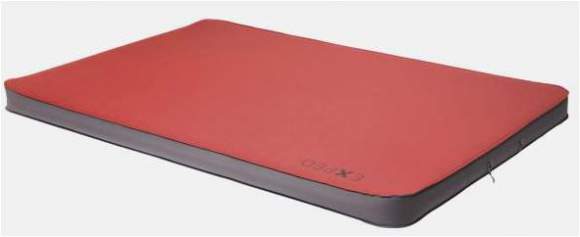 Air pads
Such pads may be with insulation or without it. All air pads in my car camping list are insulated and this is mainly for the case you will be using them in the tent. You do not really need much insulation if you sleep in the car. The air in the pad will be enough.
Here you can go for really thick options, like this Exped MegaMat 12 or for some more moderate options like Klymit Static V Luxe pad. Note that the latter comes with a Body Mapping technology, so it is unusually stable for an air pad. See also this double pad from Klymit: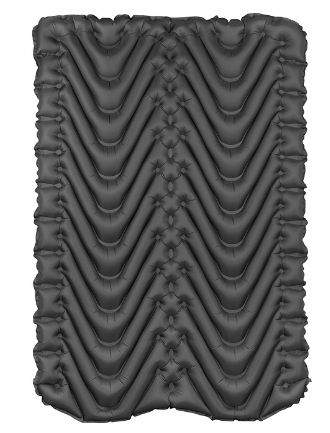 Three component car camping pads and mattresses
This is a very versatile option, see one example in the picture below, and you should definitely bear it in mind if your car camping includes also hiking and summiting. So here you essentially have the following:
An air pad or a self-inflating pad.
A separate foam layer.
A removable cover.
One of the best examples of this type is this Therm-a-Rest DreamTime Mattress included in my list. You will notice that you have R-value 10 here. So this pad can be used anywhere, literally. If you make a tour and plan to sleep away from the car, just take out the self-inflating pad and use it as your hiking pad.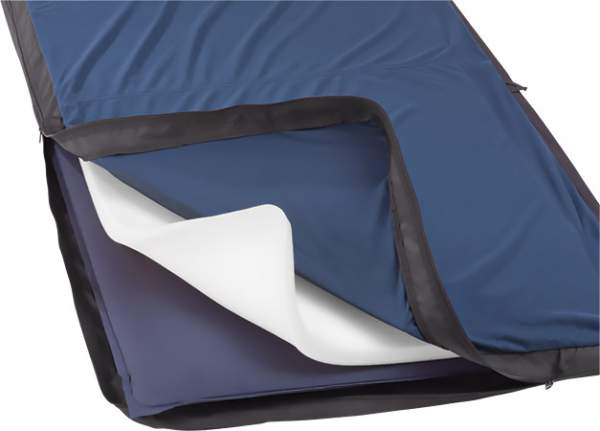 ---
Final thoughts – how to choose
Now, how to choose your best car camping mattress? Here are a few questions you might consider.
So, thank you for reading. Please let me know if you would want to add something here, there is a comment box below. I wish you a nice day.
---