The Sea to Summit Comfort Deluxe SI Sleeping Pad is thick self-inflating, built in four different sizes, and with a very high R-value for all weather conditions.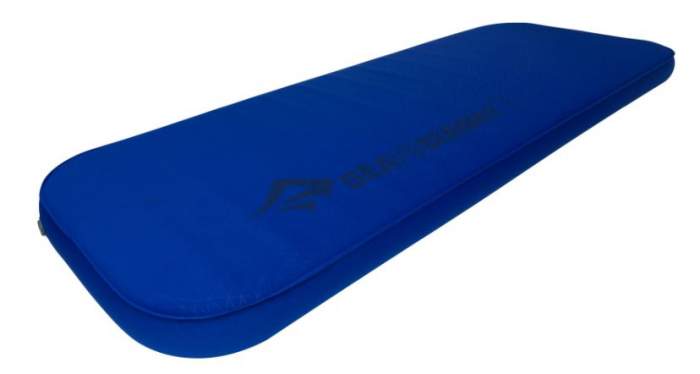 ---
Key features & benefits
Self-inflating sleeping pad.
Four different sizes.
Great insulation.
Very effective valve system.
---
What is in the name
This Sea to Summit Comfort Deluxe SI Sleeping Pad is a self-inflating type. So you have an open cell foam inside plus a really great valve.
But they have cut out lots of the foam and the pad is full of channels that are of the Delta-shape as you can see from the picture below.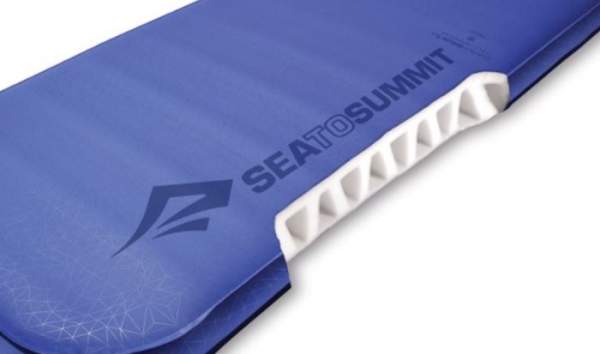 This is why they call this the Delta Core technology, it reduces weight and packed volume, and it also accelerates self-inflation. Namely, air can travel easier through these long transverse channels than from one open cell to another. Here you can see these channels from a different angle:

This design is currently unique on the market, but indeed there are some other pads with something similar. You can see this in the Nemo Flyer sleeping pad. In any case, this all is accompanied by a single but effective multi-functional valve shown in the pictures: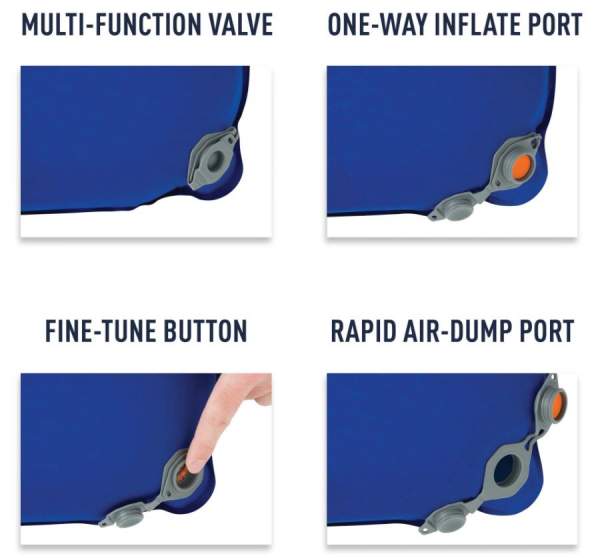 The picture below shows a bit more of the valve details, you can also see the foam inside.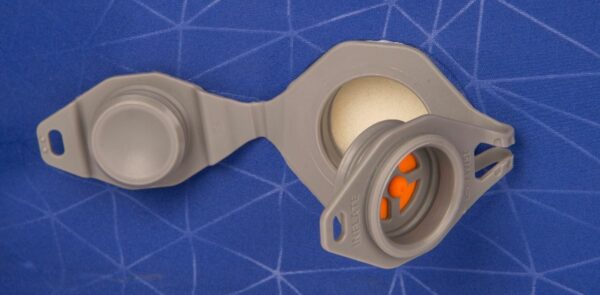 When you unfold the pad and open the valve, you will hear how it sucks air into the pad, and the self-inflating time is simply incredibly short. You can always blow some air in by mouth if you want it more firm. So this all is behind the letters SI in its name.
Insulation & thickness
You have a 4 inches (10 cm) thick foam layer with air trapped inside, and this gives it the R-value of 6.5 which should be enough for practically any weather conditions. Note that their pads come with the new ASTM R-Value standard so the insulation should be reliable.
There is lots of air in those channels so when it is cold the pad may become less firm, this is usually because the air pressure is reduced when the air inside gets cold.
The fabric is with a knitted 30D stretch polyester upper face for a comfortable night sleep. The base is a 75D polyester with extrusion laminated TPU. Note also that the sides are vertical and firm, so they do not collapse easily when you move on the pad close to the edge.
The pad is thick and rolling it up requires some work, so you will have to do this twice to force all the air out. Keep it compressed with your knees in the process.
Other details
This pad comes with their Pillow Lock feature which they use in many of their pads. The video below shows how this looks:
The carry bag is nicely designed, you can see some details of it in these pictures:
Please see more in this short video:
---
Who is it for
Regarding the best use & climate, you have already seen its R-value, so the pad will protect you from the cold ground no matter where you use it. I have included it in my list of best cold weather sleeping pads.
Regarding the size, there are four different options, regular wide (RW), long wide (LW), double (D), and Camper Van, you will see some of the dimensions below.
I must say that the first two (RW and LW) are not really very wide, the width is 64 and 76 cm, respectively. But the LW and D versions are quite long, both are 201 cm long. The thickness is optimal and the pad is firm enough for any type of sleepers.
The Camper Van option is not widely available, but its dimensions are perfect for solo use 201 x 115 cm.
Regarding the weight, you will see the numbers below, so these are heavy pads and they are best suited for car camping.
The packed size depends on the dimensions of course, you will see them in the table below.
---
Specifications
Type: self-inflating.
3 Sizes: RW, LW, Double.
Weight:
– RW: 4 lb 6 oz (1995 g).
– LW: 5 lb 13 oz (2645 g).
– Double: 9 lb 13 oz (4445 g).
Dimensions: see the picture.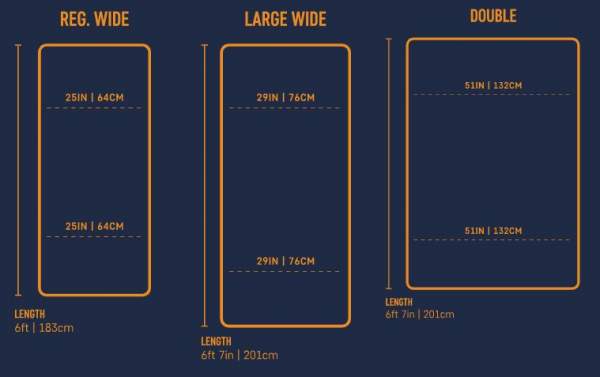 Thickness: 4 in (10 cm).
R-value: 6.5
Packed size (L x D):
– RW: 25.2 x 6.65 in (64 x 16.9 cm).
– LW: 29.9 x 9.4 in (76 x 24 cm).
– D: 25.6 x 10.3 in (65 x 26.1 cm).
---
Final thoughts & rating
So the best side of this Sea to Summit Comfort Deluxe SI Sleeping Pad is its self-inflation speed. The thickness and the structure of the pad are optimal and suitable for all sorts of users. They offer several different sizes so make sure you choose what suits you best.
The price is steep but this is a high quality sleeping pad. Fully recommended. I have included it in my list of best self-inflating camping pads and best sleeping pads for car camping.
Below you can see how I rate it against my usual rating criteria so that you can easily compare it with other items of this type. I use the RW version for rating.
BEST PLACEs TO BUY
For more options, please check under the category Sleeping Pads.
Bookmark this site and come again, this will keep you informed because I add texts here regularly. Let me know if you have questions or comments, there is a comment box below. Have a nice day.