---
This NEMO Flyer Sleeping Pad Review is about a unique and advanced ultralight and ultra-packable insulated 3-season self-inflating pad. Keep reading.
---
Key features & benefits
Self-inflating.
3 Sizes to choose from.
Insulated.
Ultralight.
Ultra-packable.
Non-slip bottom.
3-Season pad.
---
What type is this NEMO Flyer Sleeping Pad
Here you have a great example of a pad that combines the comfort of an air pad with support and insulation of a foam pad. So this is formally a self-inflating pad with open-cell foam inside, but you have very wide air channels inside in addition to the air contained in the foam itself. The picture below shows the cross-section of the pad:

As you realize, the large inner air channels coincide with the peaks in the top and bottom profile, and the foam bridges in between provide support typical for a foam pad. When self-inflated, it increases its thickness by 290%.
So this NEMO Flyer pad is a sort of a hybrid design, you have the best features of both types of pads combined here. As of the moment of writing this text, I do not remember anything on the market comparable to this design.
This design removes lots of the foam which you would normally have inside (around 60% in fact), and this means it reduces the weight as well as the bulk.
To realize how effective this is you can see if you compare its regular size weight 1 lb 7 oz (652 g) with Klymit Self-Inflate V Sleeping Pad that weighs 46.4 oz (1300 g). Though, it is fair to say the Klymit pad has a considerably bigger R-value. In any case, I have all the good reasons to add it to my list of best self-inflating sleeping pads.
Insulation
The foam which you see in the picture above contains air, so they both together provide insulation which puts this pad in the group of the true 3-season pads. The effective R-value he is 3.3, and this is good enough for most situations in a 3-season use.
Note that they use the new ASTM Standard (ASTM F3340-18) introduced recently ensuring standardized comparisons for the thermal resistance and heat loss. I blogged about this new system in my separate text.
Other features
You will see silicone areas printed on the bottom, this is great to have because it adds grip and this keeps the pad in place on the tent's floor.
The pad comes with a very effective and low profile (in fact they call it Zero-profile), multi-functional, micro-adjustable valve for fine-tuning and fast inflation/deflation.
Note also that it comes with a repair kit.
A stuff sack is included.
---
Who is NEMO Flyer for
Size-wise, you will want to know that they build this pad in three different sizes, regular (R), regular-wide (RW), and long-wide (LW). So this should satisfy most of the users and you can choose the best size for you to avoid carrying unnecessary weight. The pictures below show them side by side so you get some feeling how they compare by size.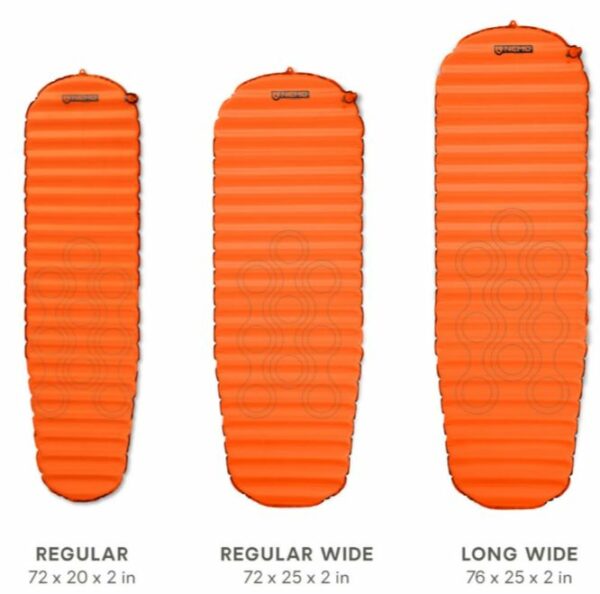 Regarding seasons & climate, I already mentioned its R-value, so this is for 3 seasons and even a bit more.
Regarding the packed size, the three mentioned pads have different packed sizes and I would say this is an ultra-packable pad. You will see the numbers in the specifications below.
But if you check our list with best inflatable sleeping pads, you will realize that the packed size of this Nemo's pad is quite comparable. So this is remarkable and it is all due to its unique construction shown above. It comes with the Velcro strap shown in the picture below.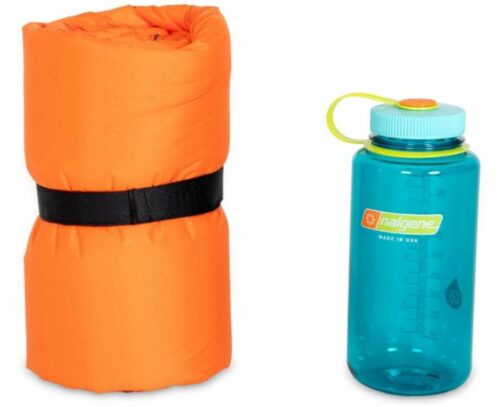 Regarding the weight, this is an ultralight sleeping pad no matter in which group you put it. You will see the numbers below. So it is suitable for backpackers, and if it is good for them this means you can use them for practically any outdoor activity.
Please see a bit more in this short video:
---
Specifications
Best use: backpacking.
Shape: (sort of) rectangular.
Type: self-inflating.
Seasons: 3.
Gender: unisex.
Weight:
– Regular: 1 lb 7 oz (652 g)
– Regular Wide: 1 lb 13 oz (822 g).
– Long Wide: 1 lb 14 oz (850 g).
Dimensions:
– Regular: 72 x 20 in (183 x 51 cm).
– Regular Wide: 72 x 25 in (183 x 64 cm).
– Long Wide: 76 x 25 in (193 x 64 cm).
Thickness: 2 in (5 cm).
R-value: 3.3.
Packed size:
– Regular: 10 x 6.5 in (25 x 17 cm).
– Regular Wide: 12 x 6.5 in (30 x 17 cm).
– Long Wide: 12 x 8 in (30 x 20 cm).
Insulation: open-cell foam.
Warranty: Nemo's lifetime warranty.
---
Final thoughts, rating, pros & cons
In summary of this NEMO Flyer Sleeping Pad review, I wish to stress that here you have a pad that is unique on the market. These unique features are behind its great packed size and weight.
So no matter if you go camping in chilly weather or in summer, you will have a reliable pad underneath you with its innovative design. Fully recommended. I have added this pad to my list of best backpacking self-inflating sleeping pads.
Here is my rating of this sleeping pad, the same criteria are used for all of them so you can easily compare.
If you need more options, please check under the category Sleeping Pads here in the site. With a quality pad you will need a reliable sleeping bag as well.
Note that we add texts here regularly, so bookmark this site and visit occasionally. Please use the comment box below in the case of questions or comments. I wish you a nice day and pleasant camping.