---
ALPS Mountaineering Lightweight Self-Inflating Double Air Pad is a versatile double & single pad in one, with a huge R-value suitable for car camping in all seasons.
---
Key features & benefits
This is a 2-in-1 sleeping pad, double & single.
Very good price.
Self-inflating in under 4 minutes.
High R-value: 6.9.
---
What type of a sleeping pad is this
This sleeping pad has been around for at least 5 – 6 years already so this is a well known and reliable item. You have two pads in one and by this I mean the following:
You can use it as a double sleeping pad with your partner.
You can use only one half and use as a solo pad, see the picture below. This is possible because of the Velcro connection between the two halves, so splitting them is easy. Have seen people asking if this connection is strong enough, so no worry, such hook and loop Velcro connection is definitely reliable, nowadays it is used on most of the backpacks on the market to attach the harness, so all the weight is carried by such a connection.
You can fold it and use solo as an ultra thick and ultra comfortable pad for a car camping.

As you realize from the name, this is an open-cell foam self-inflating pad, so you just open the valve and let it inflate itself while you are busy doing other things in the camp. You might want to blow in some air at least when the pad is new or just to make it thicker. Note that it may take some time before it inflates for the first time after it is delivered to you. This is because it has been compressed for a long period and the foam needs time to regain its normal bulkiness.
The two parts store separately in their carry sacks, see the picture. Note that those are not waterproof, people have been asking about this.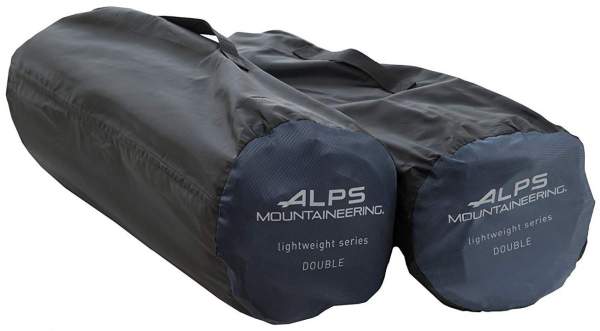 ---
Who is it for
Weight-wise, although they use the word "lightweight" in the name (this is why I used it in the title, it is the part of the name of this pad), it is quite heavy. It weighs 9 lb 7 oz (4.28 kg) and this is not an issue if used for car camping, but if you want to use the half of it for a solo hiking or backpacking tour, you will have the half of this value so this looks far too heavy for a backpack. But for a shorter overnight adventure, it may be worth the effort.
So this is a great pad but best if used at places where you would not have to carry it attached to the pack. It is for a car camping, motorbike tours, for hunters, kayakers, fishermen, and for occasional use at home or for travel.
Size-wise, as a double sleeping pad the dimensions are 75 x 47 x 3 inches (191 x 119 x 7.6 cm). The length is moderate but the width is not particularly great; though for a couple this may be good enough. The thickness is quite OK. But if you fold it and use solo, then this is a really thick configuration very suitable for side-sleepers.
Seasons-wise, this pad has a very high R-value 6.9. This is very close to the temperature equivalent of -26 F (-32 C). So this is a really good number and this pad is a 4-season tool. Now, if you fold it and use solo, then the effective R-value is two times higher. In this case, you can put it on the snow and sleep like a baby.

---
Materials
The top fabric is a 70D polyester ripstop, this is quite typical and slightly below the denier value in the Kelty Tru.Comfort Double-Wide pad and in the Therm-a-Rest MondoKing 3D Self-Inflating Sleeping Pad. The bottom is a polyester taffeta. The material looks water-repellent but this is not a waterproof stuff. For those sensitive, there are no chemical odors in this material.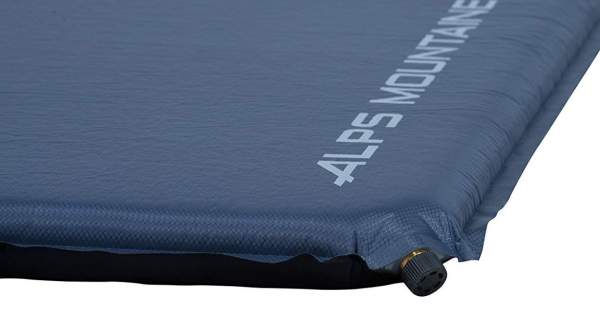 The foam is what they call the Jet Stream foam, not clear what this is, could not find any info on the manufacturer's site, but this is an open-cell foam and obviously with very good insulation properties. Each of the two halves has dual brass valves, one is visible above. Stuff sack and repair kit are included.
Please see more in this short video:
---
Will it fit in a two-person tent
I have seen this question has been asked. So when used as a double pad, its width is 47 inches (119 cm). You can take a look in my page with tents, so take as an example this Big Agnes C Bar 2 Backpacking Tent which is with a trapezoid-shaped floor 52 and 42 inches wide at the two ends, so such a double pad would not fit.
But this is not a backpacking pad, so take a normal camping tent for two, like this Eureka Suite Dream 2 which is 191 cm wide, or the ALPS Mountaineering Meramac 2 Person Tent which is 152 cm wide. Obviously, you have plenty of space for such a double pad.
Note also that as a double sleeping pad, you can use it in combination with double cots in any larger family camping tent, and also in double tent-cots. But you can also split it in two and use separately on single cots.
---
Specifications
Type: self-inflating.
Weight: 9 lb 7 oz (4.28 kg).
Dimensions (L x W x D):
– As a double: 75 x 47 x 3 in (191 x 119 x 7.6 cm).
– As a single: 75 x 23.5 x 3 in (191 x 60 x 7.6 cm).
Packed size: 27 x 7.5 in (69 x 19 cm) – this is for one half.
R-value: 6.9.
---
ALPS Mountaineering Lightweight Series Self-Inflating Air Pad Double vs Competitors
You might want to see how this double sleeping pad compares with some of its competitors, this might help in making an informed decision. So here in the table, I give one of the same style self-inflating pad and one inflatable, the latter will show you what to expect if you decide for a different type.
As you see, it is a bit smaller and the weight is in between the other two pads, but it is far more versatile because of its 2-in-1 feature. Please follow the links to read more.
Alps Mountaineering
Double
Kelty Tru.Comfort
Double Pad
---
Final thoughts, rating, pros & cons
So to summarize, this ALPS Mountaineering Lightweight Self-Inflating Double Air Pad is indeed a unique design and with its 2-in-1 feature it stands out from the competitors. The price is fair for such a quality item and I can fully recommend it for a car camping in any season. I have included it in my list of best cold weather sleeping pads.
The pad has been on the market for a long time already, so there are many reports around and the rating is high. See how I rate it:
If you need more options, please check my page with sleeping pads for car camping. But if you need something for backpacking, check in my page with pads. With a pad you will need a sleeping bag, so check this list with double sleeping bags, and also the list with single sleeping bags. Thank you for reading and please use the comment box below in the case of questions or comments.