---
This QOMOTOP Ultra Thick Self-Inflating Camping Mattress is double-size and comfortable even for side sleepers with its 4 inches (10 cm) foam, and its huge 9.5 R-value makes it suitable for all seasons.
---
Key features & benefits
Self-inflating pad.
Very thick.
Double size.
Stuff sack doubles as an inflation sack.
Patented valve design.
High R-value.
---
What is in the name 
You have seen the words self-inflating in the name of this pad. This means that you have an open-cell foam inside so when you unfold the pad, open the valves and let it inflate itself. The foam is compressed so when you allow it to expand, it will suck the air in. After that just close the valves. 
Note that with such pads it can take more time the first time to self-inflate properly. This is because it has probably been compressed for a very long time after it had left the factory. So no need to panic, leave it overnight if necessary, with the open valves.
If you are not happy with the pad's self-inflation, you can use its stuff sack and attach it to the valve. Then start rolling the sack from the other side and this will force the air trapped inside to move into the pad, this is shown in the picture: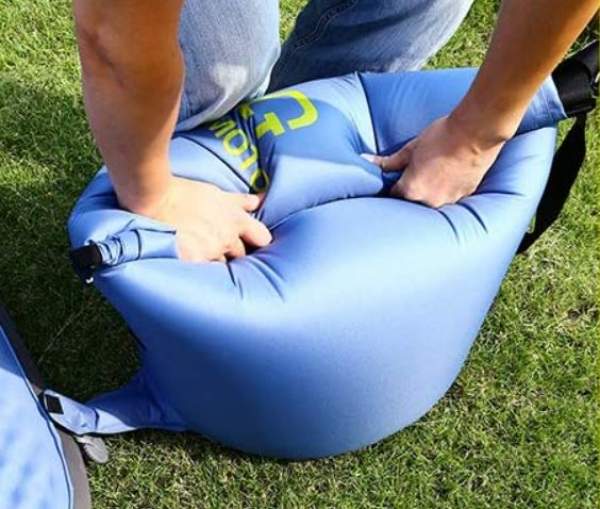 Deflation: As usual with any pad, deflation can be a bit tricky. This holds in particular here because of its size. So fold the pad to half its width and then start rolling while the valves are open. Then unfold again and now start rolling by keeping the pad under pressure with your knees.
When this is done, close the valves, and then compress the pad with its included compression straps. After that you should be able to store it in its mentioned stuff sack.
They claim the valves are a patented design, it is the rotary type shown below, so you use the same valves for inflation and deflation and you switch the mode by simply rotating the valve.

Ultra-thick pad: This is how they describe it, so the pad is indeed 4 inches (10.2 cm) thick, and it is among the thickest you will find. I have included it in my list of thick sleeping pads for camping.
Insulation & materials
With such a thick foam layer you always have insulation underneath you. The mattress keeps the air in so this increases its insulating features. They claim that it provides a 9.5 R-value.
The inner material is a PU foam and the outer fabric is a durable tricot with a TPU film that provides the tightness, they claim this is all environmentally friendly and non-toxic. The pad has no odor, and you will want to know that this material does not make a noise.

Please see a bit more in this video, it shows how to inflate and deflate the pad:
---
Who is it for
Regarding seasons & climate, this is a sleeping pad for all seasons and for all weather conditions. The mentioned R-value roughly corresponds to the lower temperature limit of -54 F (-48 C). So this should be good enough in any cold environment. This is why I have included it in my list of best cold weather sleeping pads.
Regarding the dimensions, this is a double-size pad, it is quite long but only moderately wide for two people. You have 80 x 52 inches (203 x 132 cm). You have already seen how thick this pad is, so it is good even for side sleepers. From what I have seen, the total weight capacity is 500 lb (227 kg).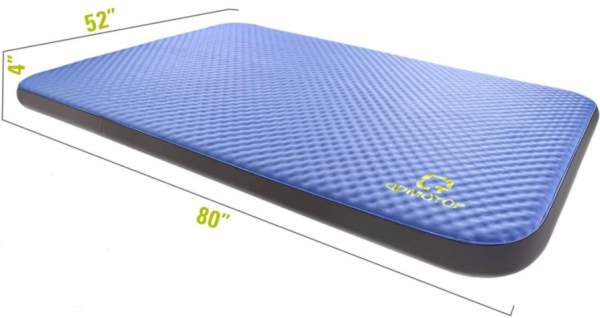 Note that they also have a single pad with the same features, and they sell it at the same place on Amazon. 
Regarding the weight, you have a heavy item here, the pad weighs 13.6 lb (6.2 kg). It may look bulky, the packed size is (L x D) 28 x 10 inches (71 x 25 cm), but as mentioned above, this is a pad for two people so this is quite good packed size. In view of all this, the pad is best suited for car camping, and I have included it in my list of car camping sleeping pads.
---
Specifications
Type: self-inflating sleeping pad.
Weight: 13.6 lb (6.2 kg).
Dimensions: 80 x 52 in (203 x 132 cm).
Thickness: 4 in (10.2 cm).
Packed size (L x D): 28 x 10 in (71 x 25 cm).
---
Final thoughts, rating, pros & cons
So this QOMOTOP Ultra Thick Self-Inflating Camping Mattress is indeed very thick as its name says, and this is its best feature. If you use it in a camp, you will have a very comfortable bed for you and your partner. Its packed size is very good for such a large pad, and you have its stuff sack to keep it clean from dust at home.
You can use it also for sudden guests and for emergency situations of any kind. It is long enough to be used even by very tall people. Fully recommended.
This pad scores high in almost all of my rating criteria, so it is not surprising that the overall rating is excellent:

There are many pads presented here in the site, so check under the category Sleeping Pads if you need more options. If you need a bit thinner pad, check this FUNDANGO Premium Double Wide Self Inflating Camping Sleeping Pad.
You might want to bookmark this site and visit it occasionally, this will keep you informed, we add texts here regularly. Thank you for reading and have a nice day.