---
FUNDANGO Premium Double Wide Self Inflating Camping Sleeping Pad is very long and 5 cm thick, and with foam insulation that makes it suitable for 4-season camping.
---
Key features & benefits
Self-inflating.
Sleeping pad for all seasons.
Double-wide.
Very long pad.
Great price.
---
What this is about
For those who are new in this activity, the term self-inflating describes the fact that you have an open-cell foam inside this pad. It is normally compressed so when you unfold the pad just open its valves and leave it alone. When the foam expands, it will suck the air in and this is how the pad inflates itself.
I have seen people complaining that it does not inflate. This is typically so when the pad arrives and you want to use it for the first time. The reason is that it has been compressed since it has left the factory, and this first time it needs far longer to self-inflate. It is best to leave it overnight. But after that the pad will self-inflate, do not worry about this. You can always blow some more air by mouth if you need a harder pad.
How to deflate the pad
When you want to pack the pad, it is best that you open the valves and fold it to half its width, see the picture below. Then start rolling from the end without the valves. You can keep it under pressure by using your knees.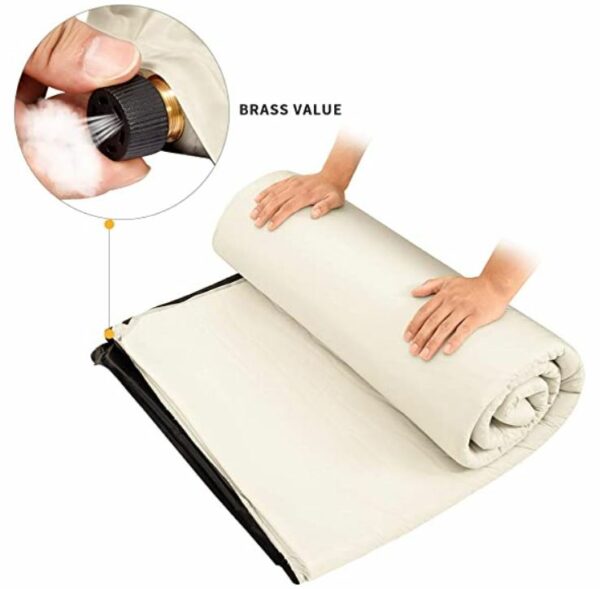 If you are not happy with the result do the following:
Close both valves.
Unfold the pad, fold it to half the width, and start rolling keeping it under the knees. You will notice that the air accumulates on the other end where the valves are located.
When you notice this, open the valves and then continue rolling.
When rolling is done, close the valves.
Attach the included compression straps.
Store the pad in the carry bag.
Materials
I already mentioned the inner foam, so this is a polyurethane material. The outer shell is a water-resistant and tear-resistant 230T polyester micro-brushed fabric, soft to touch, and skin-friendly.
The valves are a combination of brass and plastic, one is shown in the picture above. The carry bag shown below is a 100% polyester 150D Oxford.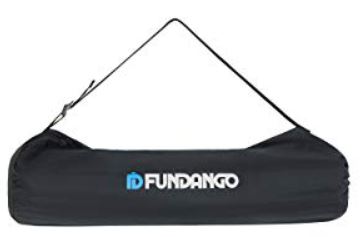 Insulation
Pads with foam are always insulating, this is a combined effect of the air trapped in the foam and the foam itself. In this pad you have a 5-cm layer with foam and air, see the picture below, and the official R-value is 6.5. Very roughly, this should correspond to the temperature rating of around -18 F (-28 C). But do not take this as granted, it is best to test it yourself, or add at least 10 degrees here to play safe.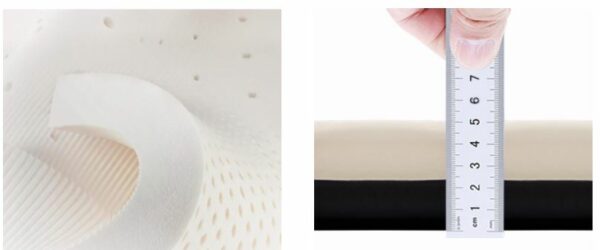 ---
Who is it for
Regarding the weight, with 9.7 lb (4.4 kg) this is a heavy pad even in view of its large dimensions, and you would not want to carry it anywhere. It is fair to say that this is a typical weight for such pads, for comparison see this KingCamp Luxury 3D Double Self-Inflating Sleeping Pad built in the same style.
The packed size is (L x D) 26.4 x 11 inches (67 x 28 cm) and this is quite good for a pad of this size and type. But it is a bit long so you need a car for transportation. 
Regarding the dimensions, the pad is double-wide and quite long, 78 x 51.2 inches (200 x 130 cm), so this is a lot of space for two adults and it is good enough even for very tall users.
The thickness could be described as quite moderate, you have 1.96 inches (5 cm). The KingCamp pad mentioned above is much thicker, you might want to know this if you are a side sleeper.
Regarding seasons, in view of its official R-value of 6.5, this is a sleeping pad for all seasons. But if you plan to camp in extreme conditions, perhaps it is better to go for a higher R-value, check in my list of best cold weather sleeping pads. You will see some with an R-value over 10.
Regarding the price, this pad is incredibly affordable. You will have a pad for two at the price of a single pad.

---
Specification
Weight: 9.7 lb (4.4 kg).
Dimensions: 78 x 51.2 in (200 x 130 cm).
Thickness: 1.96 in (5 cm).
Packed rolled size (L x D): 26.4 x 11 in (67 x 28 cm).
R-value: 6.5.
---
Final thoughts, rating, pros & cons
To summarize this FUNDANGO Premium Double Wide Self Inflating Camping Sleeping Pad review, what you have here is a very large pad suitable for car camping and for all seasons. The price is simply incredible. So if you want a pad for your partner and you, or just to have lots of space for solo use, and do not want to spend much, this is it.
Please see how I rate this pad against my standard set of criteria used for all the pads here in the site:
For more options just search a bit under the category Sleeping pads here in the site, you will find all possible types for solo use and for two people.
Note that we add texts here on a regular basis, so bookmark this site and visit again, this will keep you informed. Thank you for reading and have a nice day.