---
This Exped MegaMat Max 15 sleeping pad is extra wide and incredibly thick, with an impressive R-value of 10.6 it can be used in any weather conditions.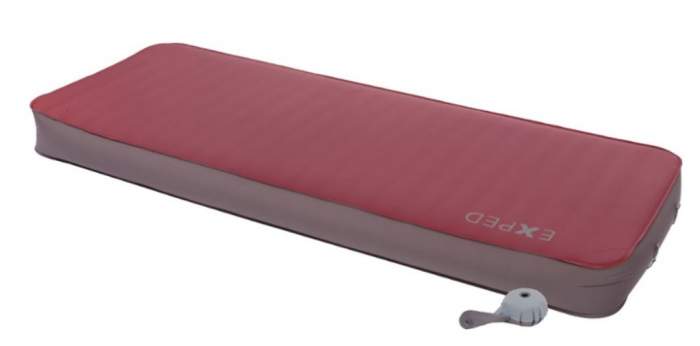 ---
Key features & benefits
Huge R-value.
Incredibly thick.
Great warranty.
Mini pump included.
---
What this is about
This Exped MegaMat Max 15 is among the thickest camping sleeping pads on the market, the thickness is no less than 5.9 inches (15 cm), so now you understand the meaning of the number 15 in the name. With such a thick layer, comfort cannot be an issue, but there is more to it.
You have a very soft and stretch-knit surface that provides slip-resistance and next-to-skin comfort. The pad comes with an incredible 5-year warranty, so they are very confident in their product. It has high-frequency welded seams, and its proprietary durable lamination is partly behind such a warranty.
The pad is self-inflating and this implies that the shell is air-tight and properly glued. This also implies that you have open-cell foam inside. This is a 16 kg/m² PU foam, Oekotex 100 certified. The same certification is with the shell material where you have a 50D nylon on the top and a 75D polyester on the bottom, both hydrolysis resistant.
When you decompress the pad, open the valve and it will inflate itself. You have separate valves for inflation and deflation, see the pictures above. If you need more air inside, you can use the included Exped Minipump (the picture below) and make the pad as firm as you want.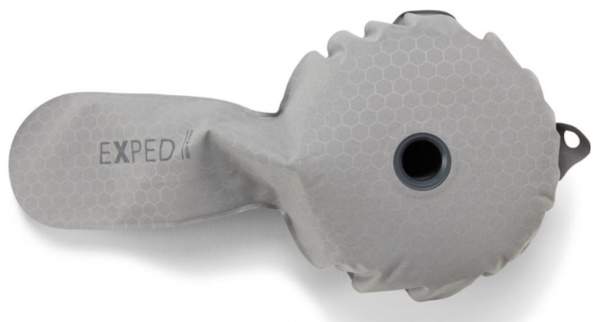 Thermal insulation
I already mentioned its 10.6 R-value, and in terms of temperature, this is around -70.6 °F (-57 °C). Note that this is based on the new rating system ASTM F3340-18), so it is very reliable. But the feeling of cold is always individual so it is best to test the pad yourself in controlled conditions. Please see more in this video:
---
Who is it for
Regarding the dimensions, you have already seen its thickness which is enormous so the pad is perfect for anybody, including side sleepers. But note that the manufacturer's name for it is Exped MegaMat Max 15 LXW and the letters LXW mean long and extra wide. So you have a perfectly flat mat that measures 77.6 x 30.3 inches (197 x 77 cm). With such vertical sides, you will not have gaps when you use two pads of this type side by side. 
Regarding the weight and packed size, the pad is with air-core channels to reduce weight and bulk, but you still have a heavy pad here that weighs 121.7 oz (3.45 kg), and its packed size is (L x D) 31.1 x 11 inches (79 x 28 cm). So this is not something you would carry anywhere. 
Regarding protection, with the R-value that you have here, you will be insulated from the cold ground no matter where you use this pad. It is perfect for mountaineering high-altitude basecamps assuming you will not have to carry it there yourself.
Regarding the price, this is a very expensive pad, suitable for outdoor experts and expeditions, and definitely not for people on a budget. But the pad is worth the investment.

---
Specifications
Weight: 121.7 oz (3.45 kg).
Temperature rating: -70.6 °F (-57 °C).
R-Value (ASTM F3340-18): 10.6.
Thickness: 5.9 in (15 cm).
Dimensions: 77.6 x 30.3 in (197 x 77 cm).
Packed dimensions (L x D): 31.1 x 11 in (79 x 28 cm).
Warranty: 5 years.
---
Final thoughts, rating, pros & cons
In the summary of this Exped MegaMat Max 15 review, I would stress again that this is a pad with unparalleled comfort and insulation. This is a very reliable outdoor item from a globally known brand and the warranty conditions are hard to match. But it is heavy and bulky, and it is also expensive. In any case, I have included it in my list of best cold weather sleeping pads and best sleeping pads for car camping, fully recommended.
Please see how I rate this pad, it does not score well in all rating criteria:
If this pad is not thick enough, check this inflatable ALPS Mountaineering Oasis Air Pad where you have 16.5 cm thickness. For more options please check under the category Sleeping Pads, you will find them in all types and sizes. Thank you for reading and have a nice day.