---
This Coleman Self-Inflating Camping Pad with Pillow is a reliable and easy to use camping pad with an incredible price tag.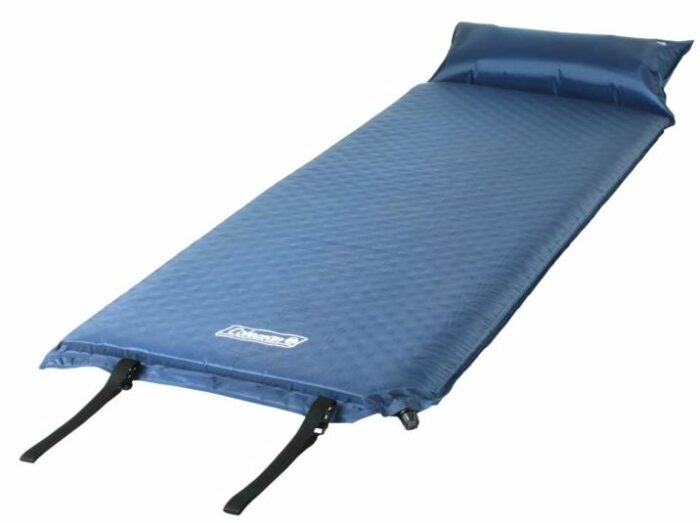 ---
Key features & benefits
Self-inflating.
Reliable.
Inflatable pillow.
Great price.
---
What this is about
So here you have a self-inflating camping pad, and this means it has a foam inside. When you prepare it for the night simply open the valve and spread the pad on the ground. The compressed foam will expand and in the process air will be sucked in.
The pad comes with an integrated pillow. Note that this part must be inflated separately. I have seen many people asking if you have to use the pillow. The answer is, no you do not have to. But this will make the pad much shorter, probably around 180 cm or so.
On the other hand, having such a pillow is a bonus in my view. You do not have to transport a separate pillow, or you can add a small pillow if you need more head support. See how it looks: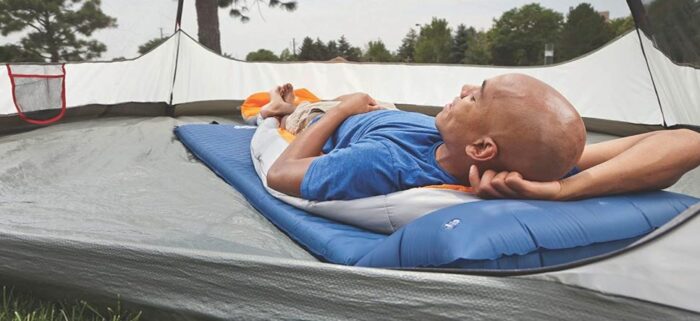 How about insulation?
There is no information whatsoever about its R-value. The foam inside combined with the air will surely provide some insulation, but one can only guess how much of it.
I would say you should have it in the range 2 – 3 at least, but better test the pad in controlled conditions before getting into trouble. There is no way to know for sure unless the manufacturer provides the exact value. You can compare it with this Klymit Self-Inflate V Sleeping Pad which is built in the same style as a self-inflating pad and it offers the R-value of 5.3.

The fabric is 100% polyester and the foam inside appears to be polyurethane. If you are not familiar with such pads, when you pack it, open the valve and then start to roll from the opposite side keeping it compressed all the time. After that close the valve and fix the straps. Note that there is no carry bag here.
---
Who is it for
Regarding the size, they build this pad in one size only so you have 76 x 25 inches (193 x 64 cm). These are quite typical numbers for what is normally described as a regular size. The picture below shows how it looks in a tent, it is not the best option for very tall people.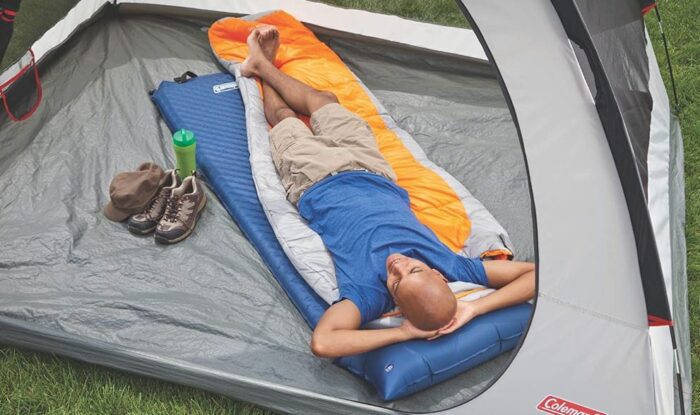 Regarding the thickness, you have 2.5 inches (6.4 cm), so this is good enough if you sleep on the back, but this is less great for side sleepers. If you need something thicker, check in my list of best self-inflating camping pads.
Regarding the weight & packed size, they describe it as a "lightweight piece that will not weigh down your gear", but with its 6.4 lb (2.9 kg) of weight and the dimensions (L x D) 26 x 6 inches (66 x 15 cm) when packed, this pad is both heavy and bulky. You would not want to carry it anywhere. If this is what you need, check one of these backpacking self-inflating sleeping pads.
Regarding seasons and climate, having no information about its R-value, it is difficult to say. But I am pretty sure you can use it as a 3-season camping pad.
Regarding the price, you will hardly find something of such quality at such a price.
---
Specifications
Type: self-inflating.
Weight: 6.4 lb (2.9 kg).
Dimensions: 76 x 25 x 2.5 in (193 x 64 x 6.4 cm)
Packed size (L x D): 26 x 6 in (66 x 15 cm).
Warranty: 1-year limited warranty.
---
Final thoughts, rating, pros & cons
So this Coleman Self-Inflating Camping Pad with Pillow is well-built, easy to use and to inflate, and if you do not want to break the bank and still have a branded sleeping pad from a renown manufacturer, this is it. Do not plan to carry it anywhere because it is not designed for such a purpose. There are much lighter (and far more expensive) pads on the market for such a purpose.
Please see how I rate this pad against my standard set of criteria so you can compare it with some other sleeping pads presented here in the site:
If you need more options, please check under the category Sleeping Pads here in the site, you will find them many presented in detail. Check this list with self-inflating camping pads where this pad is also included. You might want to compare it with this WELLAX UltraThick FlexFoam Sleeping Pad built in a bit similar style but with a high R-value.
Thank you for reading. Please bookmark this site and visit again, we add texts here regularly so this will keep you informed. Have a nice day.