---
The Kelty Waypoint SI Sleeping Pad is a self-inflating, large, and thick insulated outdoor sleeping pad with a stuff sack that doubles as a manual pump.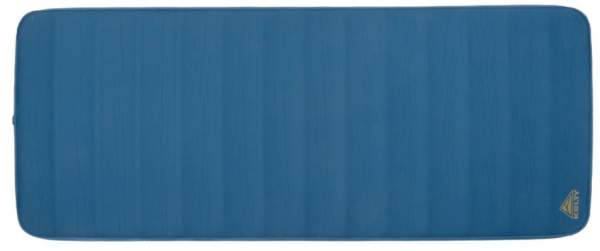 ---
Key features & benefits
Self-inflating.
Great size.
Thick pad.
Insulated.
Stuff-sack doubles as a manual pump.
---
What is in the name
The letters SI in the name are instead of the words 'self-inflating'. This means that it will inflate by itself, so simply unroll it and open the valve, and let it stay so for several minutes. It is filled with an open-cell foam that will suck the air in when decompressed.
But if you want to improve its firmness, note that its stuff sack doubles as a manual pump. It has a flap with an attachment element that fits the valve on the pad, see how this looks:
So attach it to the pad and simply roll the stuff sack from the opposite side and force the air into the pad, see the picture below. With this tool, you avoid moisture accumulating in the pad when you blow the air by mouth.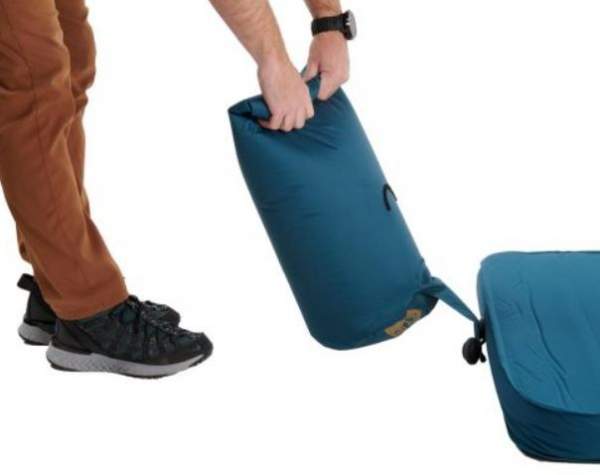 They also use the word Waypoint to suggest that the pad is the halfway point between a regular camping pad and your home bed. It is indeed large and only moderately thick. In view of all these features, I have included it in my list of best self-inflating camping pads.
The valve is a two-way type, for inflation and deflation, it is rotating as you can see from the pictures below. This is the same design as in the ALPS Mountaineering Outback Self-Inflating Air Mat.
Materials, insulation & R-value
The mentioned open-cell foam traps the air in, so this is an insulating system that provides the R-value of 5.6. This should be good enough for all seasons, except perhaps for most extreme conditions.
The external fabric is super-soft and stretch polyester and it is with a TPU lamination that makes it waterproof and airtight.
---
Who is it for
Regarding the weight and packed size, this is a car camping sleeping pad. It weighs 5 lb 6 oz (2.44 kg) and when rolled up for transportation it measures (L x D) 31.5 x 7 inches (80 x 18 cm). I have included it in my list of best sleeping pads for car camping.
Regarding the dimensions, the pad is large and rectangular with its overall dimensions of 77.95 x 29.92 inches (198 x 76 cm) when inflated. It is thick enough, you have 3 inches (7.6 cm) of cushion that separates you from the ground, so it is suitable even for side sleepers. But I would not describe it as ultra-thick. 
Regarding seasons, this pad is built for year-round car camping, there is no doubt about this. You have seen its R-value mentioned above.
Please see a bit more in this video:
---
Specifications
Weight: 5 lb 6 oz (2.44 kg).
Dimensions: 77.95 x 29.92 in (198 x 76 cm).
Thickness: 3 in (7.6 cm).
Packed dimensions (L x D): 31.5 x 7 in (80 x 18 cm).
R-Value: 5.6.
---
Final thoughts, rating, pros & cons
So this Kelty Waypoint SI Sleeping Pad is a great new product from Kelty, and it comes with an interesting and unique stuff sack equipped with an attachment element for the valve. The pad is self-inflating and it provides great insulation from the ground. It is thick enough for any type of sleepers, fully recommended.
Please see how I rate this sleeping pad against my usual rating criteria, it scores great and for all the good reasons:
Kelty is a respected brand that has been around for decades, and when they launch a new product, many sellers are eager to sell it. The same is with this pad, so here are some places where you can order it:
Please check under the category Sleeping Pads if you want to see more options. You might want to see also their Kelty Galactic SI Sleeping Pad.
Thank you for reading. There is a comment box below so let me know if you have a question or comment. Have a nice day.