---
Exped MegaMat Lite 12 Inflatable Sleeping Pad is a backpack-portable and incredibly comfortable 4.7 inches (12 cm) thick sleeping pad with an easy and quick inflation and deflation system and the R-value 5.3.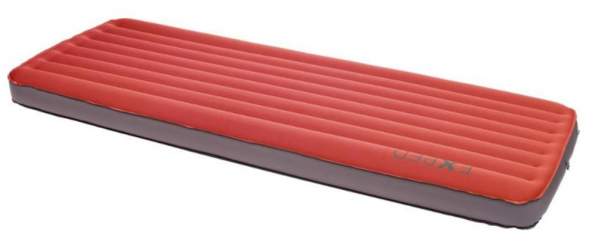 ---
Key features & benefits
Ultra-thick.
Ultra-comfortable.
Inflatable.
Backpack portable.
Schnozzel pump-bag included; doubles as a stuff sack.
Dual valves.
---
What this is about
The idea behind this MegaMat Lite 12 was to make a portable version of their famous Exped MegaMat. In fact, they already did something similar in the past by building their Exped Synmat Mega 12. But this MegaMat Lite 12 is a bit different version.
So what you have here is a very versatile pad, suitable for hikers as well as for car campers. It is hard to imagine something more comfortable yet portable than this pad; it is 12 cm thick and this is enough regardless of what kind of a sleeper you are. This is an inflatable sleeping pad with insulation.
I think it is best that you have a look in this short video, the person from Exped describes the logic behind this pad:
Sizes
They built this pad in several sizes. This is a portable item so having an option to choose is very reasonable, you do not want to carry a pad which would be too big for you. You will realize that the differences in the weight are in the range 0.97 – 1.39 kg and this is far from negligible. So you have:
Medium (M).
Medium-Wide (MW).
Large-Wide (LW).
Large-Extra-Wide (LXW).
Please see in the specifications below for the exact dimensions; here just to stress that they all are with the same thickness.
---
Who is it for
There are a few features to bear in mind when you think about potential users of this pad. First about the weight. The possibility to choose among the 4 possible sizes is truly great, in particular knowing that they all are with the same thickness. So the lightest (the size M) is 0.97 kg. Now, this is still twice as heavy as the Klymit Insulated SL pad, but it is also almost twice as thick, so it might be worth the effort of carrying it if you need extra comfort in the camp.
The person in the video speaks about backpackers. But I am not sure how many of them would really be ready to carry this pad on a long trail, it is still a bit heavy and bulky. It is more suitable as a basecamp item, for bikers, kayakers, but also for climbers and mountaineers. It is not designed to be an ultra-lightweight pad, this is about unparalleled comfort while still being portable.
Seasons-wise, this is a pad with a lower temperature limit of -4 °F (-20 °C) and with the R-value 5.3. So again, comparing it with he mentioned Klymit's pad which has 4.4 as the R-value you realize this is a pad for all seasons.

---
Materials & construction
The top fabric is 50D polyester and this is a brushed surface pleasant to touch. Note that it is a bit stretchy as well, and this adds to the overall comfort. The bottom is a more durable 75D polyester, both layers are with a TPU film laminate, hydrolysis resistant, and honeycomb embossed. This is an Oeko-Tex 100 certified material.
There is insulation inside, 200 g/m² which is Texpedloft microfibre, Bluesign certified. With this, it has the mentioned R-value 5.3.
The baffles are longitudinal and the two on the sides are slightly thicker which helps a bit keeping you on the pad during the night You have a nice packed size here for such a big pad, only 12.7 x 7.5 inches (32 x 19 cm) for the largest LXW pad, and this is 8.6 liters of volume.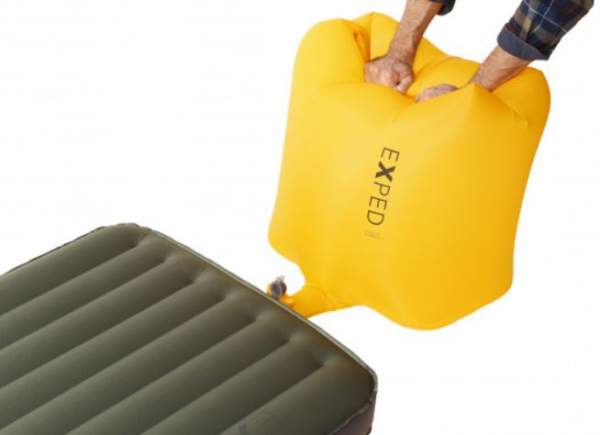 As I said, this is an inflatable pad, but they provide a Schnozzel pump-bag for this; it is waterproof and it doubles as a stuff sack, see the picture above. This makes inflating the pad easy and you avoid moisture accumulating inside, which can happen if you use lungs to inflate a pad. Plan some 2 minutes to inflate the pad, this is a not much in view of its volume which is around 180 liters.
You have a flat valve on the pump-bag which you connect to the inflate valve on the pad, so with several full pump-bags you will inflate the pad easily. To pack the pad down, you use a deflate valve which is very large and the pad becomes flat in no time. The other valve can also be used to deflate and to speed up the process.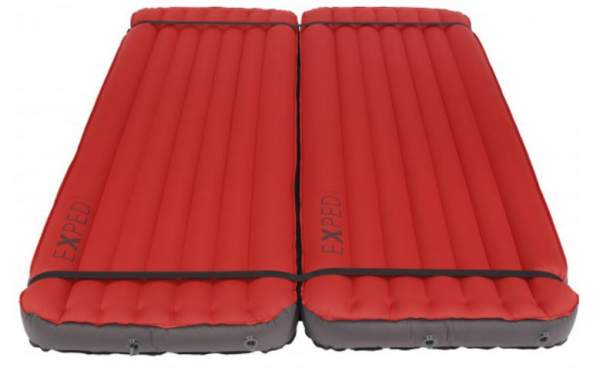 The side walls are completely vertical which has some really good consequences, in particular if you want to use two pads together, there will be no gap in between as you see from the picture above. They have their Universal Coupler Kit for this purpose, to keep the pads together.
Here is a bit more about the pad, from Exped:
---
Exped MegaMat vs MegaMat Lite
It may look like comparing apples and oranges, but there are reasons for it. The Lite version is definitely far more versatile, this was the purpose of building it. So in view of this, it may be useful to see what is sacrificed (if anything) to make it portable and suitable even for hikers. Here are a few basic data so judge yourself, as you will realize, this is mainly about the weight, insulation, and durability; the differences are big.
Exped MegaMat
Lite 12 LXW
Exped MegaMat
Outfitter LXW
---
Specifications
Type: inflatable & insulated rectangular pad.
Temperature rating: -4 °F (-20 °C).
R-value: 5.3.
Dimensions (L x W x H):
– LXW size: 77.6 x 30.3 x 4.7 in (197 x 77 x 12 cm).
– LW: 77.6 x 25.6 x 4.7 in (197 x 65 x 12 cm).
– MW: 72 x 25.6 x 4.7 in (183 x 65 x 12 cm).
– M: 72 x 20.5 x 4.7 in (183 x 52 x 12 cm).
Weight:
– LXW: 48.9 oz (1.386 kg).
– LW: 42.7 oz (1.21 kg).
– MW: 39.8 (1.13 kg).
– M: 33.7 (0.955 kg).
Weight packsack: 1.1 oz (31 g).
Packed size LXW (L x D): 12.7 x 7.5 in (32 x 19 cm).
Packed volume: 8.6 l.
Warranty: 5 years.
Colors: 2.
---
Exped MegaMat Lite 12 Inflatable Sleeping Pad vs Competitors
It is always good to see how an item stands with respect to similar types available on the market. Now, the MegaMat 12 is with an exceptional thickness so it is hard to find a match, but at least these two other pads are also inflatable and insulated, so have a look:
Exped MegaMat
Lite 12 LXW
Big Agnes
Insulated Air Core
---
Final thoughts, rating, pros & cobs
In summary, this Exped MegaMat Lite 12 Inflatable Sleeping Pad is an exceptional quality item and as of this moment you will not find anything that would match its comfort and features combination. So if you can afford it, you should not hesitate. They give 5 years warranty which is also exceptional. The pad is very versatile, and the packed volume is quite good for a pad of this size.
If you check the volume of this pad, you will realize that you have 131 liters/kg which is much better than the Klymit Static V Luxe (shown in the comparison table) where this value is 112 liters/kg. So although the Exped is heavier, this is because of its thickness and the comfort which is superior to the Klymit pad.
The price is high but obviously this is a quality item. See how I rate it, this is for the LW version:
If you still need something lighter and less bulky, or just something different, please visit my page with pads, you will find something suitable for you. Check for example their Exped SynMat Deluxe 7 sleeping pad which is also insulated but lighter.
Please use the comment box below in the case of questions and comments. Have a nice day.