---
The Exped SynMat Deluxe 7 sleeping pad is insulated and inflatable and with a removable soft, breathable, and machine-washable outer shell.

---
Key features
Inflatable.
Insulated.
Innovative separate air chamber and shell.
Schnozzel Pumpbag included.
---
Where to buy
Check on Amazon, they have the best shipping conditions with stores on 5 continents.
---
What is in the name
The number 7 tells you the thickness in centimeters. This is quite a lot but if you need more, no worry you can check their Exped MegaMat Lite 12 Inflatable Sleeping Pad.
What makes it deluxe?
This SynMat series has been around for many years already, and this what you have here is a modified version which some new features. The word Deluxe in the name should probably apply mainly to the large-wide variant (more below), the other two sizes are quite typical.
But the construction is quite interesting here. You have longitudinal baffles but you do not see them from outside. They are under the cover material which is removable and washable, and you also have the insulation laminated under the shell, on both upper and lower sides. So these are the real reasons behind the word deluxe.
If you want to go ultralight you can leave the shell at home.
Insulation
This is an insulated sleeping pad, and the word Syn in the name they probably use to indicate the microfiber synthetic insulation which they use. Perhaps you do not know but they also have insulated pads with down insulation, see this Exped DownMat UL Winter Sleeping Pad as a great example.
So the insulation is 160 g/m² Texpedloft microfibre, BlueSign certified. The rating is such that you can use in all seasons, see more in the specifications below.
Schnozzel Pumpbag UL
This pump bag they include with many of their pads. It allows for swift inflation and it also doubles as an ultralight waterproof compression stuff sack for some other items in your backpack (note that the pad has its own waterproof carry bag).
By using it, you prevent potentially destructive moisture from being introduced if you would blow the pad by mouth. The weight is 2.1 oz (60 g) and you do not have to carry it on the trail if you are an ounce counter. The picture below shows how to use it.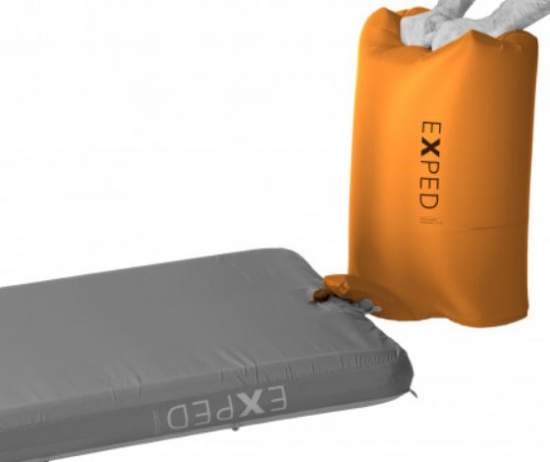 Other features
You have noticed a series of loops around the pad, so if you are puzzled just to know that this is for the attachment of their Versa Quilt. This is convenient to avoid having the quilt twisted around your body due to your turning during the sleep. This is something that constantly happens to me with standard sleeping bags.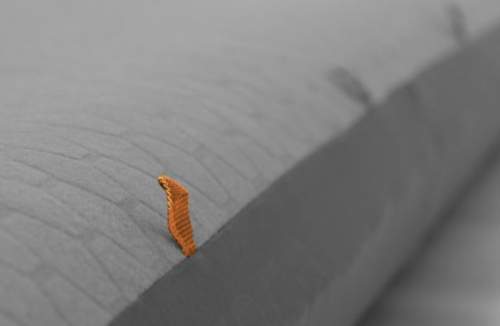 The pad is with dual valves, separate for inflation and deflation, flat in design and non-protruding for easier handling. With such a design, they are more durable and protected from damages, see the picture.
---
Who is it for
Seasons-wise, this is a sleeping pad for all seasons. The R-value is 4.9 and the corresponding temperature rating is 1.4 F (-17 C). So even if you add 5 – 10 degrees for comfort, you can use it for almost all conditions and in any climate. If this is about winter camping, it is important to match it with an appropriate sleeping bag, you can many of them described in my page with sleeping bags.
Weight-wise, this is a very lightweight sleeping pad but not an ultra lightweight for ounce-counters. There are lighter options and you will see some in the comparison table below. But a bit of extra weight here is due to the shell which you can leave at home if this is about an extended backpacking tour.
Size-wise, they build it in three different sizes, medium (M), medium-wide (MW), and long-wide (LW), see the numbers in the specifications below. Here just to stress that the length is in the range 183 – 197 cm. This is very important so you can choose the size that fits you best and avoid carrying unnecessary weight.
The packed size is also exceptionally good for an insulated pad, you will see below that this holds for any of the three sizes. You will be able to compare it with some other pads on the market, there is a comparison table below.
---
Good and less good features
Here is my short summary:

Great packed size.
Very good weight.
Insulation.
Efficient pump bag.
Very good valve system.
Great warranty conditions.

The price & rating
The Amazon price for this pad is currently around $220, but this changes all the time so check the links. Here is my rating for the same parameters used for all pads here in the site, so you can easily compare:
My rating of the Exped SynMat Deluxe 7 Sleeping Pad:
Weight -

9.2/10

Size -

8.6/10

Comfort & features -

9.5/10

R-value -

8.4/10

Packed size -

9.4/10

Price -

6.5/10
---
Specifications
Type: inflatable insulated sleeping pad.
Three sizes: M, MW, LW.
Weight:
– M: 27.7 oz (785 g).
– MW: 33 oz (935 g).
– LW: 35.3 oz (1007 g).
R-Value: 4.9.
Temperature rating: 1.4 F (-17 C).
Dimensions:
– M: 72 x 20.5 x 2.8 in (183 x 52 x 7 cm).
– MW: 72 x 25.6 x 2.8 in (183 x 65 x 7 cm).
– LW: 77.6 x 25.6 x 2.8 in (197 x 65 x 7 cm).
Packed size:
– M: 8.3 x 5.9 in (21 x 15 cm).
– MW: 10.6 x 5.9 in (27 x 15 cm).
– LW: 10.6 x 6.1 in (27 x 15.5 cm).
Weight pump: 2.1 oz (60 g).
Weight packsack: 0.8 oz (23 g).
Top: 50D Tricot polyester.
Warranty: Exped 5 year limited warranty.
---
Exped SynMat Deluxe 7 Pad vs Competitors
To understand the features of such a sleeping pad, it is best to put it side by side with some other pads built in the same style. So here I give the pad from Klymit, and yet another pad from Exped but with down fill. I use the M sizes for the comparison and all of them are insulated.
As you realize, the Deluxe pad is heavier but this is because of the extra shell fabric. Its packed size is excellent and the shell is more durable than in the other two pads. Please follow the links to check for the updated prices.
Klymit Insulated
V Ultralte SL
---
Final thoughts
So this Exped SynMat Deluxe 7 sleeping pad is a luxurious trekking mat with its removable and washable soft outer shell. In combination with their Exped Versa Quilt this is a complete sleeping system that nicely fits together. This is a lightweight and versatile mat and you can make it even lighter if you remove the cover.

There are several pads by Exped presented here in the site and you can find them and many other brands in my page with pads. You will notice that they have one which is 12 cm thick, the Exped MegaMat Lite 12 Inflatable Sleeping Pad. This Exped SynMat 9 is in between with its thickness, but it has a built-in pump. For the corresponding sleeping bags please check here.
Note that this is not a sponsored post and I am not paid by the brand or related to them in any sense. In the case of questions and comments please use the comment box below. I wish you a nice day and pleasant camping.

---