---
This Snugpak Journey Duo Tent review is about the beauty of a 2-person 4-season nicely designed tent with aluminum poles, a footprint included, and an excellent price. So keep reading.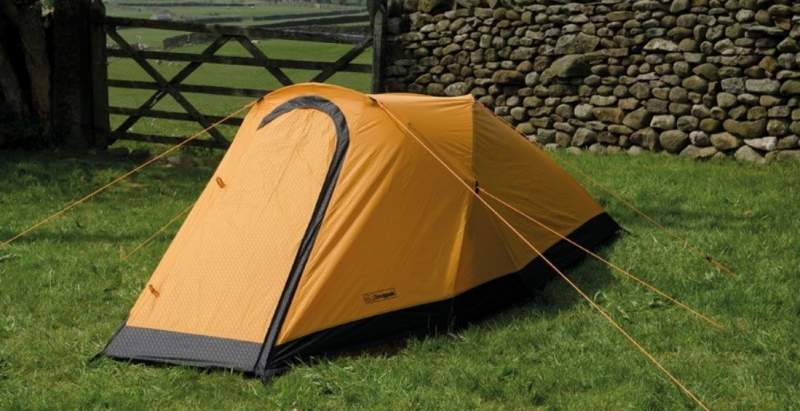 ---
Ket features
Aluminum poles
One door.
Footprint included.
4-Season tent.
Excellent price.
---
Where to buy
This tent is available on Amazon. I have seen it on several of their global stores, just to know that you can save on shipping when you order it from your nearest regional Amazon store.
You will find it also at Walmart.
---
So what is Snugpak Journey Duo
This Journey series is new on the market and it includes several tents, you can see the Journey Trio and Journey Quad 4-person in my separate reviews. These are all very different tents, but all of them are double-layer type and this means with an inner tent and a full-coverage fly.
This Duo tent is freestanding and this applies to the inner tent only, as usual. The picture below shows how it looks without the fly. The poles create three intersection points and this is a very stable and strong self-supporting structure.
But its full-coverage fly must be staked down to have the functional vestibule which is on the front. However, if you cannot do this, you can still use the tent without the vestibule tensioned and secured. The fly clips to the frame with buckles so indeed you can use this tent anywhere, even if this is rock, frozen ground, or sand.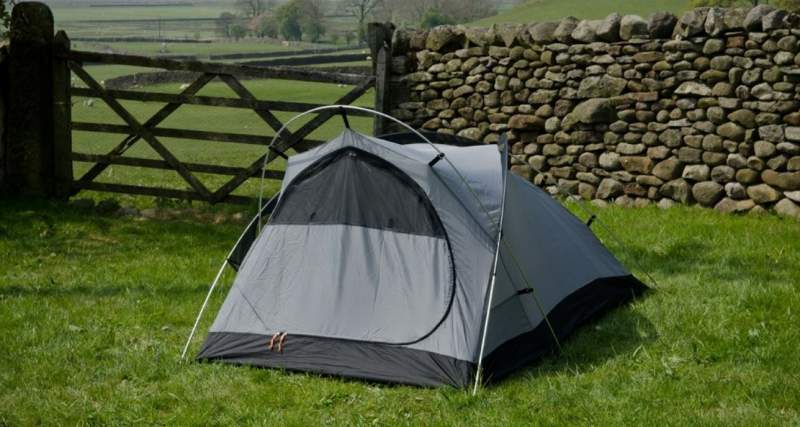 This is a single-door tent so you have only one vestibule, the picture below shows how it looks when the door on the fly is rolled to the side. Observe that the door is rather tall and this is achieved with the front pole which creates a loop high above the inner tent (see the picture above).
So this is a good design, the fly is quite separated from the inner tent and this is optimal to reduce condensation and to allow better evaporation of the water that normally collects underneath the fly. The vent on the back also helps this.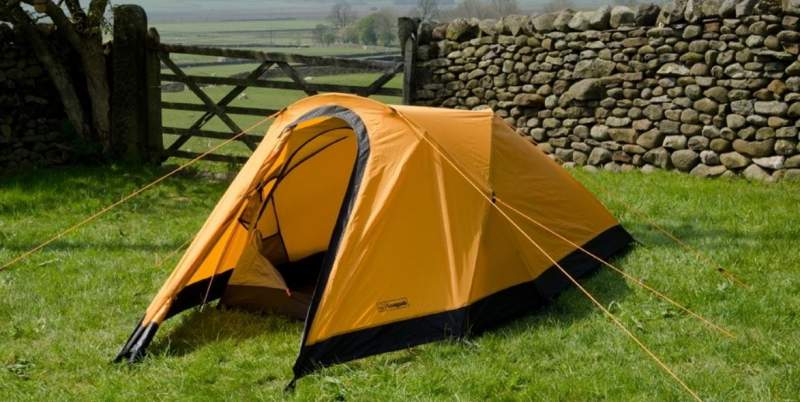 The footprint
The tent comes with a bonus footprint included so this adds value and extends the lifetime of the tent. But there is more to that. The footprint is longer than the inner tent, in fact, it creates a floor area under the vestibule, so this is really smart and useful design. You can have your packs and other gear protected from below and from above.

---
So who is it for really
Space-wise, clearly the tent is designed for two people, but let's see the area. The inner area is 28 ft² (2.6 m²) and the vestibule adds around 10.8 ft² (1 m²). So this is quite enough space for two users and for the tent of this type and purpose.
But note that it is rather narrow, see the numbers in the specifications below. So it is best suited for couples who would use a double-wide pad and a double-wide sleeping bag.
Seasons-wise & climate-wise, this is a tent for 3 to 4-season use, but it is better suited for a cooler climate than for a warm climate. The inner tent is all taffeta and there are a couple of mesh areas but all in all, this is a rather enclosed construction. You will see in the video below how it is used in a winter environment in Canada.
Weight-wise, the tent is heavy, it weighs 7.05 lb (3200 g) so it is best to use it as a basecamp tent, or in any other situation where you do not have to carry it in the pack. See in the comparison table below how it compares with some other similar tents.
The packed size is not bad at all 23 x 7 inches (58 x 17 cm), see the picture; you will see how it compares with some other tents.

Please see the Journey Duo in a winter use:
---
Materials
The poles & pegs
There are three poles, aluminum alloy and shock-corded poles which connect to the tent through long mesh sleeves and clips. This is a good construction because tension is distributed over a long area and this makes the structure strong.
There are 18 Y-type pegs which are generally good for all kinds of ground. I use such pegs in my own tent.
The fabric
The fly is 75D 185T polyester with an impressive 4000 mm waterproof rating. The inner tent is 190T nylon with polyester W/R F/R. All seams are taped. The floor is 210T polyester with a 5000 mm rating.
The footprint seems to be the same or similar material as the floor, so you have lots of protection from the ground. There are a couple of wall pockets, one on each side of the tent.
Ventilation
What you have should be good enough for a cold-weather tent. There is a vent on the rear side (picture below), and it is matched with a mesh section on the inner tent (this area cannot be closed, but the vent can of course). The door is with a window which is a double-layer construction. The inner tent is a breathable material.
In this video you can see unpacking and setting the tent up, please have a look:
---
Specifications
Weight: 7.05 lb (3200 g).
Floor dimensions: 87 x 47 in (220 x 120 cm).
Inner area: 28 ft² (2.6 m²).
Area per person: 14 ft² (1.3 m²).
Vestibule area: around 10.8 ft² (1 m²).
Inner peak height: 39 in (100 cm).
Packed size: 23 x 7 in (58 x 17 cm).
---
Snugpak Journey Duo Tent vs Competitors
In the table below I am showing this Journey Duo side by side with Eureka High Pass 2 and Crua Duo Dome. The reason for choosing these two tents is that both are suitable for all seasons.
But the Crua tent is a single layer type and I am showing it on purpose, to realize how the weight can be saved when you go for a single-layer structure. So its (total covered) area/weight ratio is 2 m²/kg. However, a double-layer construction is surely a more comfortable option.
On the other hand, the Eureka tent is with two doors and two vestibules and this is reflected in its weight. Note that the area/weight ratio is 1.13 m²/kg for the Snugpak, and it is 1.26 m²/kg for the Eureka tent which offers more covered space but it is heavier as well. So their area-weight ratio is very close.
---
Final thoughts, rating, pros & cons
So this Snugpak Journey Duo Tent is really nicely built, with some great materials and features. If you do not have to carry it, you can use it as a solo tent, otherwise, I see it best suited for couples who would love to stay close to each other in any case.
It is not easy to find a 4-season tent with aluminum poles from such a renown brand and with such a price tag. I am impressed. This tent is included in my list of best winter camping tents.
Please see how I rate this Journey Duo against the usual set of criteria used for all the tents here in the site, so you can compare easily:
Note that I am not paid by this brand and this is not a sponsored text. What do you think about this tent? Please share your thoughts here, there is a comment box below.