---
Exped MegaSleep Duo 25 Sleeping Bag is a nicely packable lightweight 4-in-1 bag with 2 temperature ratings, designed to be used as a double-wide and solo sleeping bag.

---
Key features
Rectangular bag.
4-in-1 system.
Synthetic insulation.
2 Temperature ratings.
Use as two separate blankets.
Lightweight.
Nicely packable.
---
What type of sleeping bag is this
This is a sleeping bag with quite unique features. So see below what it offers.
4-In-1 System & Two Temperature Ratings
If you are puzzled with this, here it is what it means.
One side of this double bag is with a 40-degree fill.
The other side is 25-degree fill.
Both sides can be unzipped. The zip runs all the way around the bag.
Now, each of the two halves can be folded to create a solo sleeping pad, and each of them will have a different temperature rating. Ingenious. So you have two solo sleeping pads with different temperature ratings, but this is not all.
You also have one double sleeping pad with dual temperature rating for these two halves:

You can use the bag with 40-degree fill as the cover and this will give you one rating suitable for summer camping.
If you just turn the bag upside down, you will have 25-degree fill side as the cover, so the temperature rating is different. This is illustrated in the picture: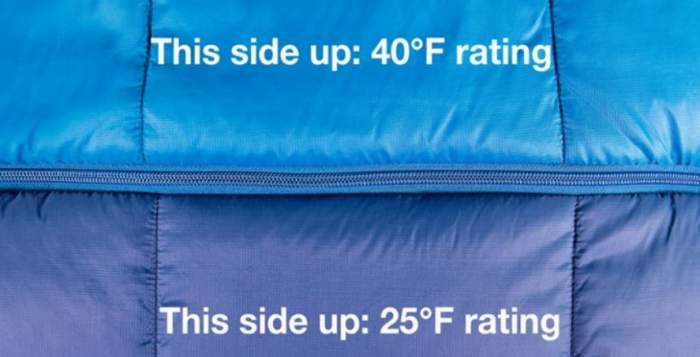 You can use any of the two halves also as a standard blanket, just unzip them and you have two blankets. So it would be appropriate to call this 6-in-1 system.
In view of all this, you can use the bag as it best suits the weather conditions and temperatures. Note that the half of the bag which is under you is compressed in any case and its insulation is reduced. So the main insulation comes from the upper half (i.e., from the cover), and you have to rely on a sleeping pad to insulate you from the ground.
This holds in general for any sleeping bag, and this is why some sleeping bags have less insulation on the bottom part; you can see such a design in the Big Agnes Lost Dog series. This may sound counter-intuitive but this is how insulation works; the fibers in the bag (or down) traps the air and this air is your main insulator. So if the stuff is pressed with your body, it loses a bigger part of its insulating properties.
The picture below shows the various variants mentioned above. Though they missed stressing the use as two separate blankets: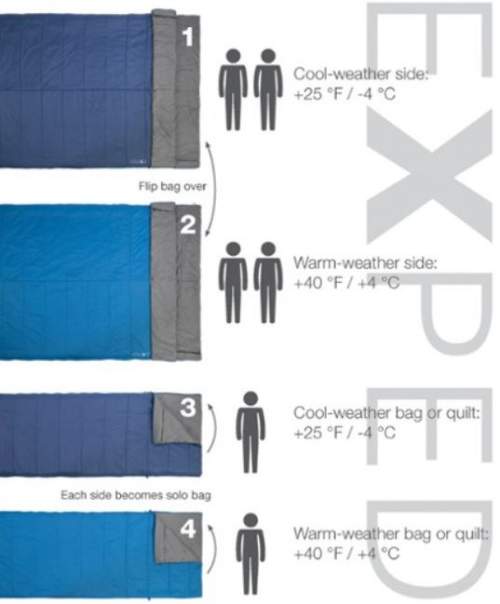 ---
Who is it for
Weight-wise, with its 64.2 oz (1820 g), for a double-wide sleeping bag, this is a lightweight duo bag. You will see how it compares with some of its competitors, there is a comparison table below. Note that such a good weight is also because it is without a hood which normally adds weight but it also adds more protection. To see what I mean, you can compare it with the Nemo Jazz 20 Duo bag.
So you can use it as a double or single bag even on the trail. It is definitely suitable for a bicycle or any other type of transportation.

Seasons-wise, you have seen its various possible configurations and 2 temperature ratings. They give the following possible ranges: comfort 42.8 F (6 C), limit 26.6 F (-3 C), and extreme 5 F (-15 C). But the values 40 and 25 mentioned previously are average numbers which the manufacturer uses.
Though, I do not think this rating is reliable, for such a type you should add at least 10 degrees to these numbers. So although they claim it is for 3-season use, in my view this is a sleeping bag for two seasons maximum, i.e., for summer, late spring, and early autumn.
But it is fair to say that the inscription on the bag tells you that the temperature rating mentioned above is according to EN ISO standards, though they never mention EN certificate in the specifications.
Size-wise, with its 82.7 x 63 inches (210 x 160 cm) dimensions, this bag is large enough for two users. The length is such that it can be used even by very tall people. Note that these numbers are official, from the site of the manufacturer, though the numbers they show in the video below are slightly different.
The packed size is as they claim "the most compact two-person sleeping bag in its class". I would take this literally, it packs down to (L x D) 11.8 x 7.1 inches (30 x 18 cm) and these are indeed remarkable numbers. To realize this, check the comparison table below. The stuff sack is larger and it is shown in the picture, so the mentioned compression size is a possible size which you can get if you use a compression stuff sack (not included).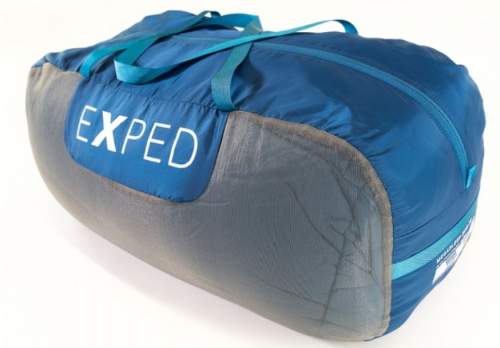 ---
A few words about the materials
The shell material is a 40D ripstop nylon, Oeko-Tex 100 certified. The liner is 40D nylon and also Oeko-Tex 100 certified. The fill is 100% polyester Texpedloft microfiber.
There is a 3D anti-snag draft tube along the full length of the zipper. The bag has a central snap at the head end to reduce drafts caused by your partner. Next-to-skin fabrics are treatment-free, no chemicals. Please see more in this video:
---
Specifications
Type: rectangular double-wide sleeping bag.
Weight: 64.2 oz (1820 g).
Temperature rating:
– Comfort: 42.8 F (6 C).
– Limit: 26.6 F (-3 C).
– Extreme: 5 F (-15 C).
Insulation: synthetic microfiber.
Dimensions: 82.7 x 63 in (210 x 160 cm).
Body size fit: up to 76.8 in (195 cm).
Stuff sack: 27.6 x 22.8 x 11.8 in (70 x 58 x 30 cm).
Possible compressed packed size (L x D): 11.8 x 7.1 in (30 x 18 cm).
---
Exped MegaSleep Duo 25 Sleeping Bag vs Competitors
In the table below you have this Exped duo bag side by side with two others, all of them are top-notch items. As you realize, its weight and packed size are far better. In fact, they are beyond comparison.
The Nemo Jazz bag is considerably more expensive, and Kelty's bag is a bit more affordable, but they both are with a hood and better suited for a cooler climate. Please follow the links for more details.
---
Final thoughts, rating, pros & cons
So you have seen all the features of this Exped MegaSleep Duo 25 Sleeping Bag, and you realize that this is a unique sleeping bag. I am impressed with its versatility and all the variants which this bag offers.
With such dimensions, this is a perfect fit for their Exped AirMat HL Duo sleeping pad, but you can use it for any other double-wide pad like this Therm-a-Rest NeoAir Camper Duo.
Please see how I rate it against the standard set of criteria used for all the sleeping bags here in the site.
You might want to compare this duo bag with Big Agnes Camp Robber Bedroll 50″ Sleep System which has somewhat similar features.
Note that this is not a sponsored text, and I am not paid by the brand. What do you think about this bag? Please use the comment box below and share your thoughts. Have a nice day.