---
Therm-a-Rest NeoAir Camper Duo Sleeping Pad is an inflatable pad that offers plush comfort for two people with its independent chambers for customized support and a consistent sleeping surface.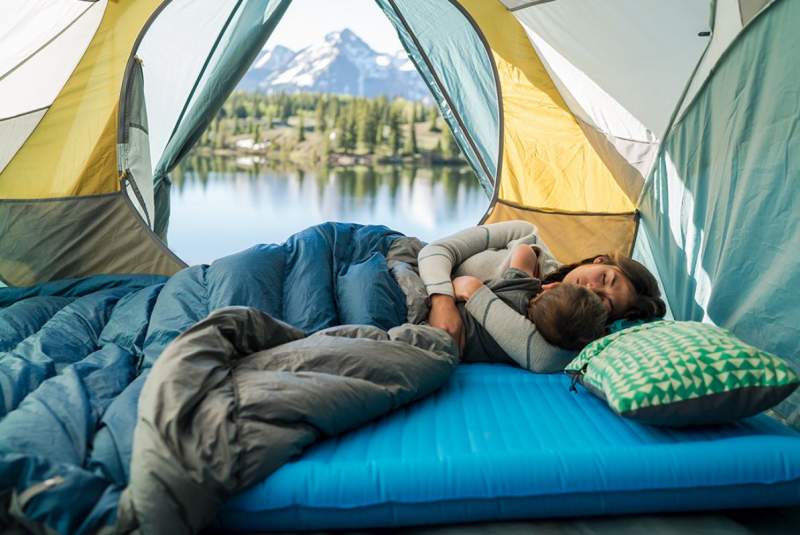 ---
Key features
Inflatable pad.
Dual chamber construction.
Gapless.
Compact packed size.
R-value 2.2.
3-season sleeping pad.
---
What this is about
This NeoAir Camper Duo mat is an inflatable type and, as mentioned above, you have a dual-chamber design. The meaning of this is that the two halves are inflated independently so you can have a fully personalized comfort. Imagine you have two users of a very different weight, so they might need a different pressure in their parts for optimal support. Yet another benefit of such a dual-chamber design is that when you roll on your half, your partner is less disturbed.
But at the same time, the picture below shows you that there is no gap between the two parts. This is not uncommon, you have the continuous surface also in this Kelty Tru.Comfort Double Wide pad. Though they have added those rails both on the sides and in the middle, the idea behind this is to keep you in the middle of your part of the pad, see the picture.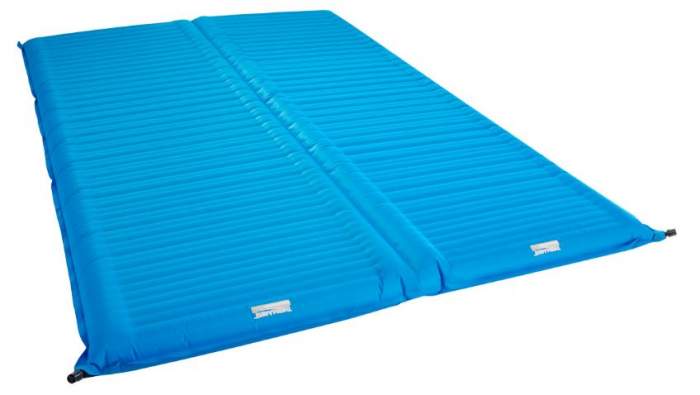 This may not be so great if you use the pad as a solo tool. I must say that I find the design of the ALPS Mountaineering Lightweight Self-Inflating Double Air Pad more versatile (but this is a different type, a self-inflating pad).
This is a very comfortable rectangular sleeping pad that provides a 3 inches (7.6 cm) thick layer between you and the ground. This should be good enough even if you are a side sleeper. But if you need more, you might check the mentioned Kelty Tru.Comfort Double Wide pad.
The baffles are transverse (or horizontal as some describe them), and this design reduces the bouncing that you may experience in some pads with longitudinal baffles.
The valves
Please do not mix this pad with the solo version, the Therm-a-Rest NeoAir Camper SV Camping Air Mattress which has a completely different valve system. So what you have here is a standard valve system, separate for the two parts as mentioned above. I have seen some complaining that inflating and deflating the pad is a slow process, and there is some truth in this.
The fabric & warranty
The top fabric is a 75D double diamond polyester, and the bottom fabric is 75D polyester. You might want to know that this pad is built in the US and they claim that they use the finest U.S. and global materials.
On the site of the Therm-a-Rest brand, they write that every item they build is designed to endure the rigors of your time in the backcountry, and that they offer a limited lifetime warranty. Their pads are covered by their Better Sleep Guarantee, so if you are not completely satisfied, you can return it within three months with the original receipt of purchase and you will be fully refunded, no questions asked.
Note that a stuff sack and repair kit are included.

---
Who is it for
Seasons-wise, the pad is with a thermo-reflective layer that gives it the R-value of 2.2. This is close to the temperature rating of 36 F (2 C). So this should be fine for most conditions in a 3-season use.
Weight-wise, with 4 lb 2 oz (1.87 kg) this is not something you would love to carry long distances, but this can be done if necessary. Observe that its packed size is very good indeed 16 x 6.5 in (38 x 17 cm). I see it mainly as a camping pad which should be used at places where you do not have to carry it yourself. So it is good for cyclists, motorbikers, kayakers, and for car camping of course. If you would need something on the trail, better check this Exped AirMat HL Duo Inflatable Sleeping Pad.
Size-wise, with the dimensions of 77 x 50 inches (196 x 127 cm) this pad offers enough space for two adult campers. It is also perfect for mother with kids. You will see in the comparison table below that it is longer than the Klymit Double V Pad.
What size tent to use with such a pad
Bear in mind the pad's dimensions, the width in particular. Two-person trail tents are usually built rather narrow to save the weight. For example, this Big Agnes C Bar 2 Backpacking Tent is not wide enough. But you have many 2-person tents presented here in the site that are large enough for such a pad. This holds in particular for camping two-person tents, check for example this incredible Kodiak Canvas 8.5 x 6 ft Flex-Bow 2 Person VX Tent.
---
Specifications
Type: inflatable sleeping bag.
Weight: 4 lb 2 oz (1.87 kg).
Dimensions (L x W x D): 77 x 50 x 3 in (196 x 127 x 7.6 cm).
Packed size: 16 x 6.5 in (38 x 17 cm).
R-value: 2.2.
Color Mediterranean Blue.
*Note, the numbers given here are from directly the Therm-a-Rest brand, they differ slightly from those on Amazon.
---
Therm-a-Rest NeoAir Camper Duo Sleeping Pad vs Competitors
I have decided to show you two top-notch double pads that are lighter and suitable for the trail. But the Therm-a-Rest pad is a bit warmer and it offers a bit more space than the other two. The Klymit pad is by far the most affordable in the group. You can check the prices by following the links in the table.
Therm-a-Rest
NeoAir Camper Duo
77.6 x 51.2/40.6
(197 x 130/103)

Klymit Double
V Inflatable
---
Final thoughts, rating, pros & cons
So the Therm-a-Rest NeoAir Camper Duo Sleeping Pad is an advanced design and this is a pad that ticks lots of boxes. The dual chamber is a feature that sets it apart from its closest competitors. Also, the increased number of its transverse baffles increases stability and comfort as compared with the traditional wide longitudinal baffles. This also minimizes the convective cooling which happens in long baffles. The brand behind this pad is known globally and you know what you buy when you order their product.
Please see how I rate it, the same criteria are used for all the pads in the site so you can compare easily.
Therm-a-Rest NeoAir Camper Camping Air Mattress, Double - 50 x 77 Inches
If you still need more options to check, please visit my page with sleeping pads and check also this list with double sleeping pads for camping. So if you need something lighter and inflatable, check this unique Big Agnes SLX Tent Floor Pad with a tapered profile.
With such a double pad you might also need a corresponding sleeping bag, so check some great double sleeping pads here.
Please note that this is not a sponsored text and I am not paid by the brand. In the case of questions and comments please use the comment box below. I wish you a nice day.