---
Big Agnes Camp Robber Bedroll 50″ Sleep System with 650 DownTek fill is an ingenious system that includes a poly-cotton fitted sheet and a detachable comforter, and this is a system suitable for warm weather camping.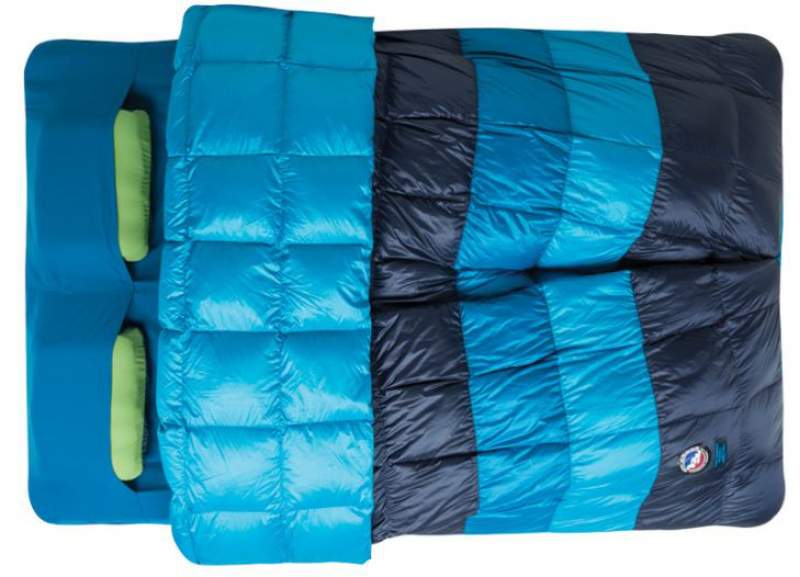 ---
Key features
45 Degree temperature rating.
Unique convertible 3-in-1 design.
Quality treated down fill.
Lightweight.
Nicely packable.
---
So what this is about – what is in the name
This is a new product on the market which Big Agnes launched for 2019 season. There are 3 sleeping bags in the group:
Wide Long.
Doublewide 40 inches.
Doublewide 50 inches width.
So this is just to know all the options, though this text is more focused on the largest, the Doublewide 50″ sleeping bag. In any case, this is a very pleasant warm weather series of the bags with the temperature rating 45 F (7 C). So do not mix the number 50 in the title above with the temperature rating, this is the width of the system.
Why the word System in the name
If you are puzzled with this word, here you have a 3-in-1 (or even 4-in-1) sleeping system and this is why:
You have a poly-cotton sheet included and it doubles also as a pad sleeve. So this is a blend of polyester and cotton for an optimal sleeping experience.
This system works as a double-wide quilt which zips to the sheet/sleeve. This then looks like a bottomless double sleeping bag.
It works also as a detachable comforter.
You can use it as a single sleeping bag. To use it this way, you simply unzip it from the sheet, and then fold it and zip to itself, this gives a real hoodless warm weather single sleeping bag with the dimensions 78 x 25 inches (198 x 64 cm) shown in the picture below.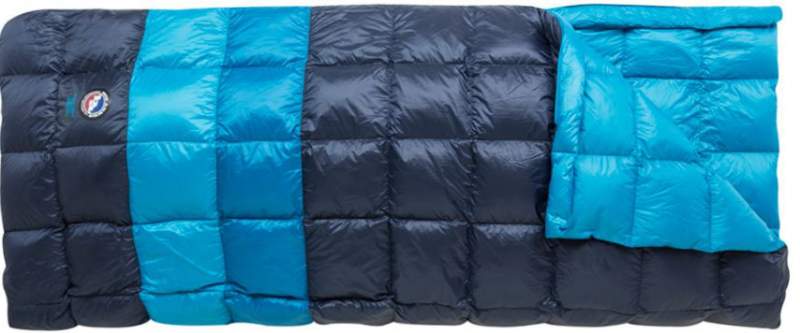 In some sense, this sleeping system reminds me of yet another similar convertible sleeping bag, the Exped MegaSleep Duo 25 Sleeping Bag, you will see them side by side in the comparison table below.
---
The materials
The shell is a polyester taffeta with a water-repellent coating. The underside of the mentioned sheet/sleeve is a durable polyester. The picture below shows how the sleeve looks when you put a double pad inside.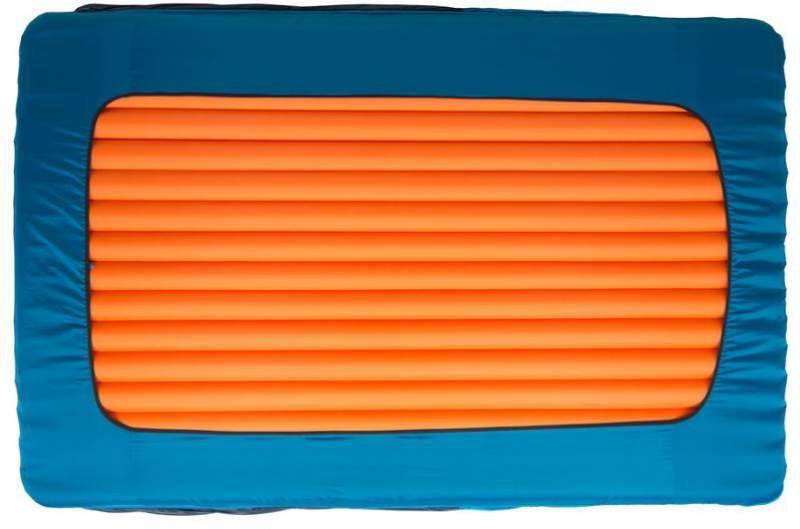 If you have ever shared such a space with somebody, then you know that it may be annoying when the person next to you turns a lot during the sleep. There is always more or less bouncing, this depends on the pad's construction of course.
So to minimize this effect, you can use two single pads 20-25 inches each in the sleeve, and the picture below shows how it looks: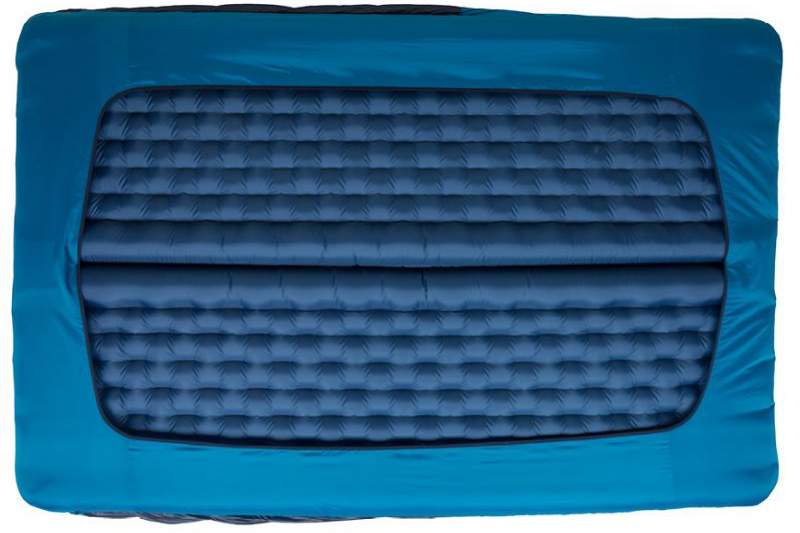 The insulation
You have 650 fill DownTek, so this is a treated water repellent down that uses a PFC-Free and bluesign-approved chemistry. The meaning of this treatment is that the down plumes are coated by a water-resistant material, so it will not easily get wet, and if it does, it will dry much faster. Most importantly, it preserves its insulating features almost all the time.

Other features
There are two separate pillow barns incorporated in the sheet/sleeve (shown in the top picture above). So you have a place for two separate pillows.
There is a low profile draft tube all the way along the zipper.
There is a small opening on the sheet, so you can access the valve on the sleeping pad. This will work well if you use the pads from the same brand, in this case the valve will match the position of the opening.
The bedroll style stuff sack has two compression straps plus a carry handle, so this is a really nice design.
Mesh storage sack is included.

Please see more in this short video:
---
Specifications – all 3 bags
Best use: camping, hiking, backpacking.
Type: rectangular sleeping bag/quilt.
Temperature rating: 45 F (7 C).
Bag weight:
– Wide Long 25 x 78 in: 2 lb 4 oz (1.02 kg).
– Doublewide 40 in: 2 lb 15 oz (1.33 kg).
– Doublewide 50 in: 3 lb 11 oz (1.67 kg).
Fill weight:
– Wide Long 25 x 78 in: 11 oz (312 g).
– Doublewide 40 in: 16 oz (453 g).
– Doublewide 50 in: 21 oz (595 g).
Size:
– Wide Long: 78 x 25 in (198 x 64 cm).
– Doublewide 40: 72 x 40 in (183 x 102 cm).
– Doublewide 50: 78 x 59 in (198 x 150 cm).
Packed size:
– Wide Long 25 x 78 in: 13 x 9 in (33 x 23 cm).
– Doublewide 40: 18 x 9 in (46 x 23 cm).
– Doublewide 50: 23 x 10 in (58 x 25 cm).
Warranty: Limited Lifetime.
---
Big Agnes Camp Robber Bedroll 50" vs Exped MegaSleep Duo 25
These two bags are not in the same temperature rating, which is 45 and 25 degrees respectively, but they are both so unique and convertible that I thought you might want to see them side by side.
The Exped MegaSlep bag is more versatile, this is a 4-in-1 or even 6-in-1 system. It is much more packable but this only if you order a compression sack which is not included.
---
Final thoughts, rating, pros & cons
So I really like this Big Agnes Camp Robber Bedroll 50″ Sleep System, to the best of my knowledge it is currently unique on the market. This is a versatile summer camping option but the price is steep. Nevertheless, if you can afford it, you will have a top-notch item. I have added it to my list of best camping quilts and blankets. Fully recommended.
This sleeping system is expensive, so if you are on a budget, check the more affordable Exped MegaSleep system shown in the comparison table above. Please see how I rate it, the same criteria are applied to all the bags here in the site so it is easy to compare:
If you need more options, please visit my page with sleeping bags, and check also this Therm-a-Rest Ramble Down 2-Person Hydrophobic Camping Blanket built in a similar style.
Visit also the page with sleeping pads because you will need one with this bottomless design. You will find the top products from renown brands presented in detail.
Note that this is not a sponsored text and I am not been paid by the manufacturer. I love to hear from you, so please use the comment box below in the case of questions or comments.