---
Therm-a-Rest Ramble Down 2-Person Hydrophobic Camping Blanket is a huge 88 inches square item with quality fill, suitable for up to 2-season camping.
---
Key features
Lightweight.
Down fill.
Nicely packable.
Great dimensions.
---
How is Ramble Down 2 Blanket built
This is a very large square blanket with the dimensions 88 x 88 inches (224 x 224 cm), so it is surely large enough for two campers, and suitable for tall people in general. This is an item which brings luxury to your camping experience while still being a technical and quality outdoor piece. The shell fabric is a very soft 50D pleasant polyester DWR.
The fill
Obviously, the fill is the most important element here. So as you realize from the name, you have a Responsible Down Standard Certified down used here, and this is 650 Nikwax. The meaning is that a cruelty-free process of collecting down from ducks is used.
The word hydrophobic in the name may look a bit frightening, but it implies that the fill is treated with a polymer to shed water. They claim that it absorbs 90% less water than an untreated down, and it dries 3 times faster.
They do not provide temperature rating for this blanket. But in my view, this is for a maximum of 2 seasons, late spring, summer, and early autumn, and for temperatures above 45 F (7 C) degrees.
Can you wash it? It is never a great idea to wash such a treated down. The manufacturer suggests that you machine-wash only when/if necessary, and using 3 oz of Nikwax Down Wash Direct. This is supposed to be the only way to keep its hydrophobic features.
Tumble dry in a large dryer on very low heat. You can add tennis balls to reduce clumping. In the case of natural drying, let it hang at least 48 hours, and shake it occasionally against clumping.

---
Who is it for
As the name suggests, this is a camping blanket. But the weight 2 lb 14 oz (1.31 kg) is such that you might carry it on some short tours. You will see below how it compares with Big Agnes Camp Robber Bedroll 50 and you will realize that it is much lighter.
The packed size is excellent for such a size, the dimensions are (L x D) 15 x 11 inches (38 x 28 cm). The photo below gives some idea of how big it is in its carry bag.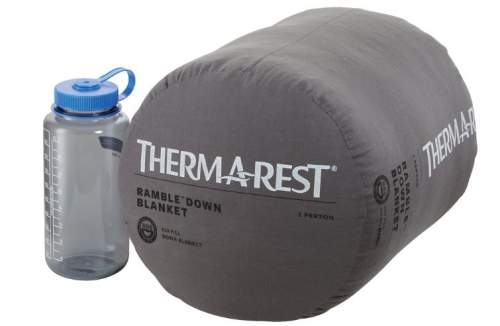 Size-wise, you have already seen the dimensions above, and they are impressive. You will realize this also from the comparison table below.
You can use it solo as well as a sleeping bag, just fold and have one half under you and the other half as a blanket. Observe that the width will still be bigger than any ordinary sleeping bag, you will have more than 40 inches (102 cm). This is a good alternative if you feel claustrophobic in a standard bag.
---
Specifications
Weight: 2 lb 14 oz (1.31 kg).
Dimensions (L x W): 88 x 88 in (224 x 224 cm).
Thickness: 3 in (7.6 cm).
Packed size (L x D): 15 x 11 in (38 x 28 cm).
Fill weight: 1 lb 8 oz (0.7 kg).
Limited lifetime warranty.
---
Therm-a-Rest Ramble Down Blanket vs Big Agnes Camp Robber Bedroll 50″ Sleep System
I thought you might want to see how these two items compare. Although Big Agness Camp Robber Bedroll is much smaller it is still heavier, though it includes also a poly-cotton sheet.
The Therm-a-Rest Ramble Blanket packs better, and its S/PS (size/packed size) ratio is also far better, it is 47 as compared to 20 for the Big Agnes blanket. Note that both are very expensive, yet the Big Agnes Camp Rober's price is much higher.
---
Final thoughts, rating, pros & cons
So this Therm-a-Rest Ramble Down 2-Person Hydrophobic Camping Blanket is a versatile outdoor item which you can use in various ways, with your partner or solo, for car camping or on some shorter trails.
You have a very packable and warm down fill combined with a soft and pleasant fabric. The treated fill will save you from morning dew and other moisture for cozy warmth. I have added it to my list of best camping quilts and blankets. Fully recommended.
This is an expensive blanket on the US and EU markets. But it is a quality item and it will serve you well if you can afford it. Please see how I rate it against my standard set of criteria used for all the sleeping bags and blankets here in the site:
If you would rather have a classic sleeping bag please check my page with Sleeping Bags and you will have plenty of options to choose from. Check in particular this Therm-a-Rest Vela 2-Person 32-Degree Quilt from the same brand.
Note that this is not a sponsored text, and I am not paid by the brand. Please use the comment box below in the case of questions or comments. I wish you a pleasant camping.