---
Therm-a-Rest Vela 2-Person 32-Degree Quilt is ultra-packable and ultra-lightweight down-fill 3-season outdoor sleeping item suitable for backpacking and camping, for couples and for solo use.
---
Key features
Down fill.
Ultra-light.
Ultra packable.
---
What this is about
Quilts are becoming increasingly more popular and you realize this from the number of such items released by top brands recently. This is good news for those who feel constricted and claustrophobic in standard sleeping bags, I am one of them.
So this Vela Double Quilt is as its name says, a 2-person quilt for couples who want to experience home-like comfort in the camp. If you are not familiar with this industry, this item has been on the market for 3-4 years already, but what you have here is its latest slightly modified version.
This is a large quilt with 82 x 80 inches (208 x 203 cm) dimensions, so this should be good enough for two intimate people. But in the case of car camping, you can use it as a solo quilt.
If you already have the previous version, no need to buy the new one, I do not see anything substantially different. The foot box looks a bit reshaped now, see the picture below. You can use a standard double sleeping pad here and this footbox will keep it in place, or you can use two single pads side by side.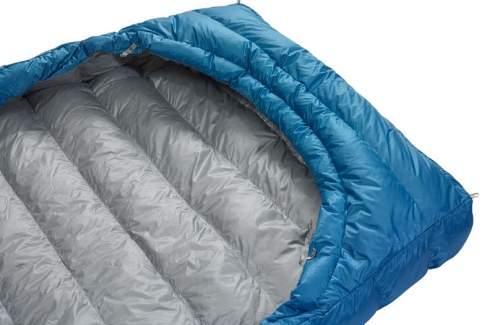 A quilt is something in between a sleeping bag and a blanket. Quilts are bottomless and this is why they are light, but they have a footbox and this is what makes them different from a blanket. So if you want to shed the weight in the pack, this is a design you might want to try.
The fill & temperature rating
The insulation here is 650 Nikwax hydrophobic down, it is treated so that it absorbs 90% less water and it dries 3 times faster when it does get wet, this is what manufacturer claims. You have 1 lb 5 oz (0.59 kg) of the down here.
They have added inside reflective lining tapes along the seams, so those prevent the body heat from escaping and increase the thermal efficiency. The declared thermal rating is 32 F (0 C), so this is officially a 3-season item.
The weight and packed size
With 2 lb 4 oz (1.06 kg) of weight, this is surely in the group of ultralight sleeping items. You will be able to realize this even more from the comparison table below.
Note also that its packed size is equally impressive, it reduces to 14 x 8 inches (36 x 20 cm) and I find this incredible for a duo quilt. You have both the carry sack and storage sack included in the package.

Other features
Full-perimeter side baffles prevent cold drafts.
Snaps are around the perimeter, to use with compatible Therm-a-Rest mattress, quilts, sleeping bags, and sheets.
Shell: 20D polyester ripstop with DWR.
Liner: 20D polyester.
2 Zippered pockets on the top section.
About quilts' concept you can see more in this short video, please have a look:
---
Who is it for
Weight-wise, with its 2 lb 4 oz (1.06 kg) and being a duo, this is an ultralight item. So if you have your intimate partner on the trail with you, this would be a great option.
Note also that its packed size is impressive, you have it packed to around 11.3 liters (690 in³). In my book, this is an ultra-packable item as well.
So this is a duo quilt suitable even for backpackers, and if great for them, this makes it suitable for practically any outdoor use.
Seasons-wise, you have seen its official temperature rating and it is declared as a 3-season item. But to be sure, it is best to test this before using it at such low temperatures. But it will surely work for you in a 2-season use (summer, late spring, and early autumn).
---
Specifications
Weight: 2 lb 4 oz (1.06 kg).
Dimensions: 82 x 80 in (208 x 203 cm).
Thickness: 4 in (10 cm).
Fits: 78 in (198 cm).
Girth (shoulder/hip/footbox): 82/82/100 in (208/208/254 cm).
Packed size (L x D): 14 x 8 in (36 x 20 cm).
Fill weight: 1 lb 5 oz (0.59 kg).
---
Therm-a-Rest Vela 32-Degree Duo Quilt vs Competitors
I mentioned what makes a quilt different from a blanket, its foot box adds some warmth but also some weight. But in this case, you will see that a quilt can be lighter than a blanket. So here is the Vela 32 Quilt side by side with a large but standard shape blanket Therm-a-Rest Ramble Down 2-Person and Big Agnes Camp Robber Bedroll 50″ Duo Sleep System. The latter includes a poly-cotton fitted sheet as well.
As you see the Vela 32 Duo Quilt is much lighter and it packs better. Note that the fill is the same type in all three of them. All are also expensive, just to know.
therm-a-rest
ramble blanket
big agnes camp
rober Blanket 
---
Final thoughts, rating, pros & cons
So as you realize, the best features of this Therm-a-Rest Vela 2-Person 32-Degree Quilt are its weight and packed size. The declared temperature rating might be unrealistic for warm sleepers so add sone 10 degrees F to it to be sure.
It is large enough for two and it can be used on the trail, but it is also perfect for car-camping solo users who need comfort in the camp. I have added it to my list of best camping quilts and blankets. Fully recommended.
This quilt is on the US market with a high price tag, and it is even more expensive on the EU market. Please see how I rate this quilt, I use the same criteria for all the items of this type here in the site, so you can compare easily.
If you need more options to consider, please check my page with sleeping bags, you will find many top-notch items described in detail. Check this REI Co-op Camp Dreamer Double Sleep System if you need something for camping.
Note that this is not a sponsored text, and I have not been paid by the brand. It would be great to hear what you think about this quilt, there is a comment box below.