---
Here you have the list with best camping quilts and blankets, all top-notch items from renown brands, nicely packable and light enough to be carried on the trail.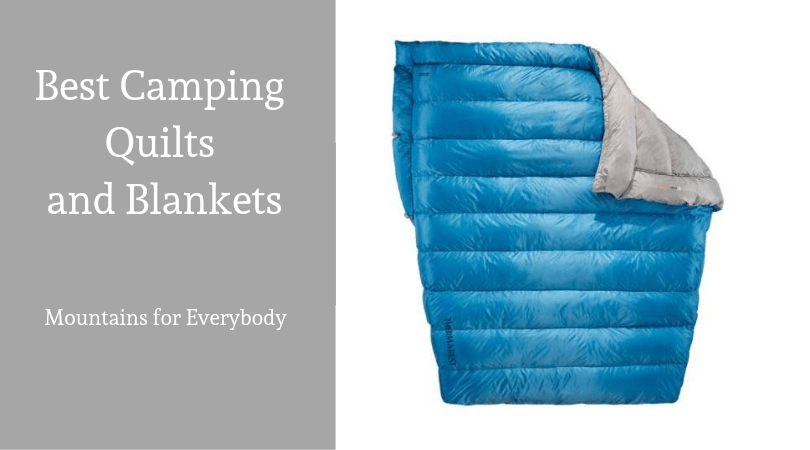 ---
What is included
As the title suggests, you have quilts and blankets. Some manufacturers use these terms simultaneously for the same object. I tend to understand quilts as something in between the sleeping bags and standard blankets. Namely, such items have a foot box or at least allow for creating one. On the other hand, camping blankets are the same shape as blankets at home.
All these items are from top brands, with high-quality materials used for the shell and insulation. Regarding the size, you have single models and models for two people. As for the temperature rating, these are mostly 2-3 season camping and backpacking tools.
---
Here is my list with the quilt and blankets ordered alphabetically, so this is not ranking.
Below I give only some basic information about each of them, so please follow the links for more.
---
1. Big Agnes Camp Robber Bedroll 50″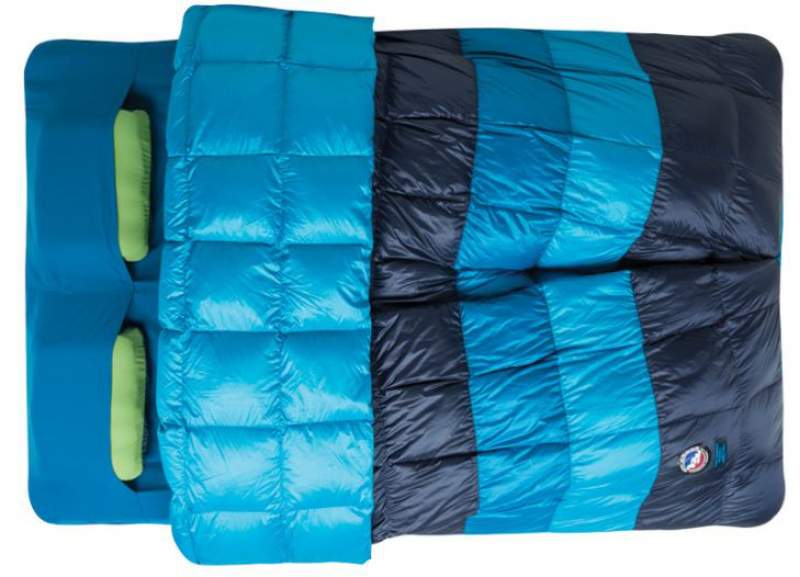 This Big Agnes Camp Robber Bedroll 50″ is more than a blanket, it is a sleep system. So you have a poly-cotton sheet included and it doubles also as a pad sleeve. You can zip the blanket to the sheet and you have a double-wide quilt. In such a configuration it looks like a bottomless double sleeping bag. But you can use it as a detachable comforter. Finally, you can use it as a single sleeping bag.
The fill is 650 DownTek down, it is treated and with a 45-degree (7 C) temperature rating. They build it in three different sizes, so it is best to follow the link and to see the numbers of each of them separately.

---
2. Sea to Summit Ember EbII Quilt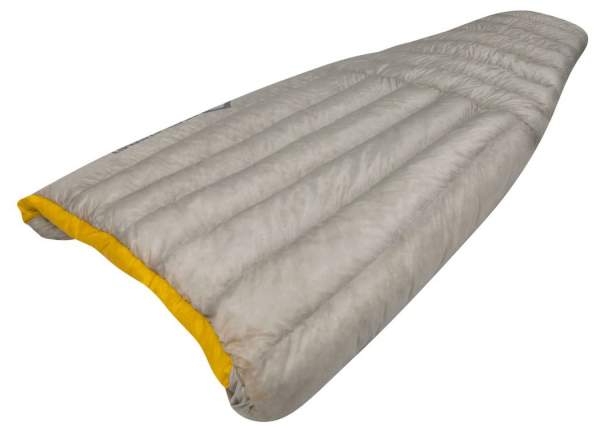 This Sea to Summit Ember EbII Quilt is ultralight and ultra-compact. They build it in two different sizes so you will see the numbers if you follow the link given below. There is no permanent foot box here, but you have a drawcord which you can use to create a foot box.
It comes with a top-quality down fill, this is an 850+ Loft Premium goose ULTRA-DRY super warm and compressible treated down which is treated with a permanent nano-level water repellent polymer. You can choose any of its 3 different temperature ratings 20, 30, and 40 F (-7, -1, 4 C).
They claim it is independently tested by the International Down and Feather Laboratory (IDFL). But you should also know that all Sea to Summit sleeping bags use only down which is certified according to the Responsible Down Standard.

---
3. Therm-a-Rest Corus 32-Degree Down Quilt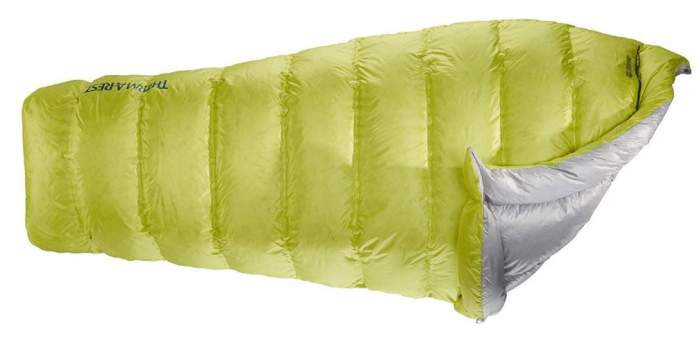 This Therm-a-Rest Corus 32-Degree Down Backpacking and Camping Quilt is the new version of the well-known ultralight and ultra-packable quilt which has been on the market for a number of years already. They build it in two sizes regular (R) and long (L) and you will see the numbers when you follow the link below.
The fill is a treated 650-fill Nikwax hydrophobic down, and this is behind its nice packed size 10 x 7 inches (25 x 18 cm) for the size R. You have a true foot box which is such that it can wrap around a sleeping bag and insulate your feet from all the sides.

---
4. Therm-a-Rest Ramble Down 2-Person Hydrophobic Camping Blanket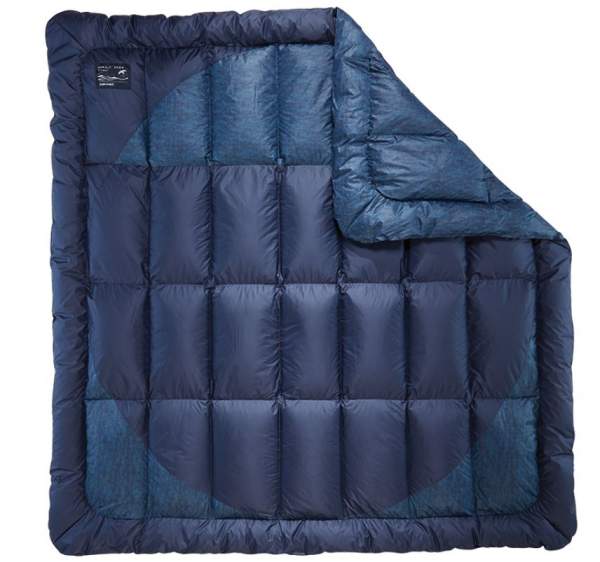 This Therm-a-Rest Ramble Down 2-Person Hydrophobic Camping Blanket is what its name says, a true blanket, square in shape, 88 inches (224 cm) in both dimensions. This makes it suitable for tall people in general.
You have a 650 Nikwax down used for the fill and this is a Responsible Down Standard Certified down. The shell fabric is a very soft 50D pleasant polyester DWR. It is built in one size, so the weight is 2 lb 14 oz (1.31 kg) and the packed size (L x D) is 15 x 11 inches (38 x 28 cm). Please follow the link for more details.

---
5. Therm-a-Rest Vela 2-Person 32-Degree Quilt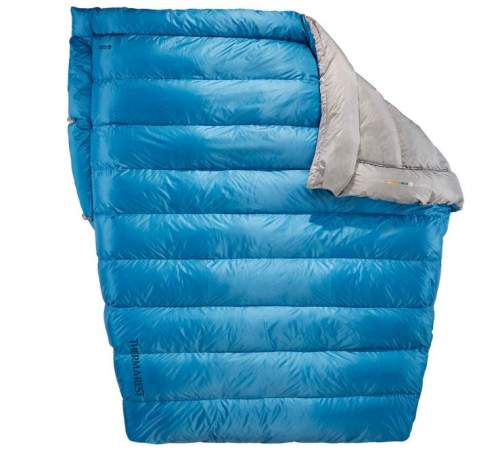 This Therm-a-Rest Vela 2-Person 32-Degree Quilt is ultra-packable and ultra-lightweight. It has been on the market for 3-4 years already, but what you have here is its latest slightly modified version. It comes with a 650 Nikwax hydrophobic down which is treated so that, as they claim, it absorbs 90% less water and it dries 3 times faster than an untreated down.
The declared thermal rating is 32 F (0 C), so this is officially a 3-season item suitable for backpacking and camping, for couples and for solo use. This is a large quilt with 82 x 80 inches (208 x 203 cm) dimensions. With 2 lb 4 oz (1.06 kg) of weight, this is surely in the group of ultralight sleeping items. Its packed size is equally impressive, it reduces to 14 x 8 inches (36 x 20 cm).

---
How to choose & Editor's Choice
So this was my list with best camping quilts and blankets. It will be updated whenever I find an item of this type worth adding to the list. This is why you might want to bookmark this text and check occasionally. If you are undecided, here are a few tips that might help.
Quilt or blanket
Obviously, this is the first you have to decide. Blankets are without a foot box and you can use them as ordinary blankets at home as well. But a foot box means a thermally more efficient design.
The size
As mentioned above, most of them are built in several sizes so choose your best fit to avoid carrying unnecessary weight. But you have seen that there are solo and double options here, so this is also where you have to decide. If this is about car camping, then my principle is the bigger the better.
The weight
If you need something for the trail, then shedding the weight is critical. But a lighter quilt might imply less insulation, so bear in mind climate conditions on your route, and inspect the actual features of the quilt which is in your focus.
The packed size
These are all nicely packable items, and this is because of the quality down fill and also because of the design. Those designed for lower temperatures are naturally bulkier, so bear this in mind when you choose.
Normally less material is used for a quilt than for a sleeping bag and this is why they pack so great. But there are nicely packable bags as well, you can see them in my separate list.
Regarding the seasons & climates
These items offer lots of comfort. So if you feel claustrophobic in a sleeping bag like me, then you do not have much choice, this is what you have to use.
But the thermal efficiency of quilts and blankets are inferior to standard sleeping bags. So these are tools for a warmer climate and definitely not for extreme conditions.
You have seen that some come with official temperature rating, but remember that those are always for some 'average' user, and this means several features which are not necessarily your own best fit. So this is all individual, and it is best to add 10 degrees F or so to be sure and to put your mind at ease.
The price
These are all top quality products and from the best-known brands, so this comes at a price. But there are differences so please follow the links and check carefully.
Editor's Choice
---
Thank you for reading. Please check our page with sleeping bags if you want more options to consider. There is a comment box below so please use it in the case of questions or comments. I wish you a nice day, and pleasant camping.